Marc Chagall's "Four Seasons" Mosaic
Introduction
Situated in front of the Chase Tower Plaza, Marc Chagall's "Four Seasons" mosaic is one of the most dazzling landmarks in Chicago's bustling Loop district. Stretching 70 feet in length and wrapping around a rectangular support, Chagall's mosaic was dedicated in 1974, a gift to the city from banking giant Frederick H. Prince. Twenty years after its dedication, the mosaic underwent extensive restoration, including the addition of a protective canopy to shield the installation from the elements.
Images
A view of Chagall's "Four Seasons" mosaic (east side)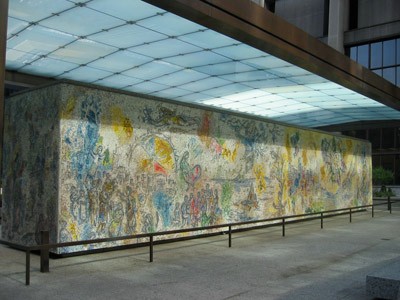 A view of Chagall's "Four Seasons" mosaic (west side)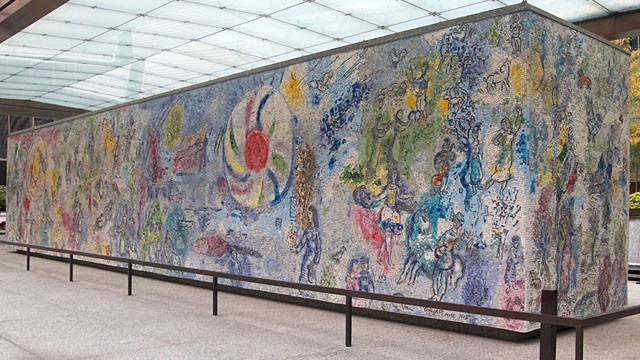 Backstory and Context
Russian-French artist Marc Chagall (1887-1985) was born into near-poverty in Belarus which was part of the Russian Empire. In 1911, he fled the declining tsarist-controlled country and arrived in Paris just ahead of World War I. He later returned to Russia, lived in Germany during the Weimar Republic, Nazi-controlled France during World War II. While living in the United States following the war, he became one of the most influential modernists. Absorbing the ideas of artistic contemporaries, such as Picasso's Cubism and Matisse's Fauvism, Chagall also worked to infuse his art with elements derived from his Jewish heritage. The result was a powerful combination cultural and artistic contemplation.

In the mosaic, Chagall represented six different vignettes inspired by Chicago. but many of the themes are universal in nature. Imagery of figures and animals combined with an immense array of hundreds of lush colors creates an engaging and timeless display.

A fantastic compliment to Chagall's Four Season mosaic is a visit to the Art Institute of Chicago - in addition to several paintings by the artist, the museum also houses Chagall's famed America Windows, a marvelous stained glass cycle executed in 1977 in commemoration of the United States' bicentennial.
Sources
The Four Seasons by Marc Chagall. WTTW Public Television website. Accessed December 30, 2016. http://interactive.wttw.com/loop/art/four-seasons-marc-chagall.

Artwork by Marc Chagall. Guggenheim Collection Online. Accessed December 30, 2016. https://www.guggenheim.org/artwork/artist/marc-chagall.


Additional Information