Rosenbach of the Free Library of Philadelphia
Introduction
Occupying two brownstones in Philadelphia's Rittenhouse Square neighborhood, the Rosenbach is not your typical library. While its rare books and manuscripts collection is its primary attraction, it also serves as a small period house museum and displays Americana, fine arts, jewelry, Judaica, portrait miniatures, and antique furniture. It was founded in 1954 at the behest of the Rosenbach brothers, Abraham and Phillip, who built up an eclectic collection of historical treasures and sought to share them with the public. The 1866 building it occupies is listed on the National Register of Historic Places and a historical marker was dedicated to it in 2008 by the Pennsylvania History and Museum Collection. In 2013 it became affiliated with the Free Library of Philadelphia Foundation.
Images
Delancey Place, home to the Rosenbach identified by the two American flags hanging out front and the Pennsylvania historical marker.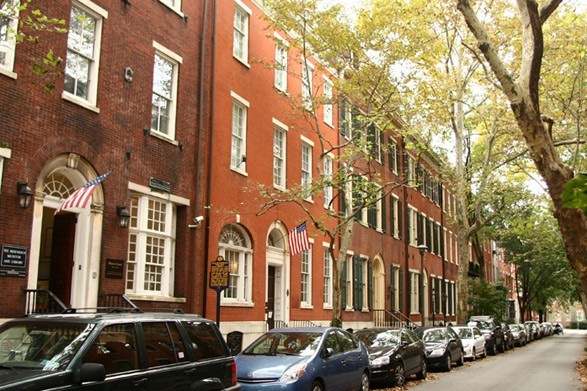 The heart of the Rosenbach; the brother's library that contains too many rare books to list here.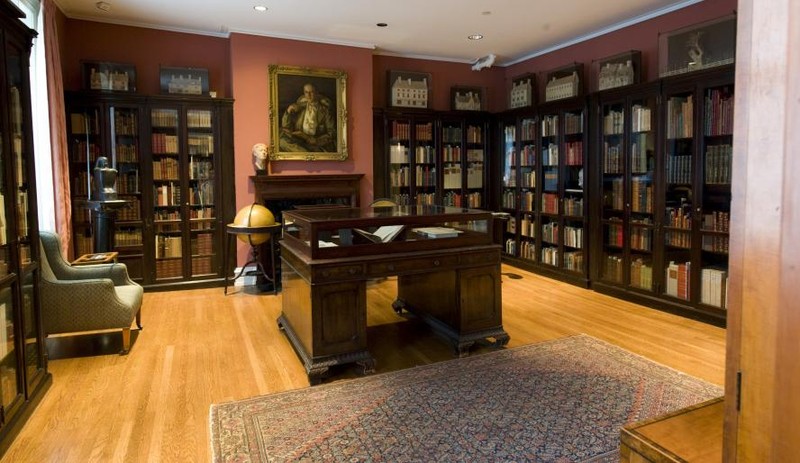 The Rosenbach's Lewis Carroll exhibition that included wall murals, a first edition of "Alice's Adventures in Wonderland, and numerous personal letters written by Carroll.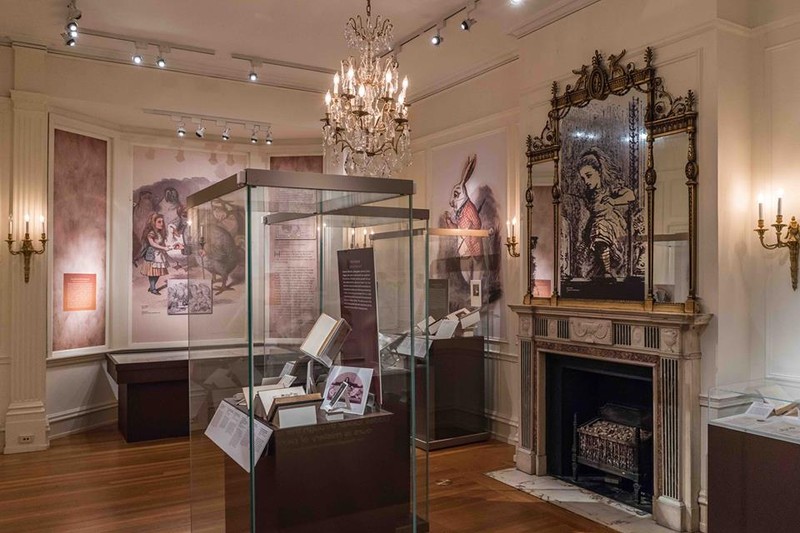 The first floor of the Rosenbach's period house museum that features portraits by Gilbert Stuart and Thomas Sully.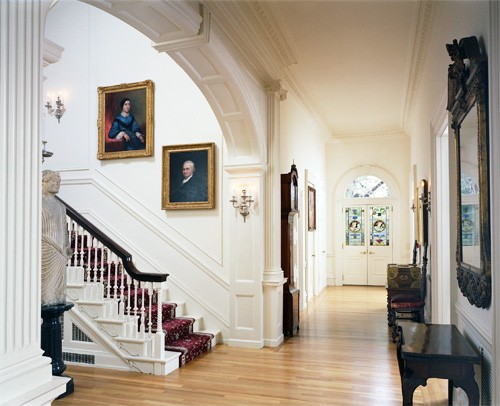 The Rosenbach conducts its Bloomsday Festival which celebrates the life and work of James Joyce every June 16th.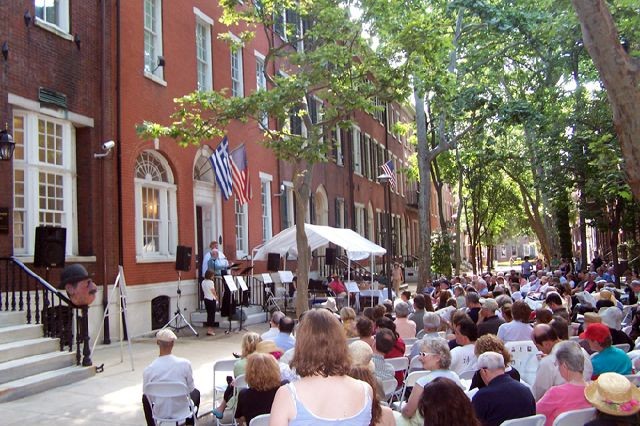 Backstory and Context
The Rosenbachs were premier dealers of rare books, manuscripts, furniture and fine art during the first half of the 20th century and kept many of their rarest finds in their possession. Dr. Abraham and Phillip Rosenbach also helped build collections at Widner Library at Harvard, the Huntington Library in California and the Folger Shakespeare Library in Washington D.C. The Rosenbach opened soon after Abrahams' and Phillips' deaths in 1952 and 1953 respectively.
The period museum features many original furnishings collected by the brothers and include numerous 18th century English pieces. Their fine china and silverware are also on display as are over 1,000 portrait miniatures. It also includes the recreated living room of American poet Marianne Moore from her New York City apartment in which she lived and worked for over 40 years. The Rosenbach also has Moore's complete collection with personally inscribed and annotated works as well as drafts of her poetry and unpublished memoirs.
However, it is for the Rosenbach's literature collection that many make the journey to the brownstones. This rare collection features the hand-written manuscript of James Joyce's Ulysses, the notes and outlines from Bram Stoker as he wrote Dracula, over 600 letters written by Lewis Carroll and a first edition of Alice's Adventures in Wonderland, Charles Dickens' manuscripts for Pickwick Papers and Nicholas Nickleby, a first edition and first print of Ben Franklin's 1733 Poor Richard's Almanac. The Library also has in its possession hundreds of personal letters written by George Washington, Abraham Lincoln, Ulysses S. Grant and Robert E. Lee as well as the original resolution, signed by both houses of Congress, proposing the 13th Amendment to the Constitution that abolished slavery.
The library also presents rotating exhibitions and past ones have included "Catholicism in the New World" and "Bescribbled, Nibbled and Dog-Eared: Early American Children's Books." In addition to their guided tours, the library conducts themed hands-on tours during which patrons can actually handle some of the rare books and manuscripts. Previously themed hands-on tours have included "Shaping Shakespeare," "Sleuths and Spies," and "Lewis Carroll/Charles Dodgson." These hands-on tours are conducted nearly every Friday and advanced registration is highly recommended. Finally, the Rosenbach also hosts various reading groups such as those centered on Ulysses, Jane Austen, and Sherlock Holmes.
Sources
Cheney, Jim. "Visiting the Rosenbach Museum and Library: Philly's Best Kept Secret." Uncovering PA. March 14, 2014. Accessed December 29, 2016. http://uncoveringpa.com/visiting-rosenbach-museum-library
"The Rosenbach: Collections." The Rosenbach of the Free Library of Philadelphia. Accessed December 29, 2016. https://www.rosenbach.org/learn/collections
Maltenfort, Mitchell. "Rosenbach Library and Museum." Not For Tourists. August 1, 2005. Accessed December 29, 2016. http://www.notfortourists.com/Features.aspx?city=ph&id=169
Additional Information