Old Albemarle County Jail
Introduction
Built in 1876, the historic Albemarle County Jail is located in Court Square. The complex provides an example of the evolution of penitentiary facilities during the 19th and 20th Centuries. Prisoners were kept in the jail until 1974, including former Mayor J. Samuel McCue who, in 1905, underwent the last public execution in Virginia history. Following the construction of a new penitentiary in 1974, the structure has since been closed to the public and serves as a storage facility for the County. Efforts are underway to convert the jail into a museum.
Images
Albemarle County Jail exterior elevations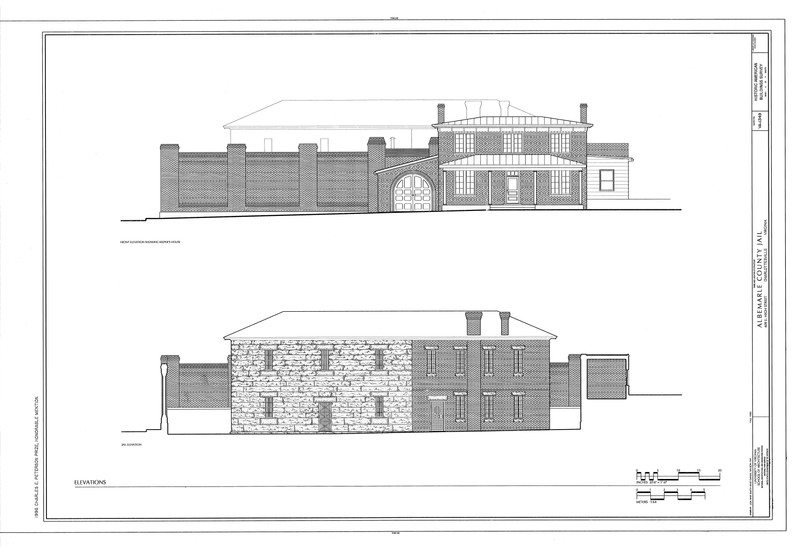 Interior plans of the old Albemarle County Jail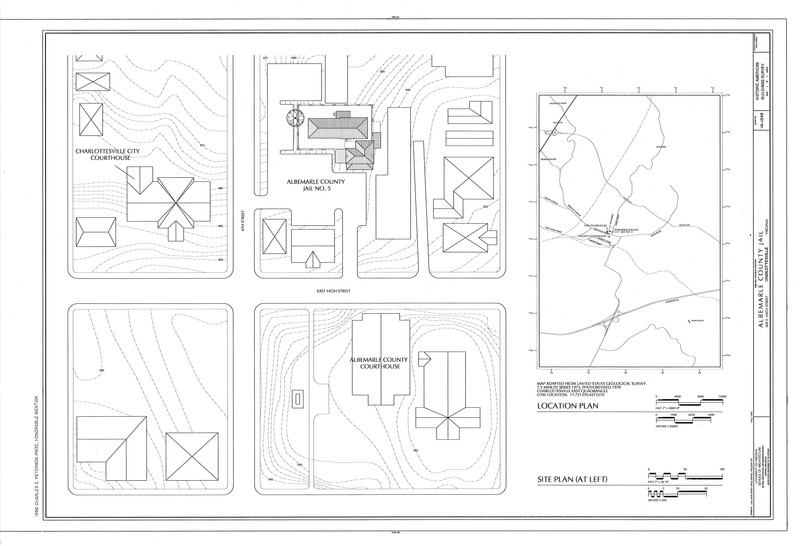 Backstory and Context
The Old Albemarle County Jail is located along High Street, across from the County Courthouse. Designed by local architect and building contractor, G.W. Spooner, the structure is a two-story, three-bay stone and brick building measuring 20' x 68'. Construction on the jail began on September 15, 1875, using stones taken from a previous jail. The brick annex and jail yard were added in 1880, and a jailer's residence was built in 1886.

Until 1974, when the jail was closed, the penitentiary complex was the only such facility in Ablemarle County. The second floor included a wash room, reading room, and two rooms used to house female prisoners. Its most notorious prisoner was former Charlottesville mayor Samuel McCue, who was held here in 1905 after being tried and convicted for the murder of his wife. McCue was subsequently executed by hanging in the last public execution in Virginia history.

Architecturally, the old jail is built according to the traditional single pile plan in a simple Italianate style. A cornico decorated by brackets support a low tin roof. The original stone floors are now covered with cement. The walls are 3' in thickness, with tiny splayed windows covered by iron bars. Similar to other contemporary structures, the front entrance is sheltered by a single-story veranda. The building's characteristic archway was partially filled in to make room for the jailor's office. Surrounding the jail and courtyard is a tall brick wall, entered through an archway on the High Street side.

Since its construction, the jail has been owned and maintained by the Ablemarle County Sheriff's Department. Following its closure, it has since served as a storage facility for the County. However, plans are underway to convert the old jailhouse into a museum.
Sources
"Albemarle County Jail, 409 East High Street, Charlottesville, Charlottesville, VA | Library of Congress." The Library of Congress. Accessed December 27, 2016. https://www.loc.gov/resource/hhh.va1801.sheet/?sp=1.

"Historic Albemarle County Jail No. 5." Cvillepedia - Charlottesville Tomorrow's Community Wiki. Accessed December 27, 2016. http://www.cvillepedia.org/mediawiki/index.php/Historic_Albemarle_County_Jail_No._5.

Mullaney, Fahy G. "A Proposal for The Preservation and Use of the Old Albemarle County Jail." August 1977. Accessed December 27, 2016. http://oldjail.org/Jail-OAR.pdf.

Additional Information