Historical Markers: Louisiana Purchase - West Baton Rouge Early History & Mississippi River Old Ferry Landing
Introduction
This location has two historical markers. One is about the Louisiana Purchase of 1803, which was the sale—from France to the United States—of over 828 million acres of land from Louisiana to southern modern-day Canada for the small sum of $15 million. The other marker commemorates the old river ferry landing, which operated from 1820-1968 in Port Allen directly across from Baton Rouge. The ferry was longer needed with the construction of the Horace Wilkinson Bridge in the early 1960s, on which Interstate 10 runs over.
Images
The Mississippi River Old Ferry Landing marker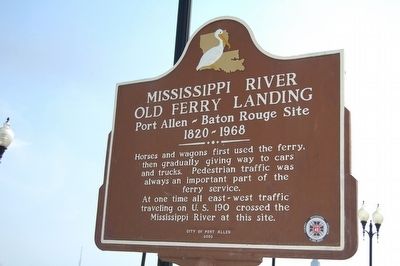 The Louisiana Purchase - West Baton Rouge Early History marker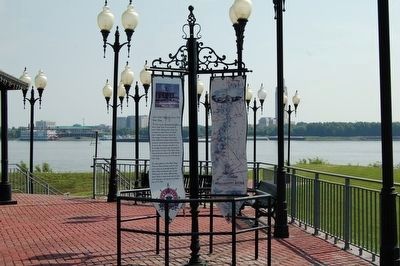 Backstory and Context
At the time of the purchase, Louisiana was sparsely populated. Those living in West Baton Rouge were Native Americans, creoles (those of French/Spanish and Native descent), Acadians (French speakers from Canada), and African slaves. For several decades prior to the purchase Louisiana and the territories to the north were controlled by Spain. Before that, from 1682-1762, France controlled this vast territory. In 1801, France and Spain signed a treaty to return the territory to French control.

By the 1790s, Napoleon Bonaparte rose to power in France and was determined to establish a new empire in the Americas, with the Louisiana territory as the focal point (he would later reign over continental Europe in the coming years). However, a few factors stymied his dream: the slave revolt in Haiti overthrew the French government there (it was the only successful slave revolt in history to overthrow a government), imminent war with Britain, the possibility of a British naval blockade, and general financial difficulties. As a result of these factors, Napoleon decided to sell the territory to the United States. Thomas Jefferson, who was president at the time, feared a French presence in the areas west of the Mississippi River would conflict with his dream of expanding American territory. His French representative in France was understandably surprised to learn that Napoleon wanted to sell the territory. The sale doubled the size of the United States.


Sources
"Historical Perspectives, 1682-1815." Louisiana State University Special Collections. Accessed December 26, 2016. http://exhibitions.blogs.lib.lsu.edu/?p=115&page=3.

"Louisiana Purchase - West Baton Rouge Early History." The Historical Marker Database. Accessed December 26, 2016. http://www.hmdb.org/marker.asp?marker=89070.

"Louisiana Purchase." History.com [A&E Networks]. Accessed December 26, 2016. http://www.history.com/topics/louisiana-purchase.

"Mississippi River Old Ferry Landing." The Historical Marker Database. Accessed December 26, 2016. http://www.hmdb.org/marker.asp?MarkerID=88245.

Photos by: Bernard Fisher