National Museum of American Jewish History
Introduction
Focused on the formation of the Jewish-American identity, the National Museum of American Jewish History was founded back in 1976. It moved to its current, 100,000-square foot home on Philadelphia's Independence Mall in late 2010. The museum covers the Jewish-American experience from colonial times to present day through permanent and rotating exhibitions as well as educational programs. This Smithsonian affiliated museum is open every day except Mondays and certain holidays, Jewish and national alike.
Images
The Lyn and George Ross Building that is home to The National Museum of American Jewish History. It opened its doors on Philadelphia's Independence Mall in 2010.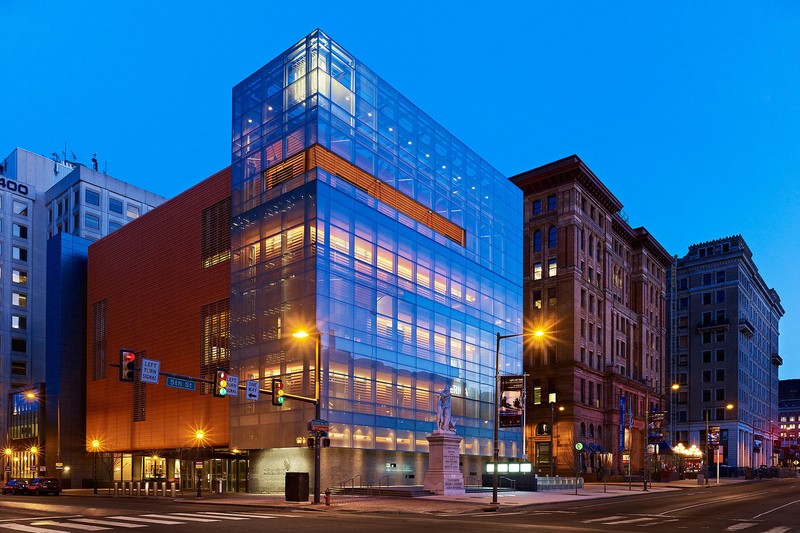 Entrance to the museum along Market Street.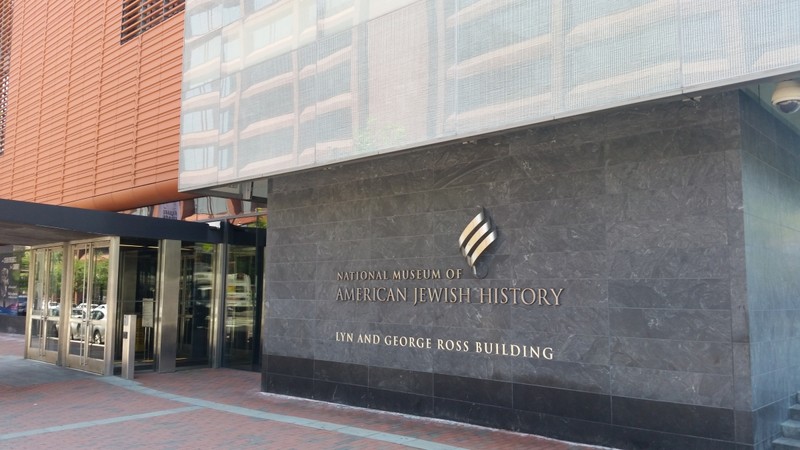 The first floor "Only in America Gallery and Hall of Fame." That's a photo of Barbara Streisand on the right.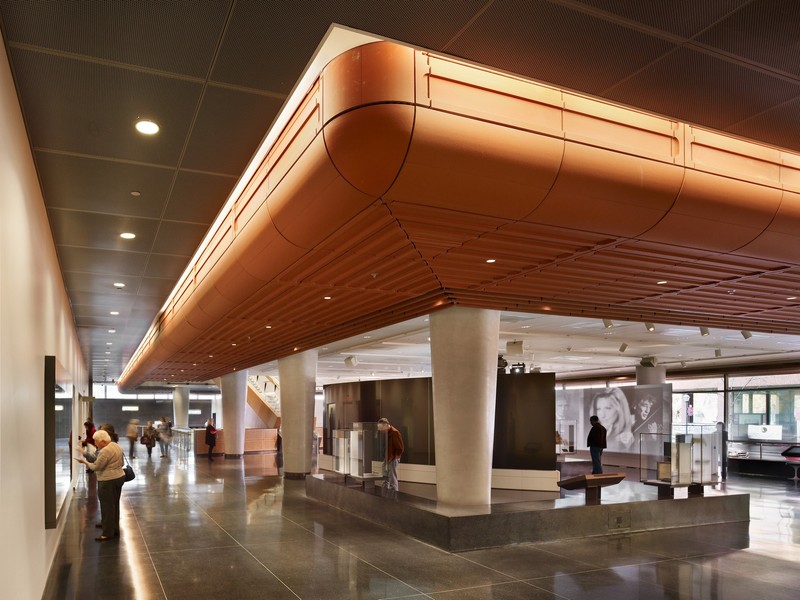 Entrance to the "Foundations of Freedom" exhibition that covers the beginnings of American Jewish history from 1654 to 1880.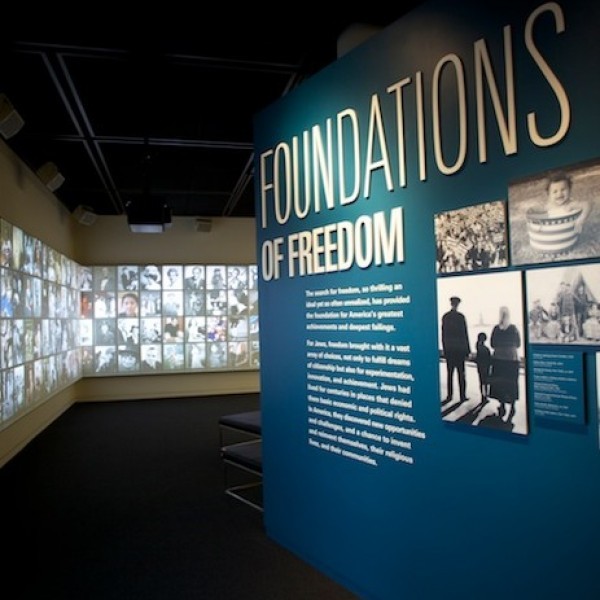 Backstory and Context
The National Museum of American Jewish History initially shared space with the Congregation Mikveh Israel when it was founded back in 1976. By 2005 discussion of creating a new home began and fund raising efforts began in earnest as well. A site formerly owned by a CBS news affiliate along Independence Mall was selected and the glass and terra cotta building, designed by James Polshek, was completed in 2010. The opening ceremony was attended by the likes of Vice President Joe Biden, Mayor Michael Nutter and Rabbi Irving Goldberg.
The museum is anchored by a core exhibition that spans 3.5 of the building's five stories. It is centered on the different backgrounds and experiences of Jews who immigrated to America as well as the following generations that were born and raised here. It examines who they were, the places they came from, the challenges they faced, the choices they made and how they were influenced by America, and how they, in turn, influenced their adopted country. Visitors get to listen to their stories, both joyous and sorrowful. Through historical artifacts, period settings, media, and interactive technology, one learns about various aspects of Jewish religious, social and economic experiences in America.
The exhibition follows a roughly chronological order beginning on the fourth floor with a section entitled "Foundations of Freedom, 1654-1880." On the third floor, visitors travel through the "Dreams of Freedom, 1880-1945" piece, while on the second floor they are greeted by the "Choices and Challenges of Freedom, 1945-Today" section. Finally, on the first floor, the museum features its "Only in America Gallery and Hall of Fame." This exhibit features 18 famous (Albert Einstein, Sandy Koufax, Golda Meir) and not-so-famous Jewish-Americans (Rose Scheiderman, Isaac Leeser, Menachem Mendel Schneerson) who each made significant contributions in their own manner.
The museum also features rotating or special exhibitions and recent ones have included "Bill Graham and the Rock & Roll Revolution" that focused on influential concert promoter Bill Graham and his Fillmore Auditorium, as well as his interactions with legends such as Jimi Hendrix and the Rolling Stones. A special 2017 exhibition will be/is/was "1917: How One Year Changed the World" that looks at how America's entry into World War I, the Bolshevik Revolution and the Balfour Declaration…well, changed the world.
The museum also sponsors traveling exhibitions such as "Chasing Dreams: Baseball and Becoming American" that looks at the role the national pastime has played in, not just the Jewish community, but all minority communities in America. Finally, the museum offers numerous educational opportunities in the form of K-12 lessons and activities, summer camps, professional development for educators and adult education classes.
Sources
Klein, Julia. "American Jews' story told in a new home." Wall Street Journal. January 26, 2011. Accessed December 24, 2016. http://www.wsj.com/articles/SB10001424052748704405704576064211468291304
Rothstein, Edward. "Life, Liberty, and the Pursuit of Identity." New York Times. November 11, 2010. Accessed December 24, 2016. http://www.nytimes.com/2010/11/12/arts/design/12museum.html
"National Museum of American Jewish History: Preserving, exploring and celebrating the history of Jews in America." The Constitutional. August 10, 2015. Accessed December 24, 2016. http://www.theconstitutional.com/blog/2015/07/10/national-museum-american-jewish-history
Rosenzweig, Michael. "Seeing Freedom Through Immigrants' Eyes: The National Museum of American Jewish History." The Huffington Post. October 23, 2010. Accessed December 24, 2016. http://www.huffingtonpost.com/michael-rosenzweig/seeing-freedom-through-im_b_766016.html
Additional Information