McKenzie Oil Well
Introduction
Throughout the late 19th century and early 20th century, Colorado was going through a oil boom period that brought in many workers and prosperity to the state. In search for more oil deposits, driller Isaac Canfield of Florence, Colorado, felt that Boulder's topography was a great indicator of an oil field below. His feeling was spot on for in 1901 on this spot he discovered the Boulder Oil Field. This site was used until the 1970s. This is the oldest oil-producing site in the Denver Basin, and one of the oldest wells in the Western United States. The well you see now was constructed in the 1960s. None of the original machinery exists today.
Images
The McKenzie Oil Well site as it looks today
How a typical drilling site in Colorado appeared at the time of the discovery of the Boulder Oil Field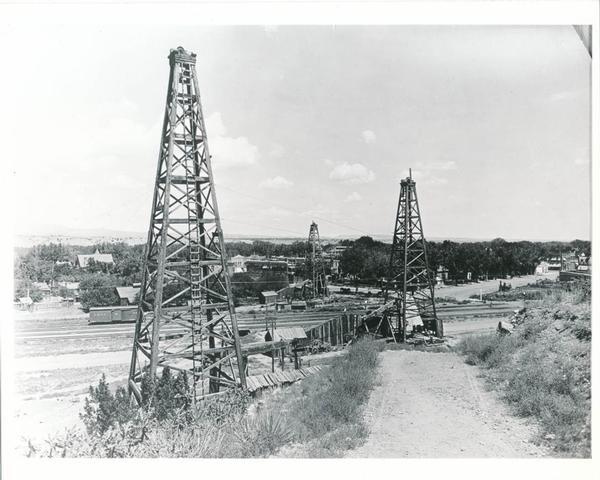 Backstory and Context
*From the Erie County (CO) Historical Society
"The McKenzie Well was the site of the 1901 discovery of the Boulder Oil Field, the first discovery of oil in the multi-state Denver Basin. Florence driller Isaac Canfield noticed Boulder's typography was similar to Florence. Oil seeps and petroleum odors abounded, and Canfield pinpointed the first oil source using a dowsing rod. This is the same Isaac Canfield that had started a coal mine just west of Erie in a community named after him.
Boulder soon became Colorado's second successful oil field after Florence Colorado. The field reached its peak production in 1909 with an annual output of 85,000 barrels of oil. The Boulder Oil Field is one of the oldest producing fields The McKenzie Well, also called the McKenzie #1, was drilled in February 1902. This single remaining well was one of the two earliest commercial producers in the field."
Sources
Grace Hood, Eye of the beholder: Oil well takes its place in Boulder's history, Boulder Weekly, 3/31/2005
"Colorado State Register of Historic Properties - list"

. History Colorado



Additional Information