Denver's Constitution Hall, 1875-1876
Introduction
After two previous attempts at statehood failed, delegates from throughout Colorado met here at the original location of the First National Bank of Denver in the winter of 1875. The delegates met throughout the winter, producing a state constitution that led to the admission of Colorado as the thirty-sixth state. Following the approval of Colorado voters and Congress, Colorado was admitted to the Union by President Grant on August 1, 1876. The residents of Colorado approved the new constitution by a wide margin, with 15,433 in favor and 4,062 opposed. The building was destroyed by a fire in 1977, although a marker was erected on the southwest side of a nearby building to commemorate the history of the convention and the building that once stood at this location.
Images
Constructed in 1865, this building served as the meeting place for the delegates who drafted Colorado's state constitution.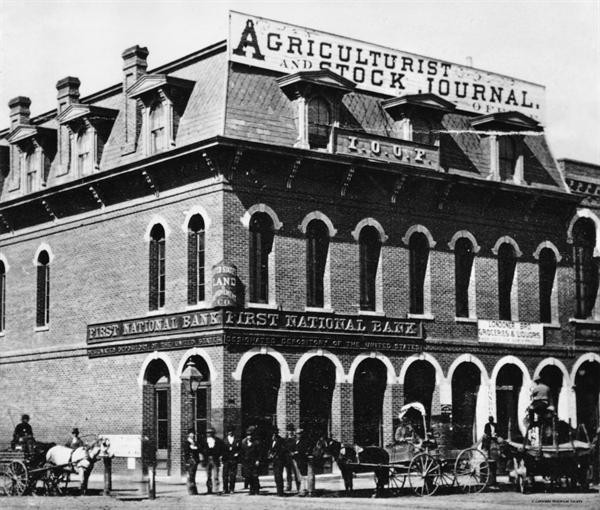 Backstory and Context
Tragedy struck on April 24, 1977, when an arsonist destroyed the building that stood on this corner since 1865. At the time, Constitution Hall, as it came to be known owing to the building's role as a meeting place where delegates met to draft the state constitution, was the third-oldest building in Denver. The building was originally two stories tall, with a third story added just a few years prior to the meetings of state delegates. Of the 39 men, most were attorneys, demonstrating the rise of this profession in the mid-to-late 19th century.

The bank moved out of this building shortly after the delegates concluded their business, occupying a larger building at 16th and Larimer. The building held a variety of businesses over the next hundred years, including a brokerage and a purveyor of harnesses.
Sources
James Bretz, Denver's Early Architecture: Images of America, Arcadia Publishing 2010.
Additional Information