Hotel Boulderado
Introduction
Located in the heart of historic Boulder, Colorado stands Hotel Boulderado (a combination of 'Boulder' and 'Colorado'), the city's first hotel. Opening on New Year's Day in 1909, even the hotel's 1908 Otis Elevator still operates for hotel guests. Housing three restaurants, the hotel makes an appearance in Stephen King's thriller, "Mercy." Every New Year's Eve, the hotel celebrates its "birth" with a party called the New Year's Gala Ball.
Images
Composite photo of the hotel. Left side is from a few years after its opening and o the right side, as it appears today.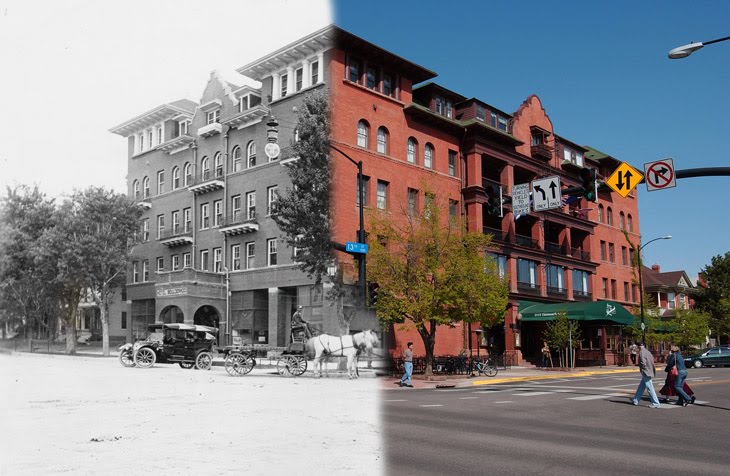 Full photo of how the hotel looks today.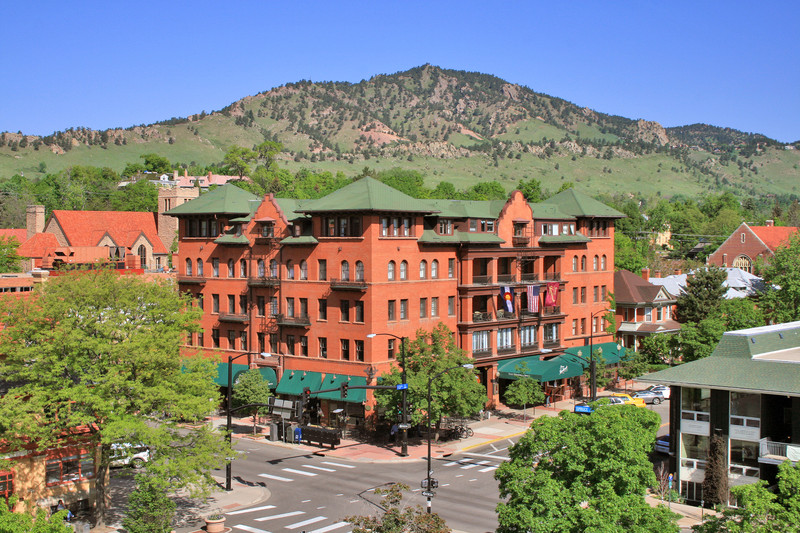 Lobby and grand staircase.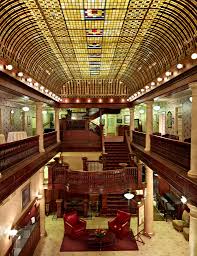 The hotel a few years after it opened (full photo).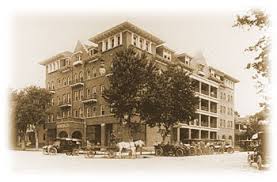 A hotel employee stands next to the hotel's fully operational 1908 Otis elevator.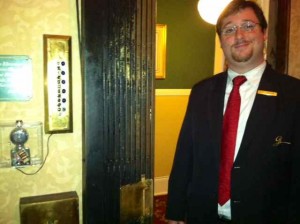 Backstory and Context
In the early 1900s, when Boulder was evolving from a dusty frontier town to a cultured small city, its residents yearned for an upscale hotel. Businessmen and women raised the funds to build the Hotel Boulderado, which opened on New Year's Day, 1909. Since then, it's come full circle from late Victorian luxury, through a shaky beginning in the teens, prosperity in the twenties, a fall in the Depression, post-war modernization, deterioration and, finally, restoration to even surpass its former grandeur. Today the hotel is on the National Register of Historic Places and is a City of Boulder landmark.

Designed by local architects William Redding & Son, the five-story brick building incorporates both Italian Renaissance and Spanish Revival features. It follows a trend of open court hotels started by the Palace Hotel in San Francisco and carried over to Denver's Brown Palace Hotel, built in 1892.

Early guests included conservationist Enos Mills, actress Ethel Barrymore, actor Douglas Fairbanks, Sr., and evangelist Billy Sunday. Some who followed were Clarence Darrow, Helen Keller, Robert Frost, Benny Goodman, and Louis Armstrong, as well as a generous representation of today's political figures, speakers, entertainers, and musicians.

The Hotel Boulderado's name is a combination of "Boulder" and "Colorado" and was chosen so that guests would always remember where they had stayed.



Sources
Albanese, Ellen (October 6, 2004), Boulder is steeped in old, new, Boston Globe

"Hotel Boulderado, a Historic Hotels of America member". Historic Hotels of America.

Pettem, Silvia (2009), Legend of a Landmark, The Book Lode, LLC

Additional Information