Gálvez Monument
Introduction
Situated at the eastern terminus of Canal Street in heart of downtown New Orleans, the Gálvez Monument commemorates Bernardo de Gálvez, who served as the Territorial Governor of Louisiana between 1777-1785 (at the time Louisiana and all the lands west of the Mississippi River was Spanish territory). He successfully defended New Orleans and the surrounding region from the British from 1779-1780 during the American Revolutionary War. He also led the Spanish forces to victory over the British at the Siege of Pensacola, which returned the peninsula to the Spanish. Gálvez was appointed Viceroy of New Spain but unfortunately became ill and died in 1786.
Images
Statue of Bernardo de Gálvez, a gift to the city of New Orleans from Spain that was dedicated in 1977.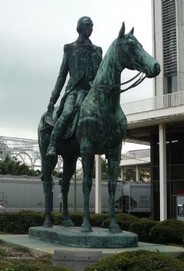 The sign at the base of the statue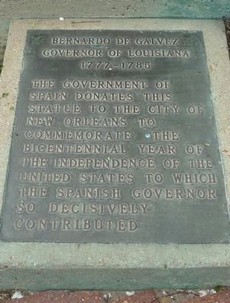 Learn more about the American Revolution in Louisiana and other colonies with this award-winning book from historian Kathleen DuVal.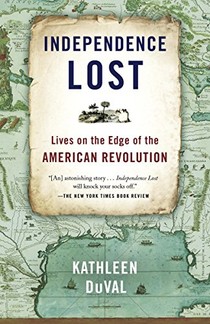 Painting depicting Galvez (standing center) during the Siege of Pensacola by Augusto Ferrer-Dalmau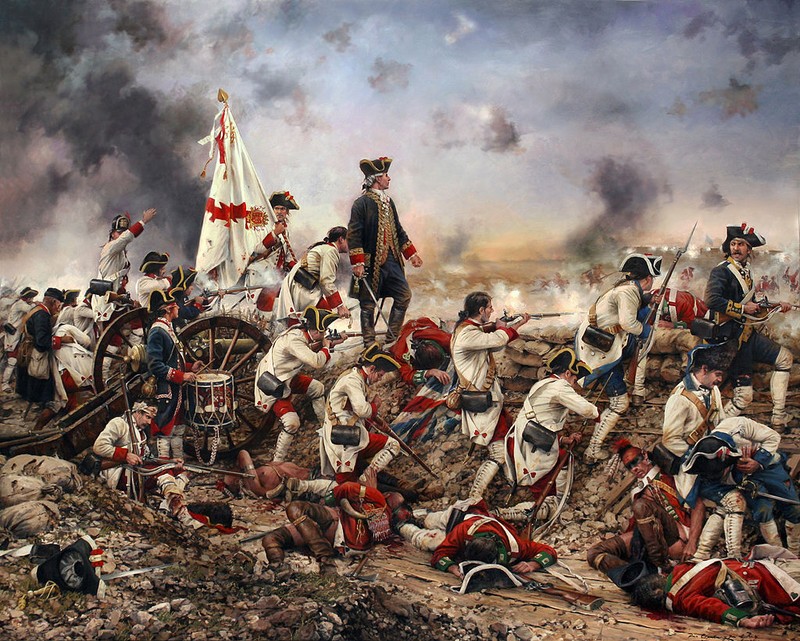 The Spanish General Bernardo de Gálvez. Portrait made while he was the Territorial Governor and after the Siege of pensacola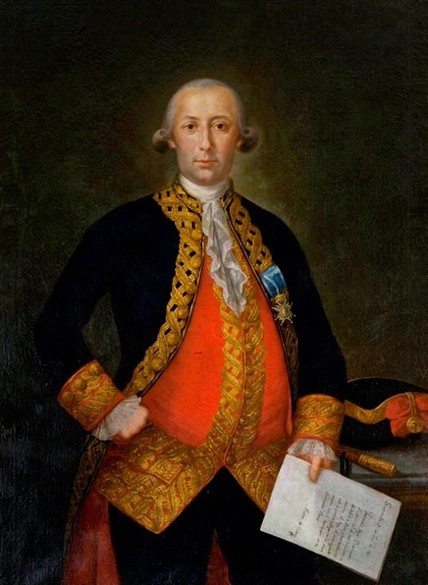 Backstory and Context
Galvez is best known for his role in leading local militia members against British forces during the American Revolution. He was born in Spain in 1746 to a family with a long tradition of military service. As a young man, he served as a junior officer in the war between Spain and Portugal before leaving Spain in 1768 for "New Spain" the Spanish colonies of North America. He later returned to Europe where he studied military tactics in France before leading colonial troops against the Ottoman Empire in North Africa.

By the time Galzev obtained the commission that led to his fame, a colonel leading Spanish forces in Louisiana, he had fought wars and led troops at sea and on several continents. The Spanish Crown selected Galvez as the new governor of Louisiana, and on January 1, he took command of the colony at the age of thirty-one. At that time, the colony was home to eight thousand colonists of European descent, an equally large number of enslaved people of African descent, two hundred free people of African descent, and a large but unknown number of Native Americans.

Utilizing local militias that combined men of African, Acadian, Native American, and European descent, as well as a small force of professional soldiers, Galvez led numerous attacks against British positions that forced the British onto the defensive. Galvez's army forced the British to withdraw from Baton Rouge and Natchez. With a thousand men under his lead, he also captured a British fort at Mobile. By 1781, his force had grown to eight thousand and he accepted the surrender of a substantial British force at Pensacola.

Following his successful campaigns against the British in the American Revolution, Galvez led attacks on British positions in Jamaica and the Bahamas. He died from a disease he contracted while in the Caribbean in 1786.
Sources
Pasquier, Michael. "Bernando de Galvez." KnowLA Encyclopedia of Louisiana, edited by David Johnson. Louisiana Endowment for the Humanities, 2010.

"Bernardo de Gálvez." National Park Service website. Accessed December 19, 2016. https://www.nps.gov/foma/learn/historyculture/galvez.htm

"Gálvez Monument." The Historical Marker Database. Accessed December 19, 2016. http://www.hmdb.org/marker.asp?MarkerID=41111.
Caughey, John Walton (1998). Bernardo de Gálvez in Louisiana 1776-1783, Gretna: Pelican Publishing Company.

Chávez, Thomas E. (2002). Spain and the Independence of the United States: An Intrinsic Gift, Albuquerque: University of New Mexico Press.

Gálvez, Bernardo de (1967) [1786]. Instructions for Governing the Interior Provinces of New Spain, 1786. New York: Arno Press.

Mitchell, Barbara (Autumn 2010). "America's Spanish Savior: Bernardo de Gálvez marches to rescue the colonies". MHQ: The Quarterly Journal of Military History: 98–104.

Woodward, Ralph Lee Jr. Tribute to Don Bernardo de Gálvez. Baton Rouge : Historic New Orleans Collection, 1979.

Additional Information