Fulton Building
Introduction
Located in downtown Pittsburgh, the historic Fulton Building was completed in 1906 and is currently home to the Renaissance Hotel and serves as the entrance to the Byham Theater. The 13-story building was designed by well-known Pittsburgh architect, Grosvenor Atterbury in a Renaissance Revival style, and funded by prominent industrialist Henry Phipps. It is named after steam boat inventor Robert Fulton and went through a $45 million renovation prior to the opening of the hotel in 2001. It was added to the National Register of Historic Places in 2002.
Images
The Fulton Building with the Roberto Clemente Bridge in the foreground.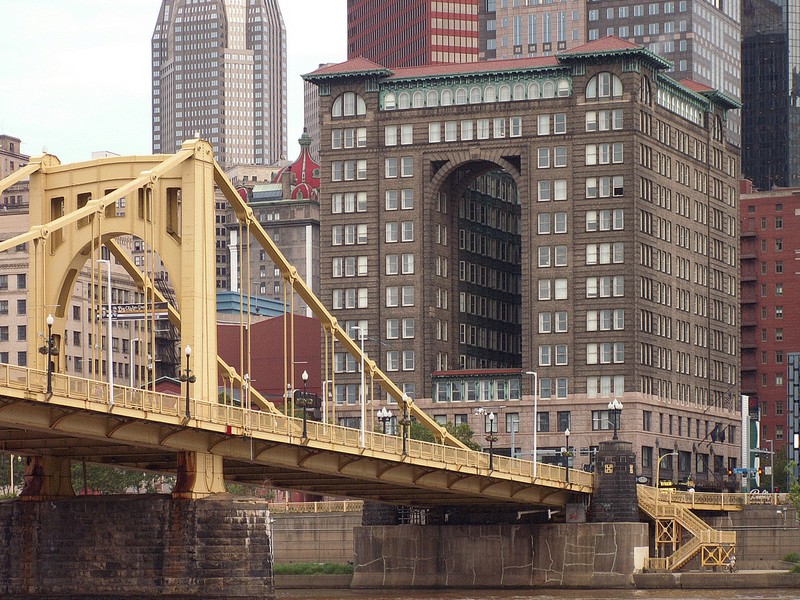 The Fulton's rotunda and illuminated light well.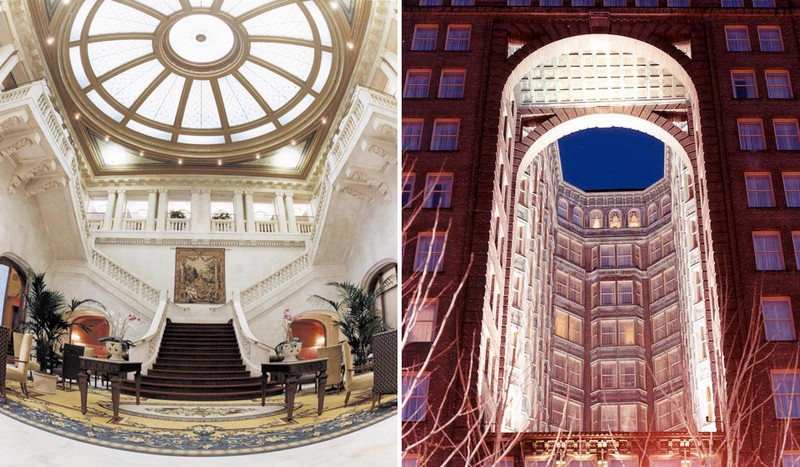 The Fulton Building and its sister, the Bessemer Building (demolished in 1964) on the right.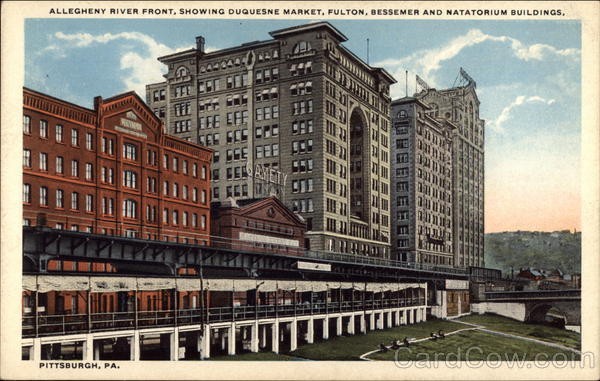 Backstory and Context
The Fulton Building served originally as an office building after its completion in 1906 and has housed various businesses since then. Those businesses include a World War II veteran's hospital, and a trade school. However, its most (in)famous former occupant was a 1980s nightclub called Heaven that specialized in glitter and drugs. After Heaven closed in 1984, the Fulton Building hosted a number of nightclubs from the Cotton Club to the Troubadour and back to Heaven again in 1993.
The Fulton features a 30-foot, 20-ton rotunda which was covered with a rubber material during World War II as buildings were "Blacked-out." That material remained in place for almost 60 years. When the building was renovated at the turn of the century 300-pounds of coal dust was removed from the rotunda and all the floors above the lobby were gutted. The workers also removed 300-pound lead panels from the former hospital's x-ray lab on the sixth floor.
Today, as in years past, the Fulton is best known for a unique architectural feature called a light well, the seven-story arch carved out of the middle of the building. It was designed to allow light and cool river air to reach the interior rooms. Now, it serves to make the Fulton one of the most recognizable buildings in Pittsburgh, especially for those sitting in PNC Park just across the Allegheny River via the Roberto Clemente Bridge.
Sources
Lowry, Patricia. "Renovated Fulton Building opening as Renaissance Pittsburgh Hotel." Pittsburgh Post-Gazette. March 13, 2001. Accessed December 15, 2016. http://old.post-gazette.com/neigh_city/20010313hotel2.asp
Babic, Aida. "Fulton Building." Foundations of America. October 21, 2010. Accessed December 15, 2016. http://foundationsofamerica.com/index.php?option=com_content&view=article&id=395:connecticut-general...
"Hotel History and Fact Sheet." Renaissance Pittsburgh Hotel. Accessed December 15, 2016.http://www.renaissancepittsburghpa.com/getmedia/f84d6c2a-cc62-4b40-aebf-c355cbb773e3/Fact-HistoryShe...
Additional Information