The old Stock Exchange Building
Introduction
The name of this building is only a bit deceiving. When Swedish immigrant and architect Joseph Muheim constructed this building in 1905 it was originally called the Brewery Saloon. It was designed to be one of the biggest, and most fun, saloons, to serve Bisbee. However, that all changed in 1914 when Prohibition was enacted. From 1914 to 1982 this building became the Bisbee/Southwestern office for Manhattan's Stock Exchange. After 1982, the building returned to its Saloon roots, but kept the name the "Stock Exchange."
Images
The Stock Exchange Building as it looks today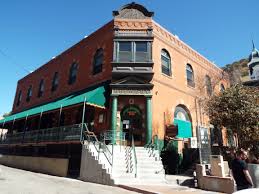 The stock board is preserved and can be seen today when one visits the Stock Exchange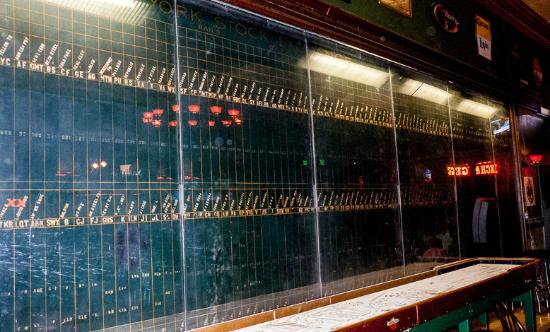 Backstory and Context
In 1905, Joseph Muheim, Bisbee's famed Swedish immigrant and architect, constructed this building to serve the city as a place of fun and libations. The building was named the Brewery Saloon. But such designs only lasted 9 years. In 1914, the Federal Government enacted the famed (or is it ill-famed?) Prohibition to shut down the consumption and sales of alcohol nationwide. That same year the Brewery shut down operations and closed. Muheim now needed to find a new purpose for one of his creations.

That new purpose would come not too long after the doors closed. The same year the Brewery closed, Muehim was able to convince a local brokerage firm, Duey and Overlock to make the the main floor its home. Previously, the second floor housed the firm. The firm then placed a stock board on the floor and had a ticker tape shipped from Manhattan. These moves made the Brewery Saloon into the Stick Exchange Building. Even when Prohibition ended in 1933, the building still served the firm. In 1961 the firm closed operations.

In 1982, over 21 years of being largely abandoned, the building was restored and once again became a saloon. However, the building would not return completely to its roots. Rather give the saloon its original name, owners chose to maintain the name it was known as for over 40 years: The Stock Exchange Saloon and Grill. Today the saloon and grill still serves residents and visitors, and is known worldwide.



Additional Information