Grassmere: The Elizabeth Cady Stanton House
Introduction
This home, which was known as "Grassmere" in the mid-19th century, was the home of suffragist and women's rights leader Elizabeth Cady Stanton from 1847-1862. The property is now part of the Women's Rights National Historic Park which also includes historic sites related to the 1848 Seneca Falls Convention that included the Declaration of Sentiments which included many of the tenets of the first wave of feminist thought in the United States. Stanton was a pioneer in the movement for women's suffrage and also an influential voice among white Northen abolitionists.
Images
Grassmere: The Elizabeth Cady Stanton House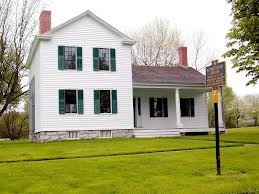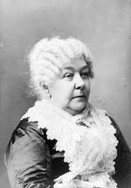 Backstory and Context
There is some dispute about exactly when the Stanton family moved into the home on Washington Street. Some sources maintain that it was 1846, with others stating that it was 1847, the year Elizabeth's father deeded the property to his son-in-law. The family was certainly there by 1848, the year of the Seneca Falls Convention, and remained there until 1862.
The Stantons had three children when they moved to Seneca Falls and had four more during the time they lived in the home. Elizabeth, already dedicated to social justice causes, often felt overwhelmed by the responsibilities of caring for her children and managing a household. She came to believe that women could never achieve their full potential as long as they were preoccupied with the responsibilities of home and family.
Stanton's own education began as a child, observing and listening to her father, who was an attorney. That was an informal, if highly effective, education, while her formal schooling took place at the Johnstown Academy and Emma Willard's Troy Female Seminary. In 1840, she married abolitionist and lecturer Henry Stanton and soon became an outspoken abolitionist herself. The pair even honeymooned at an international abolitionist conference in London.
It was in London that Stanton met Lucretia Mott, another abolitionist. The two women were incensed that women were excluded from the conference's proceedings. They formed a fast friendship and agreed that at some point, after returning to the United States, they should host a similar conference focused on the rights of women. That conference—held in 1848—was the Seneca Falls Convention, which is hailed as the beginning of the feminist movement in the United States. Famed abolitionists Frederick Douglass and William Lloyd Garrison were in attendance.
The Stantons lived in the home until 1862, when it was sold to John S. Edwards. The family then moved to Brooklyn. The Stanton home is a National Historic Landmark and is part of the Women's Rights National Historic Park.
Stanton was related to Gerrit Smith, who was an abolitionist and part of the "secret six" and backed John Brown's Raid on Harpers Ferry, West Virginia.
Sources
Elizabeth Cady Stanton House , Freethought Trail . Accessed October 27th 2021. https://freethought-trail.org/trail-map/location:elizabeth-cady-stanton-house/.
Elizabeth Cady Stanton House , National Park Service. Accessed October 27th 2021. https://www.nps.gov/wori/learn/historyculture/elizabeth-cady-stanton-house.htm
Elizabeth Cady Stanton, History . February 26th 2021. Accessed October 27th 2021. https://www.history.com/topics/womens-history/elizabeth-cady-stanton.
Additional Information