Lewis and Clark Visitor Center
Introduction
The Lewis and Clark Visitor Center features exhibits about the history of the Missouri River basin, covering its geology, exploration by Lewis and Clark, early navigation, settlement, natural history, and the Gavin Point Dam. There are wayside exhibits (interpretive panels) located outside the center that provide more information about the Lewis and Clark Expedition. The center's theater shows films about the expedition as well as other topics such as the dam.
Images
Lewis and Clark Visitor Center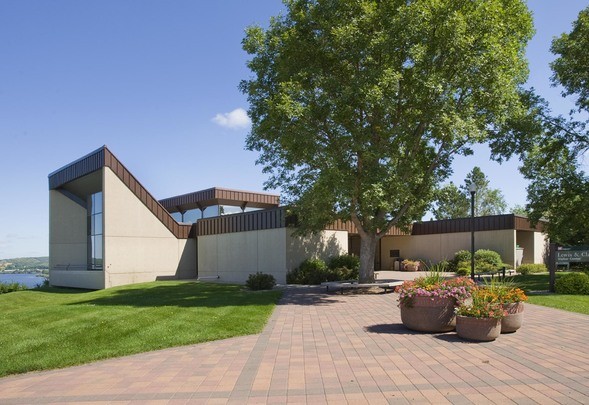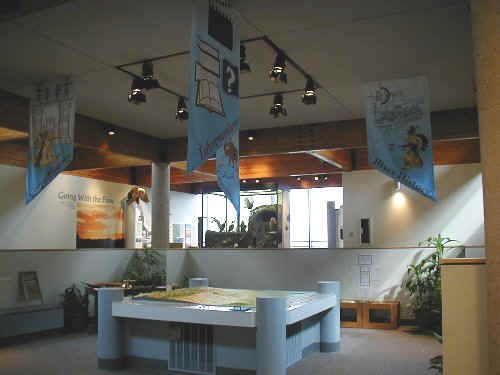 Aerial view of Gavin Point Dam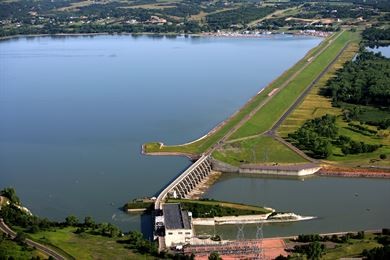 Backstory and Context
The site for the center, situated on Calumet Bluff, was chosen for its association with an important event in the expedition's history. In late August, 1804, Lewis and Clark participated in a Grand Council meeting with the Yankton Sioux (also called Nakota) tribe at a spot just below the bluff. The meeting began with a large ceremony in which possibly 70 Sioux came to the Lewis and Clark's camp and performed music and dancing. The Yankton tribe was the first plains tribe Lewis and Clark would meet on their expedition.

The Sioux informed to Lewis and Clark that they were living in a precarious state, with many women and children living in poverty, and wanted to open trade relations with the United States. They had already been in contact with French and British traders. The Sioux also wanted ammunition and rifles (and possibly whiskey). Lewis and Clark did not provide them with these but did offer them an invitation to Washington D.C. to being trade negotiations, which they accepted.
Sources
"Gavins Point Dam & Lewis & Clark Lake." U.S. Army Corps of Engineers. Accessed December 12, 2016. http://www.nwo.usace.army.mil/Missions/Dam-and-Lake-Projects/Missouri-River-Dams/Gavins-Point/.

"Yankton Sioux Indians." National Geographic: Lewis and Clark. Accessed December 12, 2016. http://www.nationalgeographic.com/lewisandclark/record_tribes_019_2_8.html.

"Yankton Sioux Indians." PBS: Lewis & Clark - The Journey of the Corps of Discovery. Accessed December 12, 2016. http://www.pbs.org/lewisandclark/native/yan.html.

Additional Information