Hutchinson House
Introduction
Tampa's Hutchinson House, constructed in 1908, is a late example of the Second Empire style (a.k.a., Mansardic style). The architect was Francis Kenard. This house is one of very few examples of this eclectic style in Florida and the only one in Tampa. Currie J. Hutchinson, a prominent owner of several drug stores in Tampa, was the original owner; the house later served as a hospital, a rooming house and a fraternity house. The building is three stories in height, giving it very tall proportions, and the mansard room is made of slate. The Hutchinson House was placed on the National Register of Historic Places in 1977.
Images
Front view of Tampa's Hutchinson House (constructed 1908)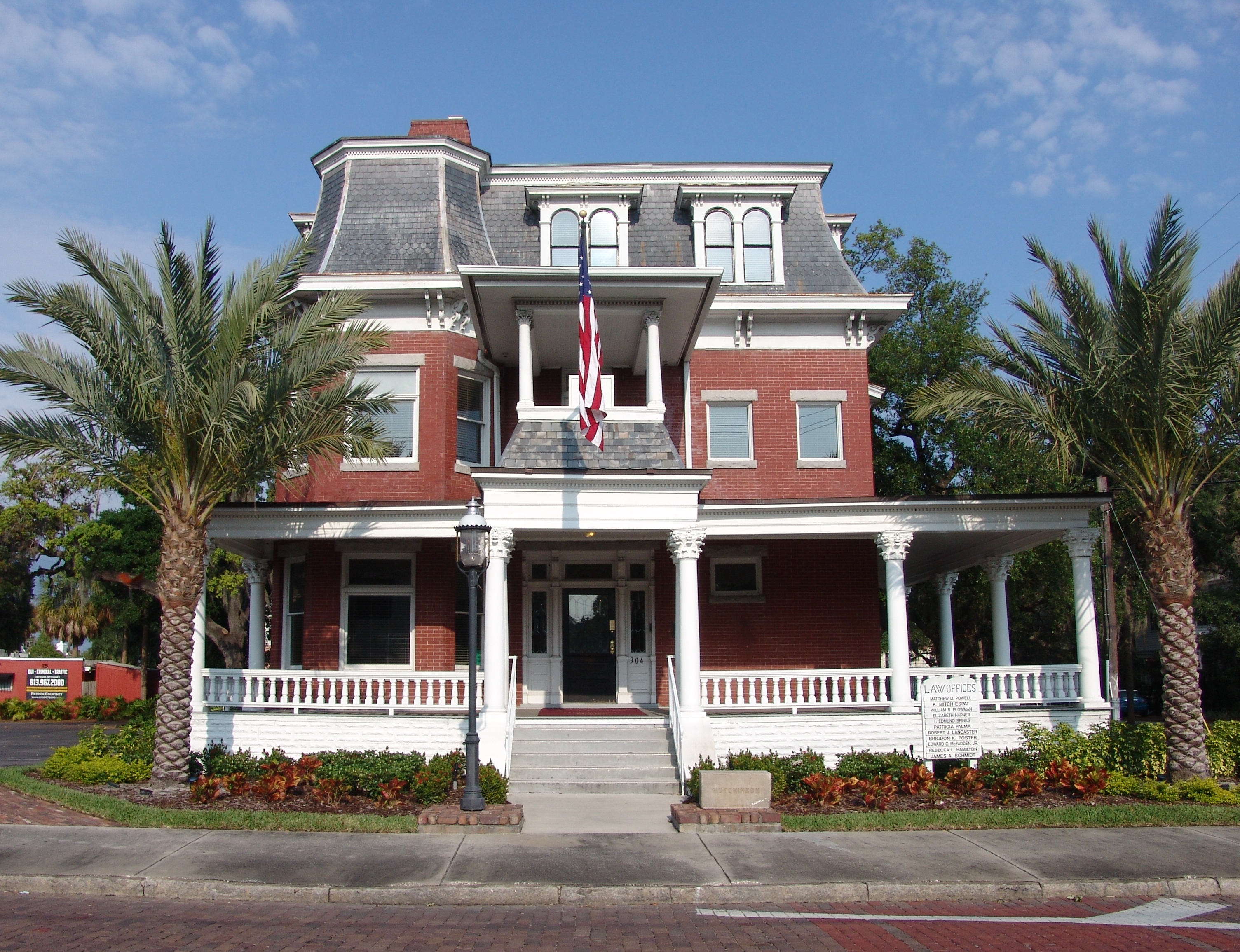 Another view of Hutchinson House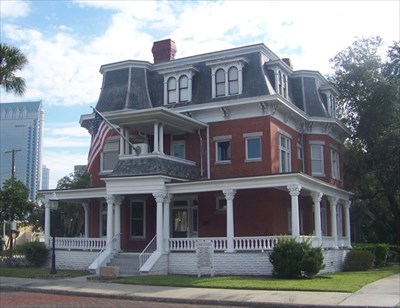 Side view of Hutchinson House, seen from below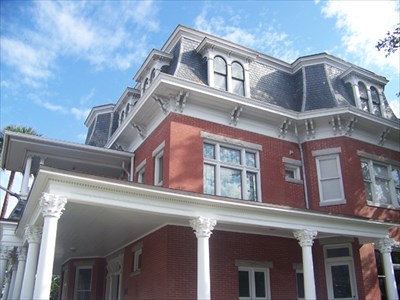 Backstory and Context
Successful merchant Currie J. Hutchinson moved to Tampa in the early 20th Century with his wife, Harriet Mae. In addition to several drug stores in the area, Hutchinson was also involved in a jewelry store, traveling medicine shows and Tampa's first ice cream factory. Construction began on the house in 1906 and ended two years later, at a cost of $6,500 (which was substantial for that time).

It is said that Hutchinson sought to build a house similar to what he had left behind in his native Ohio, which is why he had architect Francis Kenard employ the Second Empire style that was common in the Victorian era, but which was already going out of vogue. This is revealed through the house's high slate mansard roof above the second story, which links its style to its French origins. Second Empire buildings are rare in Florida and nonexistent in Tampa, except for this house.

The masonry technique is unusual, allowing for a very tight mortar line in between the red bricks. The main entrance consists of double wooden doors with the upper half glazed with clear glass. The main entrance is accentuated by a doubling of the porch columnns (one behind the other) and a hipped roof, in and above which is a balcony which aligns with the entrance cornice. An octagonal tower is in the northwest corner. Dormer windows break the slope of the mansard on all four sides and each dormer contains two round arched sash windows set beneath a lintel. The mansion also prominently displays three separate chimneys, with fine brickwork still in perfect condition, extending 10 feet above the roof top. These chimneys service the house's five fireplaces and stove.

Local cigar factory magnate Val. M. Antuono lived in the house from 1924 to 1926. It was used as a hospital from approximately 1932 to 1946, then as a rooming house, and finally as a University of Tampa fraternity house, until it was abandoned in 1977, in fairly poor shape, though it was entered in the National Register of Historic Buildings that year. The university sold the mansion to the City of Tampa, which in turn sold it to the Tampa Preservation Society (TPI), which begin a two-year restoration project on the property. In 1981, attorney William B. Plowman purchased the house from TPI, and in 1982, TPI won an Historic Restoration award for its work. However, Plowman continued the restoration of the house on all three floors while respecting all historical aspects. Attorney Matt Powell, who had rented space in the house since 1989, purchased it in 1999 and continues restoration work to this day, while using it as a law office.




Sources
"National Register of Historic Places." National Register of Historic Places. Access date: 12/9/16. http://www.nationalregisterofhistoricplaces.com/FL/Hillsborough/state.html.

Werndli, Phillip A. (ed.), "Hutchinson House - NRHP Inventory - Nomination Form (pdf)." Date: 11/1/77. Access date: 12/9/16. http://focus.nps.gov/GetAsset?assetID=35f5a2ab-dafb-40be-a9c5-2fd643b82324.

"Hutchinson House - Tampa, FL - Victorian Houses." Waymarking.com. Date: 10/5/09. Access date: 12/9/16. http://www.waymarking.com/waymarks/WM7CKN_Hutchinson_House_Tampa_FL.

"Florida Studies Center Gallery - Hutchinson house." Scholar Commons (USF). Access date: 12/9/16. http://scholarcommons.usf.edu/flstud_gallery/985.

"History and Architectural Styles of Hyde Park (pdf)." tampagov.net. Access date: 12/9/16. http://www.tampagov.net/sites/default/files/historic-preservation/files/Hyde_Park_Design_Guidelines/...

"TPI Project Awards." Tampa Preservation, Inc. Access date: 12/9/16. http://tampapreservation.org/awards-received.