Dallas Baby Camp Historical Marker
Introduction
In 1885, Dallas' only public hospital was a small frame building on Lamar Street known as City Hospital. From 1907 to 1913, May Forster Smith, a private duty nurse, worked at the area hospitals and saw the plight of infants firsthand. She invited her fellow nurses to a meeting to identify a solution. Smith and her colleagues convinced the Dallas Graduate Nurses Association to form a baby camp to treat infants. The first camp in the Southwest and the third in the country opened on April 6, 1913, on the campus of Parkland Hospital. It was originally housed in four tents provided by the American Red Cross. Due to the generosity of charitable organizations, the camp continued to operate. In 1947, the baby camp, Bradford Hospital, Children's Hospital, and Freeman Clinic came together as Children's Medical Center of Dallas. Today it is one of the largest pediatric providers in the nation.
Images
Smith after her nursing graduation in 1902
Opening of the Bradford Hospital in 1930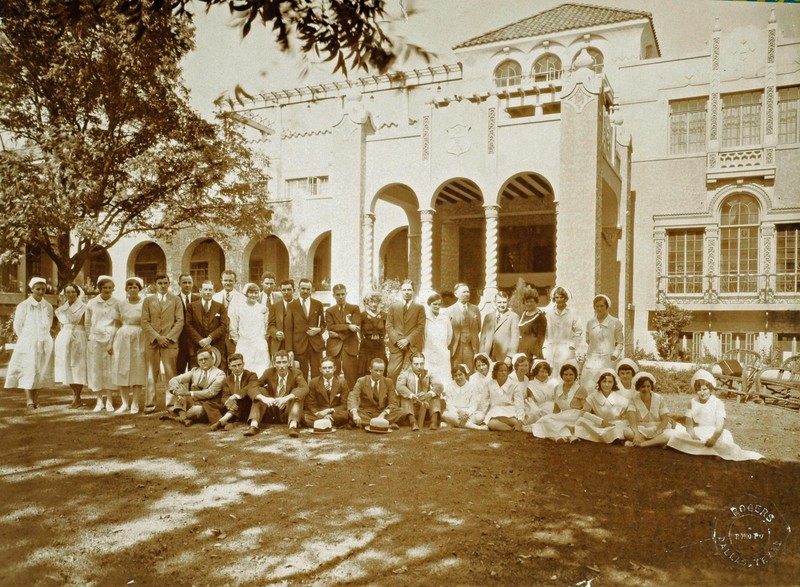 Backstory and Context
May Forster Smith was born in Mountville, South Carolina on May 25, 1874. She received her nursing degree from Cooper Hospital in Philadelphia and moved to Dallas, Texas in 1907.1 When she moved to Dallas she was shocked to find so many babies dying, often in the same hospitals as adults. At the time, infectious disease and poor nutrition were killing babies at a rate of fifteen per day. The specialty of pediatrics had yet to be formed and children were being treated as little adults. Smith knew that they needed special care to survive and with the assistance of six other nurses, opened the first "Baby Camp" in the Southwest. The American Red Cross provided the team with four tents set up on the grounds of the county hospital, at the corner of Maple and Oak Lawn Avenues.2
The technology at the camp was primitive, but Smith and the other nurses improvised. To keep the babies warm, they would heat bricks and wrap them in towels which created a sort of incubator for the infants. They would put the legs of cribs in tin cans of water and kerosene designed to keep bugs away from the babies. Word spread quickly about the success of the camp and at least 100 babies were treated that first summer. The success of the camp persuaded the city to create a permanent building on the site, which opened in 1914.3
By 1917, Smith was the camp's head nurse. In 1929, Tom Bradford Sr., whose wife and daughter were once cared for by Smith, donated $100,000 to build a new hospital in honor of his wife and daughter. The new Bradford Memorial Hospital for Babies opened on January 1, 1930. At least two babies, deserted by their families, were cared for by Smith and her staff for several years. Even though Dallas remained racially segregated, Smith and the hospital's Board of Directors saw that both Black and Hispanic children were treated at the hospital. Smith served at the hospital until her death in 1938.4
When Smith got pneumonia in 1938 she refused to stop working. She died in the same hospital she had helped to establish, surrounded by a staff that she had trained.5 In 1948 the Board of Directors of Bradford Hospital voted to join with two other facilities that treated infants and children to form the Children's Medical Center of Dallas. In 2013, the hospital celebrated its 100th anniversary and a historical marker was placed in honor of the baby camp that same year.6
Sources
1. Hazel, Michael. "Smith, May Forster." Handbook of Texas Online. June 15, 2010. Accessed November 30, 2016. https://www.tshaonline.org/handbook/online/articles/fsm68

2. Silverman, Lauren. "From Tents to Town: The Growth of Children's Medical Center of Dallas." Kera News(Dallas), April 29, 2013.

3. Ibid.

4. Hazel, Michael. "Smith, May Forster."

5. Aasen, Eric. "Children's Medical Center Dallas Born 100 Years Ago as Camp for Sick Babies." Dallas Morning News(Dallas).

6. Ibid.

Additional Information