Historical Marker: The Cattle Barons & Business Giants 1860s - 1920s
Introduction
This marker commemorates a few of the major players of Cheyenne's cattle industry of the second half of the 19th century through the first part of the 20th century. The industry was a major economic driver for the region and the railroad, built by Union Pacific, played a major role in the business as well. The prospects of work and potential prosperity attracted ranchers, settlers, and businessmen, many of whom came from eastern part of the country and even abroad.
Images
The front side of the marker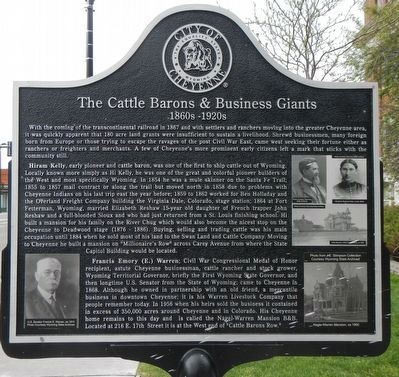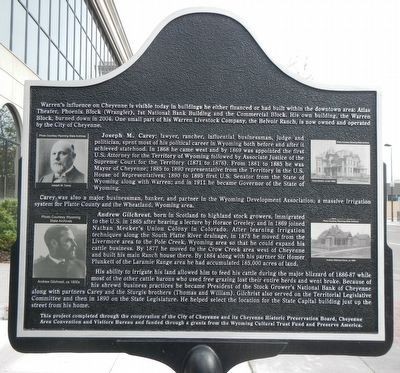 The marker is located on Carey Ave. between 19th and 20th streets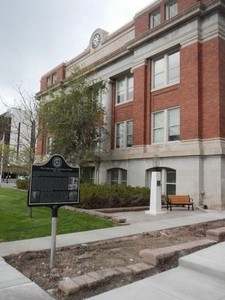 Backstory and Context
The first of the men noted on the marker is Hiram Kelly. He was an early pioneer and cattle baron, one of the first to ship cattle out of Wyoming. The next person is Frances E. Warren, who earned a Medal of Honor during the Civil War. He was a rancher, stock grower, and long-time Senator and Territorial Governor and Governor. He lived in what is now the Nagle Warren Mansion Bed and Breakfast. The third man noted on the marker is Joseph M. Carey. He was a prominent lawyer, rancher, businessman, judge and politician. The last person on the marker is Andrew Gilchrest, who was a native of Scotland. His family grew stock and he took this knowledge with him to America in 1865 and to Colorado in 1869. He learned irrigation techniques which he used to grow feed for his cattle, rather than let them free range. This allowed him to save his cattle (and his business) during the 1886-87 blizzard that killed off other ranchers' cattle. He became a prominent figure in Cheyenne and served on the committee that selected the location for the state capitol building.
Sources
"The Cattle Barons & Business Giants 1860s - 1920s." The Historical Marker Database. Accessed December 9, 2016. http://www.hmdb.org/marker.asp?marker=95210.
Photos by:
Barry Swackhamer