Cedar City Tabernacle
Introduction
The Cedar City Tabernacle, built in 1885, was the center of activities for the locals of Cedar City, Utah for 47 years. A testament to Utahan independence and ingenuity, the Tabernacle was constructed of all local materials, except for the glass used for windows. Demolished in 1932 in favor of a post office, locals built a "rock church" next to where the tabernacle had been located, and is practically a replica of the old Cedar City Tabernacle.
Images
Photography courtesy of Southern Utah University Digital Library.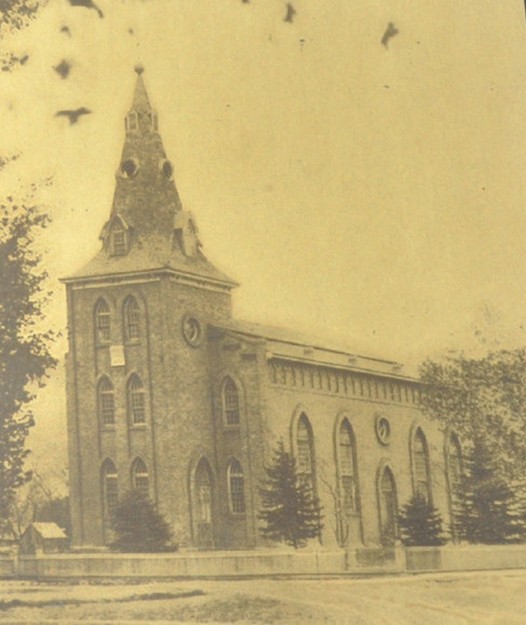 Photography courtesy of Southern Utah University Digital Library. This image, depicting a group of people posing in front of the Cedar City Tabernacle, serves to indicate the importance and degree of use of the Tabernacle by the community.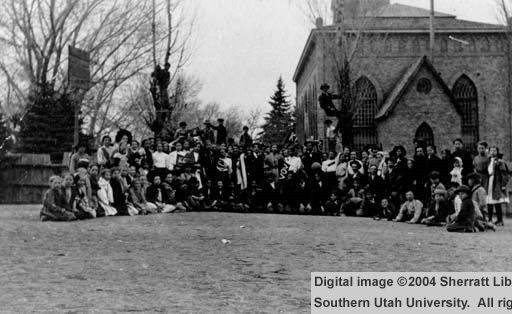 Backstory and Context
The Cedar City Tabernacle was supposed to be built in 1872, but laborers were needed for the St. George Temple; workers postponed construction until 1877, and the building was completed in 1885. Laborers cut and hauled lumber in from Deep Creek, and bricks were made just south of Cedar City. After constructing the Tabernacle, the locals regularly held meetings and church services inside. Church members added a gallery in 1887, serving to enhance the reputation of beauty associated with the Tabernacle. Located across from a school, children were able to see the Cedar City Tabernacle and feel a sense of peace and inspiration. The Cedar City Tabernacle was demolished in 1932 in favor of a post office. The U.S. government approved the demolition of the Tabernacle, citing eminent domain, and reimbursed the Church of Jesus Christ of Latter-day Saints for the property. The U.S. government is authorized, under Article I Section 8 of the United States Constitution, to establish post offices and exercise exclusive legislation over the erected post office. The Church was justly compensated, as required by the Fifth Amendment. Fair market value for the Tabernacle grounds in 1932 was around $29,000. Later that same year, the LDS Rock Church was built, costing around $85,000. Though financially outdone by the U.S. government, the Church took it all in with dignity, and the LDS rock church serves the Cedar City community to this day.
The Daughters of Utah Pioneers, an organization dedicated to marking and preserving historical monuments, surveyed the site of the Cedar City Tabernacle on 10 May 1995. They erected a stone tablet next to the Cedar City LDS rock church, upon which is inscribed "Holiness to the Lord." This is in reference to the stone tablet originally a part of the Cedar City Tabernacle, inscribed "Holiness to the Lord."
Additional Information