Site of Jane Long's Boarding House
Introduction
Born in Maryland in 1798, Jane H. Wilkinson moved to Mississippi after becoming an orphan and became the ward of her famous relative, General James Wilkinson, field commander of the United States Army. Jane married Dr. James Long in 1815 and later followed him on an expedition to free Texas from Spain. In 1821 her husband led his forces into battle, leaving Jane alone with their daughter Ann near Galveston. Her tenacity and strong will to survive a tough winter in spite of her husband's absence earned her the name "Mother of Texas". Her boarding house in Richmond became a place of prominent social and political activity.
Images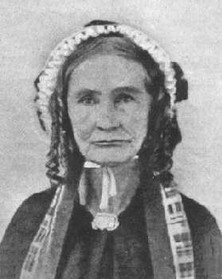 Boarding House Location Marker (Richmond, Texas)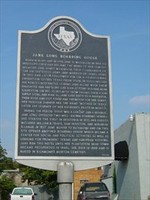 Backstory and Context
Jane Herbert Wilkinson Long was born in Maryland in July 1798. She was the tenth child of Anne and William Wilkinson. Both of her parents were deceased by the time she turned fourteen, leaving her an orphan at a young age. An older sister who lived in Natchez, Mississippi took her in and it was here in Mississippi that Jane would meet her future husband, Dr. James Long. After a whirlwind courtship, they married in 1815, when Jane was sixteen years old.1
Shortly after their marriage, James was chosen to lead an expedition to Nacogdoches, Texas, and Jane became one of the first white women to brave the Texas frontier. However, two months after arriving she was forced to flee Nacogdoches when Spanish troops from San Antonio threatened the frontier. When she again returned to Texas in 1821, it was to Fort Las Casas near Galveston Island. James would again leave on another excursion that was expected to take a month, but was instead captured by the Mexicans and killed. Jane was a widow at 24 years of age.2
Jane received a league and a labor of land as one Stephen Austin's colonists and settled down in an attempt to farm the land. When that didn't turn out as she has planned, it left her unable to sufficiently care for her family, so she opened a boarding house in 1832 near the town of Brazoria, Texas and ran it for several years. In 1837 Jane moved to Richmond and on this site opened another boarding house which became a center for social and political activities as well as lodging for prominent Texans and European visitors. The busy tavern and boarding house became a popular site of political activity and her guests included Steve Austin and Sam Houston.3

On December 30, 1880, Jane Long passed away at the age of 82 on her own plantation in Richmond, Texas. She is buried in a cemetery there with an inscription on her tombstone that reads "Mrs. Jane H. Long, The Mother of Texas".4
Sources
1Hayes-Turner, Elizabeth. Cole, Stephanie. Texas Women: Their Histories, Their Lives. Athens, Georgia. University of Georgia Press, 2015.
2Women in Texas History. Accessed October 15, 2016. www.womenintexashistory.org.
3Women in Texas History. Accessed October 15, 2016. www.womenintexashistory.org.
4Broday, Linda. Jane Long: The Mother of Texas. Petticoats and Pistols: Romancing the West of Yesterday and Today. August 18, 2009. Accessed October 15, 2016. www.petticoatsandpistols.com.


Additional Information