Telephone Co. Building (Grand Forks, North Dakota)
Introduction
Constructed during the "building boom" that took place in Grand Forks during the 1890s and early 1900s, this building was a replacement for a previous telephone company building. Built in 1904, this larger building was able to be more suffiencent in its accessibility and containment of its equipment, since the previous building was too small. Being to small the large telephone pole and wires stuck out in the skyline like a sore thumb.
Images
Telephone Co. Building as it looks today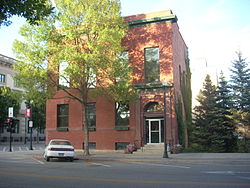 Backstory and Context
The Telephone Co. Building in Grand Forks, was built in 1904. It was listed on the National Register of Historic Places in 1982. It includes Early Commercial, "Vernacular-Classical Detail", and other architecture.
Along with Wright Block, the Clifford Annex, the Dinnie Block, and Golden Square, the Telephone Co. Building was one of many "commercial vernacular brick buildings with classical revival details" that were built during a major building boom, with high quality brickwork. It was built in 1904 by the Northwestern Telephone Exchange Company, which later became Northwestern Bell. This replaced a previous exchange that was located on the fourth floor of an office building, which had some accessibility problems. A 1901 author pointed out that the cable ran into the office from a nearby pole and was unsightly, and that the wiring inside the building was not very orderly either. The building was rather crowded. The company was in the process of buying a lot for the new exchange building.
The building was damaged by the 1997 Red River flood but later repaired. Used as a place for businesses today.
Sources
Norene Roberts & Joe Roberts (November 30, 1981). "National Register of Historic Places: Downtown Grand Forks MRA" (PDF). National Park Service
C. Kudzia; Norene Roberts; Joe Roberts & Gary Henrickson (September 1981). "NRHP Inventory-Nomination: Telephone Co. Building" (PDF). National Park Service.
and
Accompanying four photos, exterior, from 1981

Stone & Webster (1901).
Report on the Property of the Erie Telegraph & Telephone Company: Comprising the Cleveland Telephone Company, the Northwestern Telephone Exchange Company, the Southwestern Telegraph & Telephone Company, Michigan Telephone Company, Wisconsin Telephone Company
.