Old Hariman Sanatorium
Introduction
Hariman Sanatorium was the first chiropractic hospital with both in-patient and out-patient care in the United States when it opened on July 6, 1928. It was built by George E. Hariman, DC in Grand Forks, North Dakota. He managed the hospital until his death in 1977. His son continued the practice for four more years until he sold the building to the University of North Dakota which used it to house the offices of Department of Anthropology. They sold it to a developer in 1999 who converted it into apartments.
Images
The Hariman Sanatorium as it appears today as an apartment building
Undated postcard of the sanatorium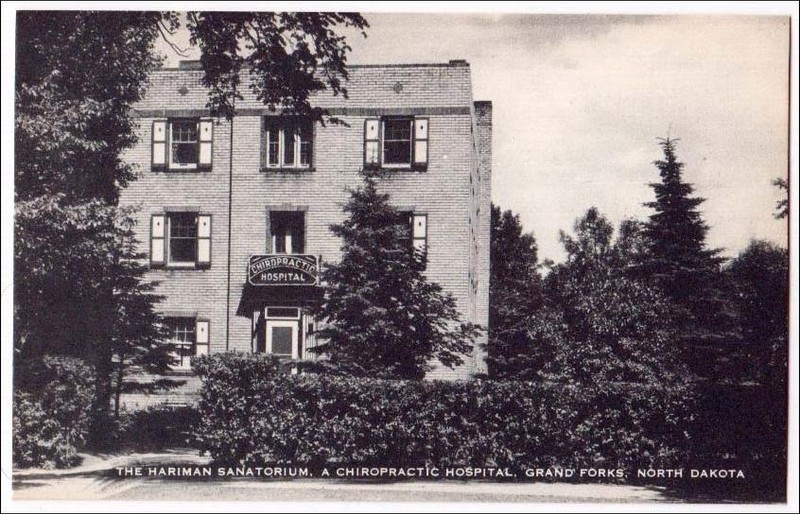 Circa 1950 photo of the sanatorium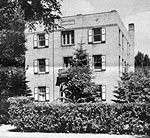 Board members and officers of the NCA gathered at Port Perry Ontario in 1946. (From left): Drs. Frank Logic; F. Lorne Wheaton; John Nugent; Loren Rogers; Floyd Cregger; Gordon Goodfellow; George Hariman; and Emmett Murphy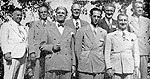 Backstory and Context
Dr. George E. Hariman was born on the Isle of Mitylene (Greece) in 1893 and moved to Chicago at the age of 16. There he took night classes for English and later enrolled at the
National School of Chiropractic (NSC). Upon his graduation in 1914, he opened his chiropractic practice in Chicago, which lasted until 1919 when he moved to North Dakota to run a small chiropractic hospital in the town of River Park. He returned to private, out-patient practice in 1924 and opened a practice in Grand Forks.

In 1928, and after much criticism and other obstacles, his sanatorium opened. Local medical practitioners wearied of chiropractic medicine, seeing it a type of alternative medicine that did not deserve its own hospital/sanatorium. When they could not revoke Hariman's building permit, they did temporarily have his bank suspend loans, which caused the constructed to be halted until it the loans came back. The finished building had 25 beds. The sanatorium was a first of its kind in America.

Besides what it is called manipulative treatments, the sanatorium also offered patients various kinds of treatments: P
hysiological therapeutics, short and ultra-shortwave diathermy; deep therapy; sinusoidal and galvanic currents; ultraviolet ray and colonic irrigation for thorough cleansing.
Lab analyses and round-the-clock nursing care were also provided, and the hospital reputedly expanded to 60 beds.

Hariman expanded his work into training. He founded in 1934 the
National Chiropractic Association (NCA) and served as its officer for the Council on Hospitals and Sanitaria. Further, he was instrumental for passage of the first state law to regulate chiropractic in-patient facilities in 1947. He also took part in other legislative and professional affairs, such as preparing North Dakota's chiropractic act of 1933, which authorized the use of physiotherapeutics by chiropractors.
He was also serving as editor of the
Bulletin of the North Dakota Chiropractic Association
, a post he held for 46 years. He also served several terms as president of his state society, and was a member of the North Dakota Board of Chiropractic Examiners for five years. Dr. Hariman was a leader in several defeats of basic science legislation in North Dakota, but was also an activist in the NCA's campaign to raise educational standards throughout the profession.
Dr. Hariman was first elected state delegate for North Dakota to the NCA's House of Delegates in the early 1930s, and contributed repeatedly to the NCA's journal (see Table 1). In 1943, he succeeded to the seat previously held by C.O. Watkins,DC, on the NCA's Board of Directors, and was elected chairman of the board for 1946-47. Dr. Hariman continued on the NCA's executive board through 1951, but along the way he picked up a variety of additional responsibilities. He enthusiastically promoted the formation of a student loan fund by the NCA leadership. On 26 July 1944, Hariman was one of the co-incorporators and served on the first board of trustees of the Chiropractic Research Foundation (CRF), forerunner of today's Foundation for Chiropractic Education and Research (FCER). Two years later, as a member of NCA's Board of Directors, he was also a co-founder and officer of the National Chiropractic Insurance Company (NCIC), predecessor of today's NCMIC.
George Hariman continued his contributions to the profession he loved well into his senior years. He operated his hospital with the assistance of his wife and his son, Donald Hariman, DC, and continued to serve in-patients and outpatients throughout his lifetime (the institution closed during the summer of 1981). In the late 1960s, he turned his concern for the profession's future toward an understanding of the past: preparation of a brief history of chiropractic education in North America. Self-published during a critical period (the final push in the early 1970s for federally recognized accreditation; Keating et al., 1998), A History of the Evolution of Chiropractic Education (Hariman, 1970) was the most thorough treatise on the topic up to that time. Hariman, the self-taught scholar, drew upon many sources within the profession as well as his own five decades as a chiropractor, to trace the paths the training enterprise had taken. It is not known to this writer how widely Hariman's booklet was distributed. Despite its brevity (44 pages), no chiropractic historian can ignore this work.
In his final years, his profession bestowed a variety of honors upon this pioneer, including: fellowship in the International College of Chiropractors; a meritorious service citation from the American Chiropractic Association (ACA) in 1968; lifetime membership in the ACA in 1970; and honors from the North Dakota Chiropractic Association and the National College of Chiropractic. Appropriately recognized in his lifetime, Hariman's legacy has largely been ignored since his passing on 13 September 1977 in Grand Forks.
After he died, the University of North Dakota to house the school's Department of Anthropology. Some years later the school sold the building, which was then turned into apartments and still is used for such a purpose.
Sources
"Grand Forks Historic Preservation Commission Minutes". June 12, 2012. City of Grand Forks
Additional Information