St. Michael's Hospital and Nurses' Residence
Introduction
St. Michael's Hospital and Nurses' Residence is a property in Grand Forks, North Dakota that was listed on the National Register of Historic Places in 1995. It was also known as St. Anne's Guest Home and denoted 32GF14, it was built or has other significance in 1907 and in 1913. It was designed and by George Hancock and constructed by the Dinnie Brothers. It includes Classical Revival architecture. The property is now "Riverside Manor;" St. Anne's relocated to North 17th Street in the early 1980s.
Images
St. Michael's Hospital as of in 2010. The flood wall wraparound was around 2003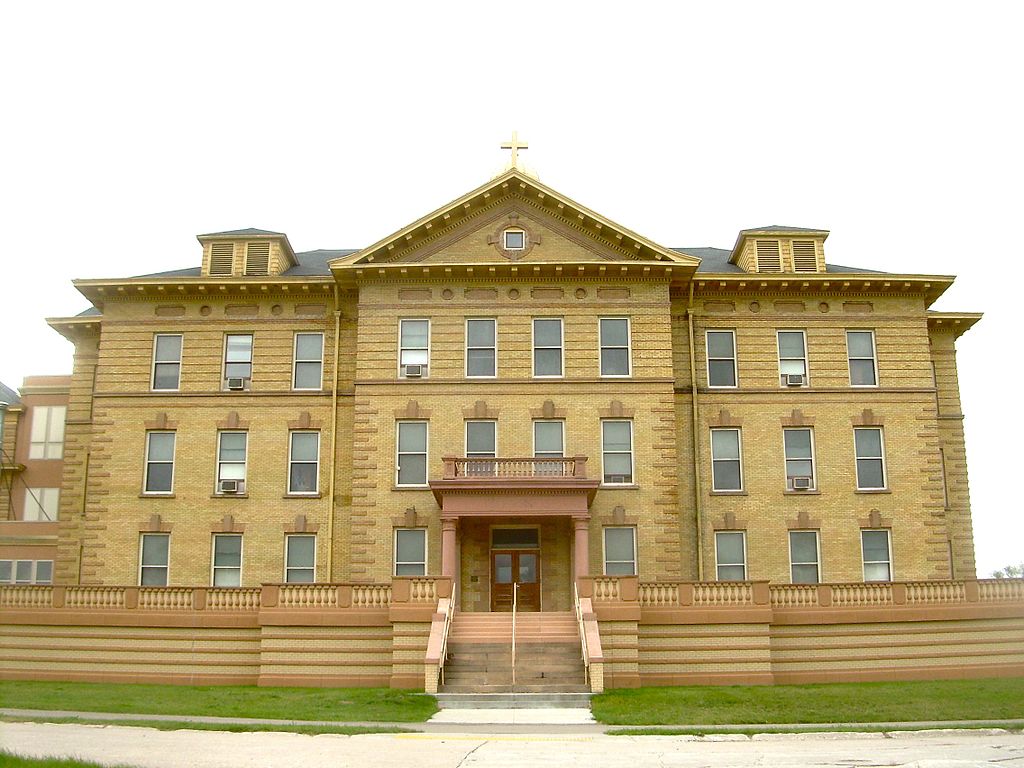 St. Michael's Hospital in early 2000, before the flood wall wraparound was added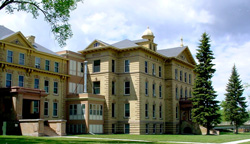 St. Michael's Hospital circa 1910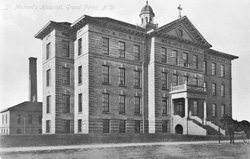 Undated colored postcard of St. Michael's Hospital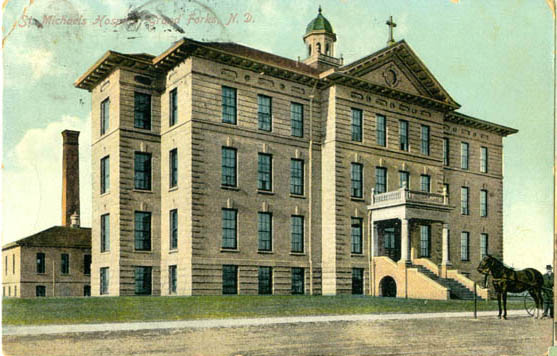 Backstory and Context
The Sister of St. Joseph of Carondelet commissioned the design of this hospital by George and Walter Hancock. This Classical Revival style hospital was constructed in 1907 by Dinnie Brothers for $100,000. In 1913, a Nurses' Residence, also Classical Rival style was deisgned by W.J. Edwards and constructed by Thomas Birge just south of the Hospital so that the buildings were connected by a passageway. Both building facades are symmetrical and both are three-stories tall on raised basements. The hospital is about 50 feet by 110 feet and the Nurses' Residence is about 50 feet by 75 feet.
St Michael's was a teaching hospital and both building were used until the hospital moved to new facilities in 1951.

The original roofs on both were replaced in 1953 and the complex was sold to the Sisters of St. Francis and renamed St. Anne's Guest Home. The retirement home accommodated over 100 residents. Unfortunately, in 1978 the State Fire Marshall informed that Sisters that the building no longer met state fire codes and would have to close. In 1981, they moved to a new location leaving the building vacant until 1994.
Major interior renovations were undertaken and in 1995, Riverside Manor, a 38 unit Senior Housing complex that has a congregate dining room opened.
A devastating flood in Grand Forks in 1997 resulted in more interior rehabilitation as well as construction of a flood wall that became in integral part of the Red River side (east side) of the building. Completed in 2007, the Greater Grand Forks Greenway
provides flood protection to the citizens of Grand Forks as well as providing recreational opportunities.
Sources
Norene Roberts (November 29, 1994). "NRHP Registration: St. Michael's Hospital and Nurses' Residence" (PDF). National Park Service.
and
Accompanying six photos, exterior, from 1993
Additional Information