Grand Army of the Republic Monument (Grand Forks)
Introduction
In Triangle Park, a lone granite soldier towering above an intersection in Grand Forks, North Dakota, calls to memory those who served in Union armies during the American Civil War. Members of the Willis A. Gorman Post of the Grand Army of the Republic were instrumental in creating a monument to commemorate the loss of fallen comrades, as well as their own sacrifices.
Images
GAR monument during winter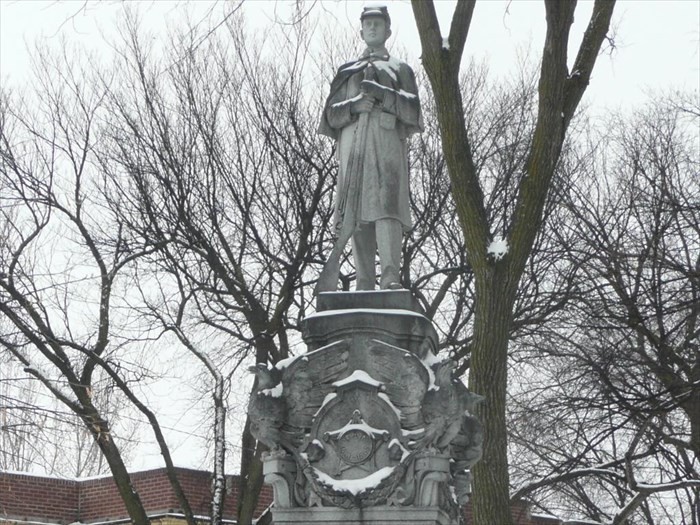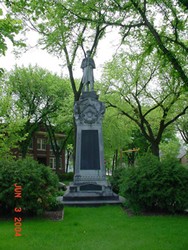 Plaque with names of members of the local GAR camp when monument was dedicated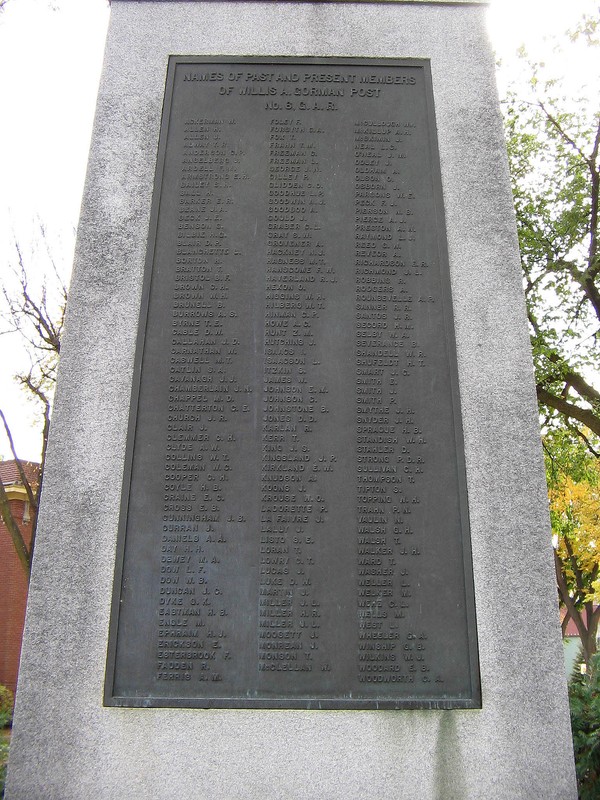 Backstory and Context
*From the Grand Forks Grand Army of the Republic website
"As a counterpoint to the GAR's tributes in northern cities, the United Daughters of the Confederacy built monuments to honor the Confederate dead and veterans. Yet over time, these competing messages have been subsumed by the theme of tragedy and reconciliation.
The spirit of reconciliation was certainly evident in the Grand Forks GAR in 1910, when the post invited former Confederate Captain J.R. Parsons to march hand-in-hand with them in the annual Memorial Day parade. George Bailey Winship, veteran of the Second Minnesota Cavalry and publisher of the Grand Forks Herald, spearheaded the Grand Forks monument effort, donating both the statue and the land on which it was placed before he sold his newspaper and moved to California in 1911. On June 22, 1913, the GAR post formally dedicated the statue with a ceremony that included a military marching band and an address by the mayor of Grand Forks.
Located off Belmont Avenue and Sixth Street, the monument stands more than 22 feet tall and is dominated by the figure of a 7-foot Union soldier. Made up exclusively of Civil War veterans, the Grand Forks GAR finally closed its doors in 1949, though the affiliated Women's Relief Corporation carried on its legacy for another 20 years. Nevertheless, renewed interest in the Civil War is likely to insure that the statue will endure as a reminder of one of the most difficult times in American history.--Research by Linsey L. Hillmer, HIST 489, NDSU"
Sources
Blight, David W.
Race and Reunion: The Civil War in American Memory
. Cambridge: Harvard University Press, 2001.
Cox, Karen L. Dixie's Daughters: The United Daughters of the Confederacy and the Preservation of Confederate Culture. Gainsville: University of Florida Press, 2003.
McConnell, Stuart. Glorious Contentment: The Grand Army of the Republic, 1865-1900. Chapel Hill: University of North Carolina Press, 1992.
Additional Information