Grand Forks Herald Building
Introduction
Serving Grand Forks since 1879, the Grand Forks Herald is both one of the oldest papers in North Dakota and the state's second largest circulation. Beyond the city of Grand Forks, the paper also serves northeast North Dakota and northwest Minnesota. Although the paper's headquarters was destroyed by the 1997 flood and fire, the paper still won the Pulitzer Prize for Public Service for its coverage of the same flood and fire. The building was rebuilt, this time with a clock tower and symbols dealing with the flood.
Images
What was left of the original Herald building following the 1997 Red River flood and fire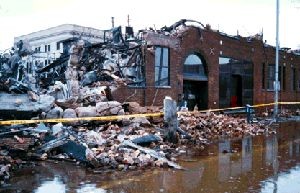 New Herald building and clock tower at night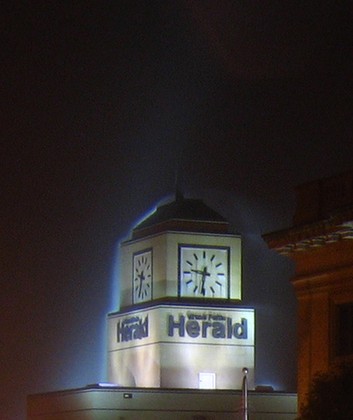 New Herald building as it looks today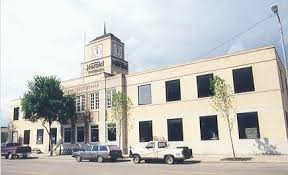 1900 sketch of the Herald building.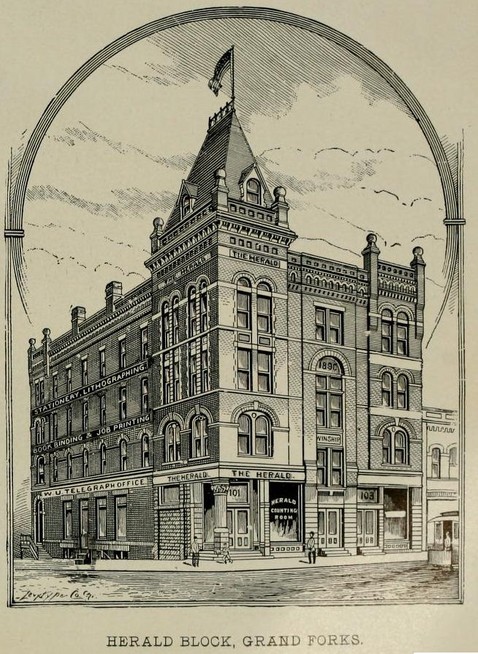 1897 photo of the building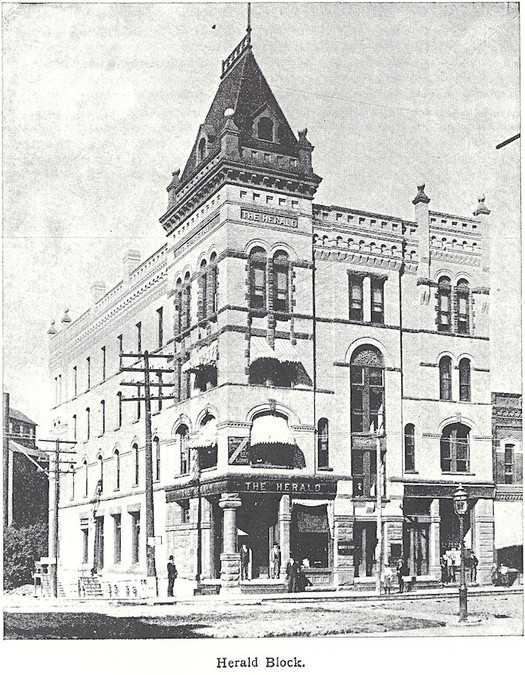 1886 sketch of the the Herald Block building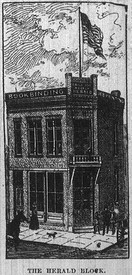 Backstory and Context
The Grand Forks Herald is a daily broadsheet newspaper, established in 1879, published in Grand Forks, North Dakota, United States. It is the primary daily paper for northeast North Dakota and northwest Minnesota. Its average daily circulation is 34,763 on Sundays and 31,524 on weekdays. It has the second largest circulation in the state of North Dakota.

The Grand Forks Herald won a Pulitzer Prize for Public Service for its coverage of the 1997 flood but the prize was bittersweet, as the Herald building had not only been inundated but, ironically, burned to the ground in the midst of the floodwaters. Despite losing its offices during the flood, the Herald never missed a day of publication. Temporary offices were set up at the University of North Dakota and at a nearby elementary school. Papers were distributed free of charge to flood "refugees" in neighboring towns.

Following the flood, the newspaper rebuilt its office building in downtown Grand Forks. Its distinctive features are a tall clock tower and the symbolism built into the structure, as well as parts of the old building that survived the fire. A new printing facility was also built in an industrial park in the western part of Grand Forks.
Knight Ridder sold the Herald to The McClatchy Company on June 27, 2006. McClatchy had already arranged the sale of the Herald to Forum Communications, owner of The Forum of Fargo-Moorhead and WDAZ-TV in Grand Forks. Today, the Herald is one of many regional newspapers published by Forum Communications.
Additional Information