New Hampshire Apartments
Introduction
On this spot once stood the New Hampshire Apartments, a complex destroyed by the 1997 Red River Flood and subsequent fire. Designed by New Jersey architect, Joseph Bell DeRemer and constructed by the Canadian Dinnie Brothers, who owned a businesses in Grand Forks. Opened in 1904, the complex was used until its demise in 1997. A marker sits where the apartments once stood.
Images
Historic Marker for the apartments. The marker sits where the apartments once stood.
The Security, New Hampshire Apts. (center of remains), and Dinnie Buildings destroyed by ire during the Red River flood of 1997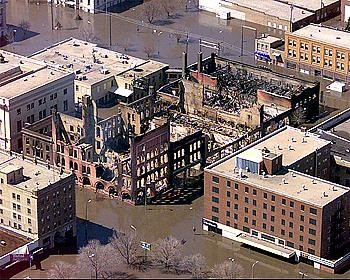 Backstory and Context
The New Hampshire Apartments in Grand Forks, North Dakota were listed on the National Register of Historic Places in 1982. They were built in 1904 at a cost of $26,000 and were significant as a building designed by architect Joseph Bell DeRemer. The apartments were an example of commercial vernacular architecture, and the building was the first in Grand Forks to have a planned second-story-level walkway to another building (the Security Building). When listed on the National Register, the apartment complex was one of few remaining downtown structures designed by DeRemer with classical details. It was built by the Dinnie Brothers, a construction firm that was established in 1881 and was at one time responsible for the building of more than 60 percent of the commercial buildings in Grand Forks

When the large amount of snow melted due to high temperatures during April and May 1997, the Red River, that ran through Grand Forks, flooded over, devastating most of the city. The flood washed into the apartments and the following fire finished off the destruction of the apartments.

*Any older photos of the apartments, or of what remained following the 1997 flood, should be added to this page.*


Sources
C. Kudzia; Norene and Joe Roberts; Gary Henricksen (September 1981). "NRHP Inventory-Nomination: New Hampshire Apartments"

Norene Roberts & Joe Roberts (November 30, 1981). "National Register of Historic Places: Downtown Grand Forks MRA" (PDF). National Park Service.

Additional Information