Jacksonville's Downtown Square
Introduction
Jacksonville's downtown square is newly renovated and is perfect for anybody wanting to checkout the town's downtown history or attend the events that go on. There is a great variety of places to eat and shop. The downtown of Jacksonville holds a lot of historic value and there are currently quite a few buildings that still hold that value.
Images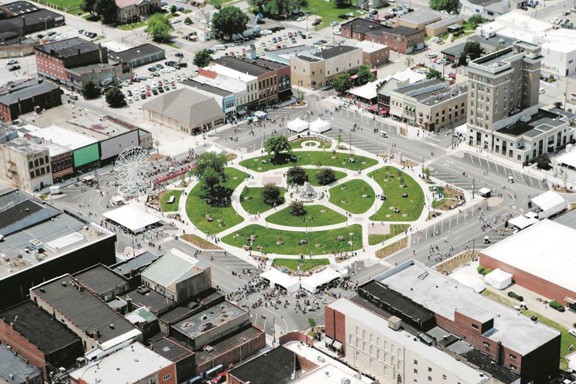 Backstory and Context
Jacksonville's downtown square is newly renovated and is without a doubt, the heart of Jacksonville. There are lots of great businesses, resources, and even restaurants and bars located around the square. Jacksonville holds a lot of history, especially downtown.
One of the things Jacksonville is known for is the Eli Bridge Company, which is famous for their "Big Eli" wheels and amusement park rides. Eli Bridge actually announced their famous "Big Eli" wheel on the square in 1900. The company holds a lot of history in Jacksonville and they are still in business today. Aside from Eli Bridge, the square has a lot of other historic value and has seen lots of construction in recent years. Many of the buildings are still present from the 1900's. Some may have been renovated, but they are still there holding a lot of that historic value. The square was renovated in 2011 and later the next year the north and south side square entrances were opened and allowed motorists to travel through the square for the first time in over 40 years. With the renovations in 2011 came a lot of improvements for the square. According to an article published by Jacksonville's local newspaper, downtown vacancy reduced tremendously from 27 percent to under 5 percent. Businesses increased from 27 to 35, bars from 13 to 23, and tourist sites from two to 14. A few of the of businesses, bars, and restaurants include Mulligan's, an Irish restaurant, Don's Place Inc., an Irish bar, and Our Town Books, which is a book store with great variety of high quality of new and pre-owned books. All of these downtown businesses, bars, and restaurants give community members and tourists a variety of places to shop and or eat around historic downtown Jacksonville.
The community of Jacksonville has always been a great growing community. In fact, since May 2012 the square has held an event known as the Jacksonville Main Street Downtown Celebration, which was always a great turnout if the weather held up. However, the Main Street's board of directors has decided to part ways with it due to inclement weather the past few years. The celebration was a community get together that was put on, to celebrate the opening of the square. The event generally had concerts, food was provided, and even fireworks. Even though they won't have the celebration anymore, concerts are still scheduled to go on. Aside from the Downtown Celebration there are always other great events held on the square or around downtown. In fact, in 2013 they had the Grand Prix go kart races. The square was set up to a half mile track to allow the go karts to race. The race had around 5,000 spectators in attendance. Another great event that is held on the square is Jack's Auto Clinic Plaza Car Show, which just had their 19th annual car show over the past summer. Whether it's blazing hot or not there is always a great turnout. Also, another annual event that goes on is Jacksonville Main Street's fourth annual Pumpkin Festival. This festival is great to get the family out and enjoy the Halloween spirit. The community is great and supporting with putting on all of these great events.Despite all of the events, there are many historic buildings in Jacksonville, especially downtown. One interesting building that has a lot of historic value is the old post office. The old post office was purchased by the Morgan County Historical Society and is currently undergoing construction. The post office was not in tip top shape so the Historical Society is having remodeling done and has planned to have a museum put in by 2017. A great resource to have as a business downtown is the Jacksonville Area Convention & Visitors Bureau for tourists especially, but it's open to the community as well. If you need to plan your trip to Jacksonville, are wondering about events in the area, or even just need help choosing a hotel, the Visitors Bureau is always willing to help visitors and community member in any way possible. It's a great organization that is willing to help with whatever problems or questions one may have.
In conclusion, downtown Jacksonville not only holds a lot of historic value, but it also holds a lot of fun events. For visitors and tourists, there are a great variety of hotels, restaurants and bars, businesses, and even things to do! With all of the fun things to do in Jacksonville, don't be stranger and come to the wonderful historic downtown of Jacksonville.
Sources
Blanchette, David. "Jacksonville - Plans For Museum Falling Into Place - Group Wants To Move To Old Post Office Building". State Journal-Register (2016): 17. Print.
Brittin, Joe. "Dittmer, Scott And Schuler Win Pro Races At Jacksonville Plaza Grand Prix".
ekartingnews. N.p., 2016. Print. 4 October 2016.
Draper, Nick. "Jacksonville Main Street Gives 'State Of The Downtown' Presentation". Journal Courier. N.p., 2015. Web. 16 Oct. 2016.
"Downtown Jacksonville". Jacksonville Area Convention & Visitors Bureau. N.p., 2016. Web. 19 Oct. 2016.
Eli Bridge Company. N.p., 2016. Web. 18 Oct. 2016.
Jacksonville Area Convention & Visitors Bureau. N.p., 2016. Web. 20 Oct. 2016.
"Jacksonville Main Street Pumpkin Festival". Jacksonville Main Street. N.p., 2016. Web. 20 Oct. 2016.
McCabe, Jim. "North Main Re-Opened For Traffic To Square". WLDS. N.p., 2014. Web. 16 Oct. 2016.
Olson, Greg. "Jacksonville Square Once Was A Shopper'S Paradise". Journal Courier. N.p., 2015. Web. 29 Sept. 2016.
Our Town Books. N.p., 2016. Web. 17 Oct. 2016.
Seaborn, Jenna. "Downtown Celebration Comes To End". Journal Courier. N.p., 2016. Web. 11 Oct. 2016.
Turke, Ryne. "Downtown Jacksonville Hosting 19Th Plaza Car Show". WLDS. N.p., 2015. Web. 20 Oct. 2016.