Fifth Avenue Baptist Church
Introduction
Fifth Avenue Baptist Church was founded only one year after the city of Huntington, WV was incorporated. Before establishing a permanent residence in Downtown Huntington, the church rented local spaces to accommodate the congregation, and even met above a saloon for a short period of time. The first location of Fifth Avenue Baptist Church was located where the Herald Dispatch office is today. As a member of the Downtown Churches Association, Fifth Avenue Baptist is dedicated to helping the Huntington community through programs such as Blessings in a Backpack, Helpington, and ALMS.
Images
Fifth Avenue Baptist Church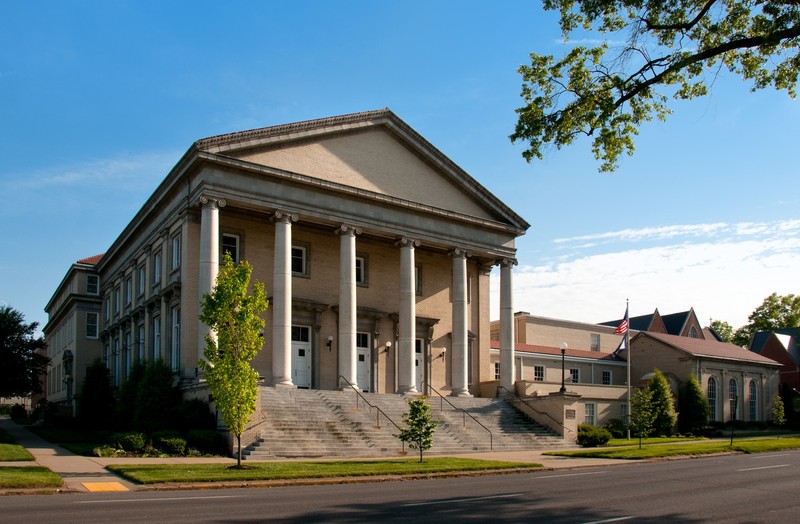 The first established location of Fifth Avenue Baptist Church- this structure was torn down, and the Herald Dispatch offices now sit on this property.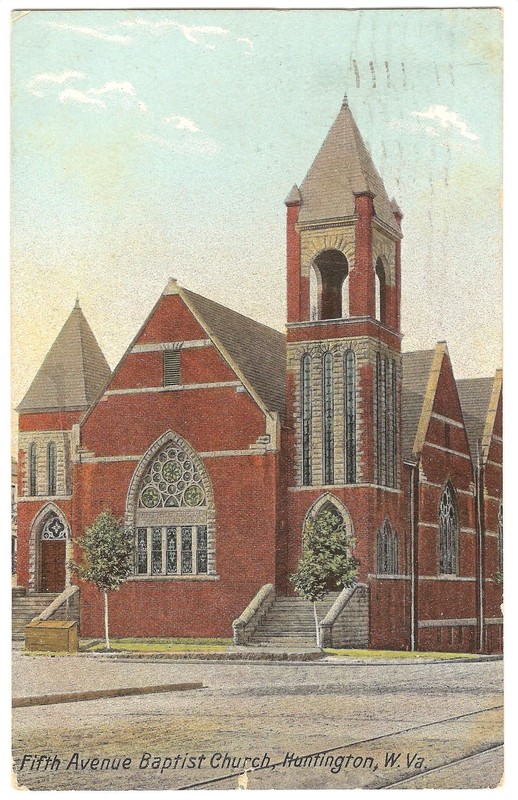 Backstory and Context
Guyandotte Baptist Church pastor, Reverend A. M. Simms, had been participating in missionary work in the newly incorporated railroad town of Huntington, WV in 1872 and decided to organize the First Baptist of Huntington. The church was established in October of 1872 with only 15 members. On June 29, 1887, the name was changed from First Baptist of Huntington to Fifth Avenue Baptist Church to differentiate themselves from the newly established African American church, First Baptist Church. A log structure once stood where Marshall University's campus is today, and was utilized as a chapel for many different denominations. Many of the churches in Huntington, WV held their first services in the log structure, just as Fifth Avenue Baptist did.
In March of 1873, 67 of the 100 Baptists in Huntington WV belonged to Fifth Avenue Baptist, and the church started to have trouble finding a meeting space to accommodate their growing congregation. In the late 1870s, Fifth Avenue Baptist held their worship services in Lallance Hall on the corner of 3rd Avenue and 8th Street, however this location was not desirable because of its location above a saloon. After becoming a member of the Guyandotte Baptist Association in 1877, Fifth Avenue Baptist purchased the lot on the corner of 5th Avenue and 10th Street and established a permanent structure for the congregation. Due to a growing congregation, Fifth Avenue Baptist built an even larger church on the same piece of property in 1895. Concerns that the church was located too far away from downtown, the church sold the building and the property to Col. J. H. Long in 1916, who then demolished the church and built a structure to operate his newspaper in. The building that originally housed the Huntington Advertiser, now houses the Herald Dispatch. Fifth Avenue Baptist moved to the corner of 5th Avenue and 12th Street in 1919, and has remained there until this day.
Sources
"Who We Are." October 2015. Accessed November 27, 2016. https://s3.amazonaws.com/media.cloversites.com/e9/e95eb236-9d9f-493a-9f86-02d824c1c04b/documents/Profile.pdf.
"Fifth Avenue Baptist Church." Accessed November 27, 2016. http://fifthavenuebaptist.org/about/history.
"Lost Huntington: Fifth Avenue Baptist Church." October 11, 2016. Accessed November 27, 2016. http://www.herald-dispatch.com/features_entertainment/lost-huntington-fifth-avenue-baptist-church/article_af92d521-13ca-5241-a260-aeccbdf7dbd8.html
Additional Information