The Hotel Metropolitan Museum
Introduction
The Hotel Metropolitan is located in a home that was converted into a hotel in 1909 and operated by African American businesswoman Maggie Steed. The hotel is historically significant today owing to its role as a place where traveling musicians of color could find accommodations as the traveled. However, it was also home to several conventions of Black religious and civic leaders in the early 20th century. The hotel expanded in the 1930s and included the famous "Purple Room" where liquor was served and music was enjoyed. After white-owned hotels stopped drawing the color line in the 1950s and 1960s, the hotel's fortunes waned and the building became a boarding house. When threatened with demolition in 1999, local African American residents teamed up with other residents and formed the Upper Town Heritage Foundation. The former hotel is now a museum.
Images
The former hotel is now a museum that welcomes overnight guests with advance notice.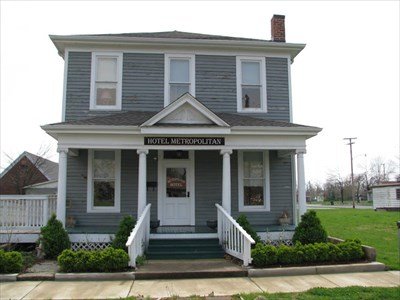 The building during structural work that preserved the historic hotel from demolition.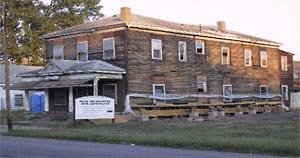 Backstory and Context
Henry Steed and Maggie Steed purchased this home in 1904. Like many other African Americans, the Steeds rented rooms to help make ends meet. When Maggie Steed proposed the idea of converting the home into a full-fledged hotel, her husband opposed the plan and it was not until after his death in 1908 that Maggie's vision would become a reality. However, she found that the city rejected her application to operate a hotel because of her gender. After she applied under her late husband's name, she was able to proceed. The hotel was first opened in 1909.

The Hotel Metropolitan served as a safe resting place for African American travelers. While not legally barred from entry to all local venues, African American travelers had to worry about things ranging from sub par service to violence when it came to white-run businesses. Businesses owned by African Americans were much safer.
The hotel accommodated numerous African American families, traveling business people, religious leaders, baseball players, and most famously, musicians.
The Roaring Twenties saw the rise of jazz music. Visitors of the Hotel Metropolitan include but are not limited to Cab Calloway, Ella Fitzgerald, Ray Charles, Chuck Berry, Tina Turner, Little Richard and Baby Dodds. Musicians such as those listed relied on the Hotel Metropolitan as a place where they could reliably find accommodations. In fact, so many musicians traveled through that part of the hotel, the Purple Room, was built specifically for them to spend time in during their stay. Many local residents of Paducah enjoyed the music played by visiting musicians from inside the Purple Room. The hotel also welcomed African American leaders like Thurgood Marshall, as well as Black athletes like Satchel Paige.
After falling into disuse, the Hotel Metropolitan was condemned. The Uppertown Heritage Foundation intervened, and was able to reopen the hotel in 2008. In the present day, the museum is open only by appointment, as are the hotel's overnight accommodations. Betty Dobson, resident historian, curator, and hotel director currently maintains the hotel's operations. A wide variety of events are held inside the hotel periodically.
Sources
Maggie Steed: Pioneering Entrepreneur. The Kentucky Foundation for Women. March 08, 2018. Accessed January 26, 2019. http://www.kfw.org/feminist-blog/kfw-features-maggie-steed-womens-history-month/.

West, Joyce. Paducah's Hotel Metropolitan. Kentucky Educational Television. February 15, 2015. Accessed January 26, 2019. https://www.ket.org/promos/kentucky/paducahs-hotel-metropolitan/.


Additional Information