Pima County Courthouse
Introduction
Roy W. Place, one of Tucson's most distinguished architects, designed Pima County's third courthouse in 1928. Built around three sides of a patio, with a covered arcade enclosing the fourth side, it is a two-story stuccoed brick structure built in the Spanish Colonial Revival style. It features an elaborately carved facade and a large dome adorned with brilliant ceramic tiles. This courthouse is listed in the National Register of Historic Places. The building was vacated by Fall of 2016. The Pima County Supervisors will have the final say on how the courthouse will be utilized. Plans tentatively include a visitors' center and museum. The County is in discussions with the University of Arizona and the Tucson Museum of Art to house exhibits. There will be a new café, and a memorial to the victims of the 2011 Tucson Shooting that seriously wounded then-U.S. Representative Gabrielle Giffords. Regardless of who moves into the building, it is expected to look pretty much the way it does now. There are no plans for renovations other than updating the interior space to accommodate new tenants.
Images
Pima County Courthouse, completed 1929.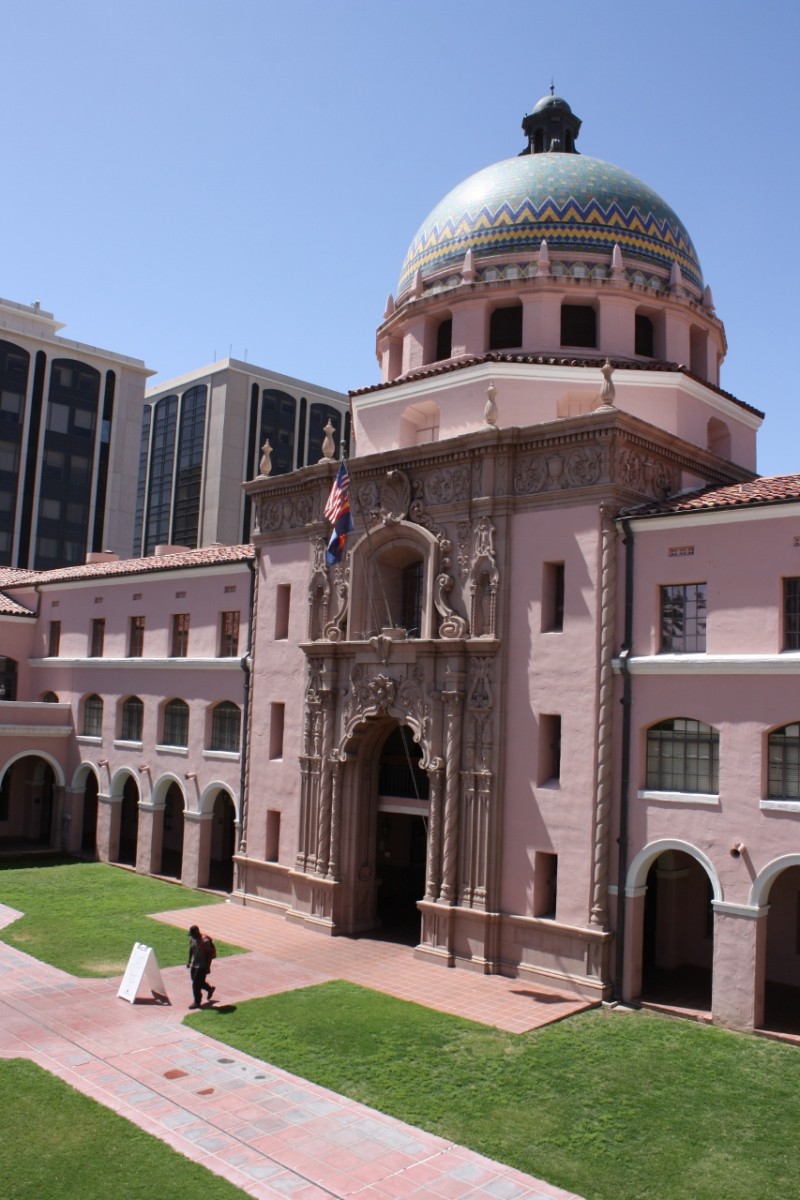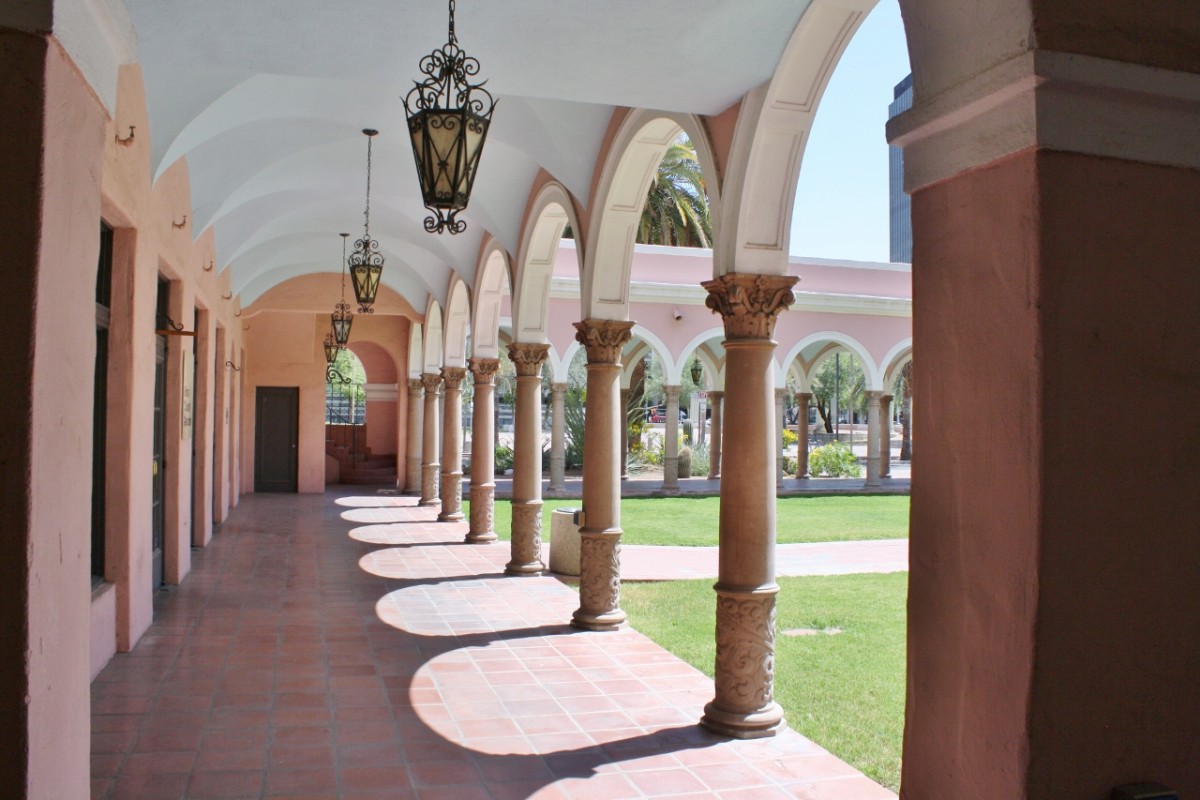 When bids came in low to build the a new courthouse in 1928, the Board of Supervisors used the extra money to order tile for the 100-foot-tall dome.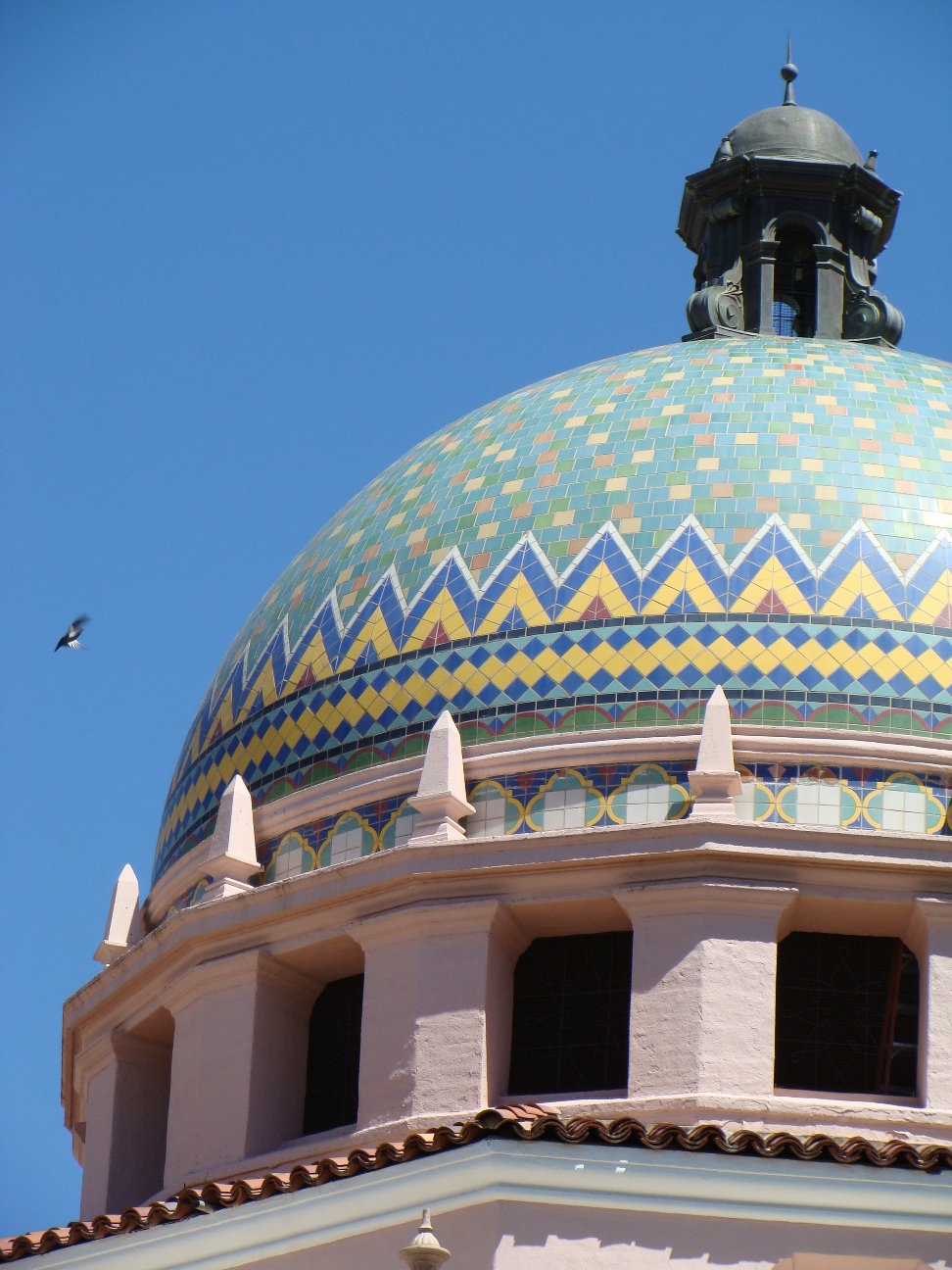 First Pima County Courthouse

Second Pima County Courthouse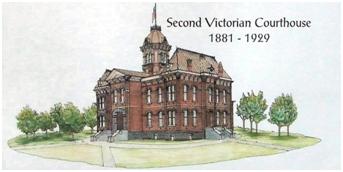 Hand-drawn plans for the 1929 courthouse include a deputies' dormitory and a fingerprint room, which was fairly new technology in criminal investigations.
The 3rd/1929 courthouse before the large 1955 addition to the south side of the building.

Backstory and Context
When the old courthouse was finished in 1929, it housed not only courts, but the sheriff, his deputies' dormitory, the jail and a multistory steel stack system, similar to a library, for storing records. The Spanish Colonial Revival building was designed by Roy Place, a local architect who also designed the Cochise County courthouse and 25 buildings at University of Arizona. It is widely recognized as Arizona's finest example of the style.


The 32-foot-wide tile-clad dome towers 100 feet at the tip of the cupola, which includes a copper lantern. Several other copper light fixtures hang from the open-air hallways running around the ground floor courtyard. The building – which cost roughly $300,000 and was paid for with county bonds – replaced an older courthouse, which was demolished after the "new" one was finished in December 1929. Since then, it has housed a variety of county offices.
The building previously housed the Pima County Superior Court (1930-1977) and later, the Pima County Consolidated Justice Court (1977-2015), which handled lower-level state criminal matters and small claims cases.
When ground was excavated for this building, the southwest corner and part of the wall of the original Tucson Presidio was discovered. A section of the wall is on display on the second floor of the building. A stone marker in the courtyard also gives the location of the ancient Presidio.
History of previous Pima County Courthouses
Arizona became a Territory of the United States in 1863 and over the next several months counties were organized. Tucson, the seat of Pima County, became the capital of the Arizona Territory in 1867 and remained so for ten years. From 1866 to 1868, Pima County business was conducted in some buildings rented from Solomon Warner. Increased population and activity made it clear that Pima County needed a permanent courthouse.
In 1880, the Southern Pacific Railroad came to Tucson. It had a significant impact on population growth and business in the community. As a result, a larger courthouse was needed and additional land was purchased from stable owner and Sheriff Robert Leatherwood. On this site a second, larger courthouse was built in 1881.
County Commissioners W.W. Williams, James Toole, and William S. Oury contracted with John Harlow to build the new courthouse located at the corner of Church and Pennington Streets. The courthouse was a Victorian style, two-story brick structure with a grey stone foundation. The cruciform building had two side wings topped by gable attics and a tower with a cupola surmounting the center. Called "the pride and joy of the Territory," this courthouse was used through the rest of the Territorial era. Arizona became a state February 14, 1912. The courthouse was demolished in 1927 when it no longer met the needs of the community.(3)

Sources
1. "History of Pima County Superior Court," Pima County website, accessed November 21, 2016.
http://www.sc.pima.gov/Default.aspx?tabid=209
2. "Pima County Courthouse," Bo Makison's Historic Places Photography, 2010, accessed November 21, 2016.
https://historicplacesphotography.wordpress.com/2010/04/23/pima-county-courthouse/
3. "Historical Perspective, Pima County Justice Court website, accessed November 21, 2016.
http://www.jp.pima.gov/CourtHistory/BuildingEvolve/HistoricalPerspective.htm
Drawings/Photos and history of all four Pima County courthouses.
Newspaper Articles
4. Brad Poole, "County Aims to Put Museums in Historic Courthouse," DOWNTOWN TUCSONAN, April 2015, accessed November 21, 2016.
http://www.downtowntucson.org/2015/04/county-aims-put-museums-historic-courthouse/
5. Bud Foster, "Historic Pima County courthouse could become new visitor center," TUCSON NEWS NOW, October 2016, accessed November 21, 2016.
http://www.tucsonnewsnow.com/story/33306575/historic-pima-county-courthouse-could-become-new-visitor-center
6. Dylan Smith, "Photos: Inside the historic Pima County courthouse," TUCSON SENTINEL.com, August, 2015, accessed November 21, 2016.
http://www.tucsonsentinel.com/arts/report/082515_courthouse_pics/photos-inside-historic-pima-county-courthouse/
7. "Pima County Courthouse," Historical Marker Database, accessed November 21, 2016.
http://www.hmdb.org/marker.asp?marker=55222
8. "National Register of Historic Places- Registration Form," NPS website, 9 pages, accessed November 21, 2016.
http://npgallery.nps.gov/pdfhost/docs/NRHP/Text/78000566.pdf
9. "Development Concepts Regarding Regional Visitors Center Repurposing of the Historic Pima County Courthouse," on Scribd.com app, September 29, 2016, accessed November 21, 2016.
https://www.scribd.com/mobile/document/326303647/Pima-County-Courthouse-Visitors-Center
10. Wikipedia entry, Pima County Courthouse, accessed November 21, 2016.
https://en.m.wikipedia.org/wiki/Pima_County_Courthouse
11. "Video: Future plans for old Pima County Courthouse," ARIZONA DAILY STAR, (2:12 mins.), accessed November 21, 2016.
https://m.youtube.com/watch?v=tL8Mmu6aUwU
Additional Information