Dowdy Ficklen Stadium
Introduction
Dowdy Ficklen Stadium was built in 1963 and is home to the East Carolina University football team. The stadium has an occupancy of 50,000 and has been expanded significantly from the time of its first game when it could accommodate around 10,000 fans. The stadium was named after James Skinner Ficklen, owner of Skinner Tobacco Company in Greenville and a donor to the university and its athletics program. The stadium's name became hyphenated in later years to honor donors Ronald and Mary Ellen Dowdy who funded the expansion of the stadium.
Images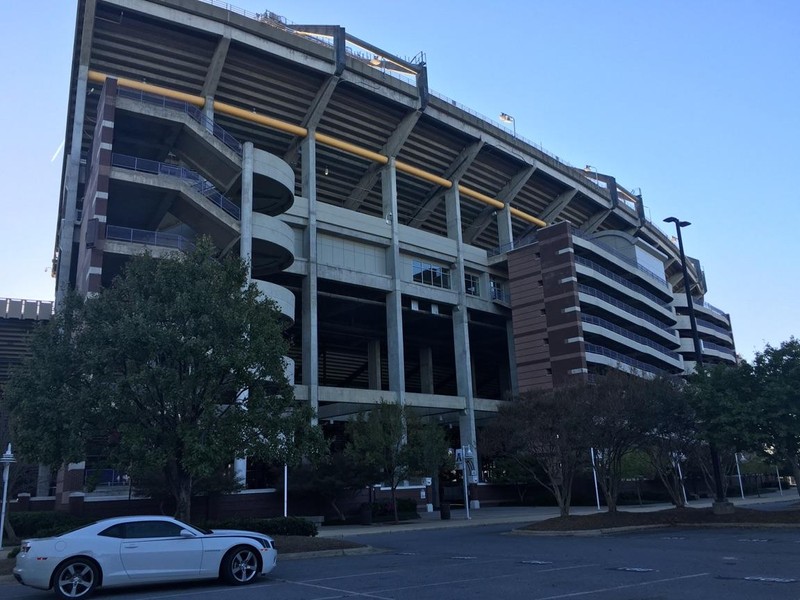 Backstory and Context
Prior to construction, Dr. Leo Jenkins, president of East Carolina University, played a crucial role in launching a fund-raising campaign to help fund Ficklen Stadium. The blueprint for what is now known as Dowdy-Ficklen stadium, occurred in March of 1962. The total estimated cost of the initial project in 1962 was $288,090.00. On May 3, 1962, a groundbreaking ceremony took place in Greenville, NC. Through donations from the local community, college staff, student government, and Pitt County, the stadium that was once merely a dream, turned into a reality. From 1961 – 1962, over 260,000 in donations had been raised, exceeding the goal of 200,000. This success of the funds campaign was attributable to the spearheading efforts of an eight-man committee of Greenville businessmen: Chairman W.M. Scales Jr.; Dr. E.B. Aycock; H.L. Hodges Jr.; R. Wallace Howard; J. Con Lanier Sr.; S. Reynolds May; and David J. Whichard II. In addition, the highest pledges were made by Pitt County (10k); Greenville Utilities Commission (10k); and Home Savings and Loan (3k) Working hand in hand with Dr. Jenkins, the drive brought in $283,387 – the largest fundraising project in the history of Pitt County.
On May 3, 1962, a groundbreaking ceremony took place in Greenville, NC. While under construction, the playing area of the field was fumigated with Methyl Bromide, known to kill most disease. Only four other football fields in our nation were treated in this highly regarded manner. The first football game played in the new stadium was a historical game played between ECC and Wake Forest College. It was the first home meeting between the Pirates and an Atlantic Coast Conference member. Its victory ignited a firestorm among the Pirate faithful and was the rock on which the future of the program would be built. It has to be one of the most important wins in the school's history — home or away. Today, the highest attended game was in Sept. of 2014 against North Carolina, with 51,082 people in attendance. A close friend of East Carolina, Mr. Ficklen, established the Ficklen Foundation which provides many scholarship opportunities to the students at East Carolina University.
Another round of renovations is currently underway and scheduled to be completed by 2018. Totaling 55 million dollars, this renovation is to provide premium parking, loge boxes, field-level club seats, and suites and additional Pirate Club seating out of the sun on the south side. Construction is set to begin following the final home football game" of the '17 season.
Sources
"Dowdy- Ficklen Stadium", n.d., Joyner Library, Building Histories. http://www.ecu.edu/cs-lib/archives/buildinghistories.cfm1
"JAMES S FICKLEN: The Stadium, The Man",n.d., in RG 02.06, Series 17, Sub Series XX, Box 62, University Archives, Joyner Library East Carolina University 2
"LEO W Jerkins President",n.d., in RG 02.06, Series 17, Sub Series XX, Box 62, University Archives, Joyner Library East Carolina University 3
"EAST CAROLINA COLLEGE GREENVILLE , N.C",October9,1961, in RG 02.06, Series 17, Sub Series XX, Box 62, University Archives, Joyner Library East Carolina University4
"Dowdy- Ficklen Stadium",n.d., Joyner Library, Building Histories. http://www.ecu.edu/cs-lib/archives/buildinghistories.cfm5

Additional Information