Chicano Student Walk-out In Crystal City
Introduction
At this location on December 9, 2016, 500 students walked out that day and began a student boycott. The boycott happened because students demanded that their educational program treat their lives as Mexican-Americans fairly and respectfully. As middle and elementary school students joined the walk-outs, the number of student participants reached over 2,000. After a month of the school boycott, the students negotiations were met, ending the boycott on January 6, 1970. Influencing neighboring cities to stand up and become part of the movement.
Images
500 Chicano students boycott Crystal City High School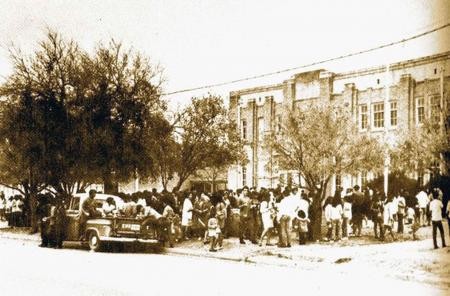 In honor of the 40th anniversary of this movement, Dallas' Cara Mia Theatre Company created an original play called "Crystal City 1969". The production ran December 9-19,2009.
Backstory and Context
Changes for the Crystal City cheerleaders began in fall of 1969 when two vacancies on the high school's cheerleading squad opened, but only one Chicano student could fill the spot. Mexican American students went to the school administration, but they were no help. Even so, they took it upon themselves to meet with the school boards and superintendent. The board refused to hear their demands, so, frustrated, and intent on making their demands known, High school students staged a walk out on December 9, 1969.

More than 2,000 students proceeded to join the walkout, including the middle school and elementary. This event had the neighboring cities in South Texas starting their own protest, due to the fact that the similar issues were occurring frequently and recently. In response, Texas Sen. Ralph Yarborough invited three student leaders to Washington, D.C., to discuss the discrimination in their schools. Alerting officials in the Civil Rights Division of the Department of Justice and the Department of Health, Education and Welfare of the serious situation in Texas, Texans for the Educational Advancement of Mexican Americans (TEAM) mobilized educators to Crystal City to teach the striking students during the holidays.

On Jan. 9, 1970, the students' demands were approved. Within two years, the schools' faculty, administrators and superintendent reflected the Mexican American majority of the community. The Crystal City student walkout remains a point in the history of student activism in the Southwest, providing both template and inspiration for any community faced with civil discrimination.

This movement is a part of history that influences many more boycotts that happen throughout South Texas based on their Mexican-American rights that these students are fighting for. Going above and beyond and being remembered through history.

Sources
Barrios, G. "Walkout in Crystal City." Teach Tolerance. http://www.tolerance.org/magazine/number-35-spring-2009/feature/walkout-crystal-city , Spring 2009.
Editorial. "Chicano Protesters Go to Washington." Abeline Reporter News 19 Dec. 1969: 23. Newspaper Archive. Web. 16 Sept. 2016. http://library.delmar.edu:3461/us/texas/abilene/abilene-reporter-news/1969/12-19/page-23?tag=chicano&rtserp=tags/chicano?ndt&py=1960&pey=1969&psb=date&pse=30 (Links to an external site.)
Enriquez, Sandra. "Oral interview with Diana Palacios" Civil Rights in Black and Brown Oral History Project. 2015, July 9, https://crbb.tcu.edu/clips/wanting-fairness-the-walkout Enriquez, Sandra. "Oral interview with Maricela Lozano" Civil Rights in Black and Brown Oral History Project. 2015, June 24,
https://crbb.tcu.edu/clips/the-community-s-response-to-the-walkout
Additional Information