Jacksonville Developmental Center
Introduction
The Jacksonville Developmental Center was the first hospital of its kind Illinois, opened in 1847. It is a landmark that was closed in 2012 due to budget cuts for the state. It is a place many people called home for so many years.
Images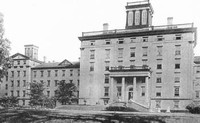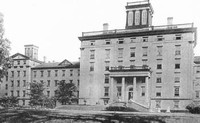 Backstory and Context
In 1847 the General Assembly met for a meeting to discuss the establishment of the first hospital for the insane in Illinois. By the end of that meeting the nine-member board came to the agreement to build the hospital in Jacksonville, Illinois. On November 3, 1851 the first patient arrived the hospital.
The Jacksonville Development Center (JDC) went through many changes and expansions. It went through many names before the final name change in 1975, after they expanded to take on responsibility of developmentally disabled individuals. When they first opened the patients were kept at the hospital at the state's expense, unless they were from a different county then you had to pay for certain expense such as clothes, travel, and liability expenses. In 1869 the board had gone down to three members and this caused the JDC to take on responsibility of central Illinois county patients. With this new expansion it became Illinois Central Hospital for the Insane. The JDC didn't see much action or any changes till 1909 when the trustee board was abolished. This then caused the named to be changed to Jacksonville State Hospital and later in 1917 the hospital jurisdiction was controlled by Public Welfare. With the number of patients at the hospital the JDC began offering classes for nurses to be certified to work with psychiatric patients the program was for two, three, or four months this was offered from 1944-1974. Even though the JDC housed many patients there was one who got out and began to write about her experience in a novel she later had published.
Elizabeth Packard was actually not clinically insane but being married to her husband she could be legally committed without a hearing or her consent. Her husband had admitted her in 1851, because she disagreed with him and his religious views and wanted to change things in his church. When she first arrived the superintendent was very fond of her but when she wouldn't change her view they sent her to the 8th ward, this is where they would put the hopelessly insane and violent. She would spend the next three years in the 8th ward and this is where she would be questioned regularly by doctors where she would continue to deny her insanity and change her religious views. She would stay sane by cleaning rooms in the 8th ward and she would stay healthy by doing regular exercises and hygiene. She began to win over the staff and became to familiar with the hospital that the staff gave her keys and she began doing more to help around the hospital. She began to write and would get other patients to tell her their story and this became very useful information for her book she would later write. As soon as her eldest son turned 21 he had the legal right to remove his mother from the hospital but she had refused to leave so soon. She believed that her husband would just put her back into another hospital because of what she was writing for her book. When she finally got out of the JDC she was locked up in her house and couldn't do anything without her husband's approval. After all this the JDC finally closed in 2012 due to the state wanting to save money.
Contrary to popular belief, the patients at the JDC loved it there it was their home where they could be themselves and be helped in any way they needed it. Governor Pat Quinn pushed for the closure of the JDC and after a month the state board allowed the closure of the JDC. In the article the Reynolds published he said, "those backing the closure say it will save money and allow people with developmental disabilities to be better served in the community settings". He then goes on to say this, "JDC cost the state $27.9 million per year to run. After accounting for state costs under community care, Illinois is expected to save about $11.7 million by closing JDC." The result of the closure put 310 workers out of their job, but out of that number 130 got new jobs, 8 retired, and 172 took layoffs (Reynolds). What the future holds for the JDC is still unclear the site has only ten out of the eighteen being utilized.
In conclusion, the JDC has been through it all but it is a land mark that should be noted it should be noted in the Clio app so the town may realize the history of it. It went through many name changes as well as expansions, had a resident write a novel of her experiences, and then the closing of the JDC more than four years ago. The JDC is a place people called home now it lays dormant and cold.
Sources
"Illinois State Mental Hospitals and State Institutions." Illinois State Mental Hospitals and State Institutions - History and Record Availability,. Ed. Illinois State Archives. Genealogy Trails, n.d. Web. 28 Sept. 2016
"History of Jacksonville - Jacksonville ." History of Jacksonville - Jacksonville . GovOffice.com, n.d. Web. 06 Oct. 2016.
Finke, Doug. "A Look inside Jacksonville Developmental Center." The State Journal. State Journal-Register, 28 Feb. 2012. Web. 04 Oct. 2016.
MacLean, Maggie, Jeff Constantakis, Harry, Ralph Inglese, Mark Lunt, Migdalia Ortiz, Chris Donohue, Karen Boone, and Lia Packard. "Elizabeth Packard." Civil War Women. Ceder Point Concepts, 16 Jan. 2013. Web. 28 Sept. 2016.
McElroy, Ethan. "Kirkbride Buildings - Jacksonville State Hospital."Jacksonville State Hospital. KirkbrideBuildings.com, 2010. Web. 29 Sept. 2016.
Reynolds, John. "Last of Jacksonville Developmental Center Residents Moved out." The State Journal-Register. Sj-r.com, 29 Nov. 2012. Web. 3 Oct. 2016.
Save Jacksonville Developmental Center. Prod. SaveJDC2012. Perf. Residents. Youtube. Youtube.com, 3 Mar. 2012. Web. 2 Oct. 2016.