Blanche K. Bruce House
Introduction
This historic property in the Mount Vernon neighborhood was the home of Blanche K. Bruce while he represented Mississippi as a Senator from 1875 to 1881. Bruce was born in slavery, likely the son of his own master, and escaped the South to become a teacher in Lawrence at the end of the Civil War. He returned to the South and quickly became an influential member of the uneasy biracial coalition between white and Black voters. He became the first African American to fill a complete term in the Senate and remained in Washington where he later served as Registrar of the Treasury within the James Garfield and William McKinley administrations. Blanche Bruce married Josephine Beall Wilson, the first African American schoolteacher in Cleveland. Together, they were leading figures among the elite African American community of Washington. At the same time, their ability to remain in politics after the end of Reconstruction depended on their ability to accommodate white leaders of the Republican Party whose commitment to racial egalitarianism was tenuous at best. While the Bruces both worked to promote reforms that would benefit African Americans throughout the nation, the end of Reconstruction led to disfranchisement of African Americans in the South. Without a political base that could win elections on their own, African American political leaders were forced to help white officeholders in the Republican Party in return for the chance that they might be rewarded with political appointments-a circumstances that led Bruce and many other Black leaders to accept many compromises and occasionally accommodate white leaders rather than challenge them to do more for the welfare of nine million African American citizens. At the same time, Black community leaders were often able to secure a measure of patronage that often led to employment for a small number of African Americans within the government. Black leaders working within the Republican Party were also able to secure support for important measures and occasional victories in the long struggle for civil rights between the late 19th and early 20th century that served as harbingers for more substantive measure in the decades to come.
Images
This photo of the Bruce House was taken in 1975 by the Historic American Buildings Survey.
Blanche K. Bruce lived in this Mount Vernon home from 1878 to 1888. During that time he represented Mississippi as a Senator and served several important posts in the federal government.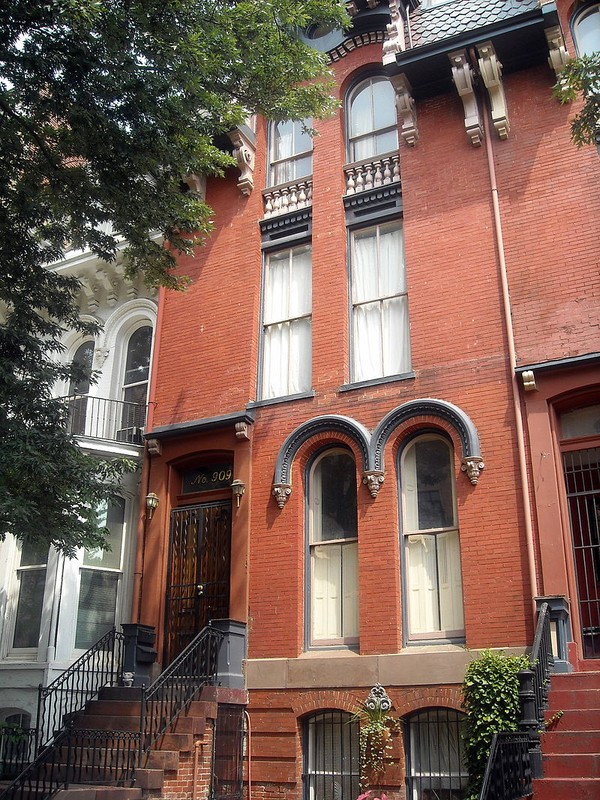 This image of Blanche Kelso Bruce is held by the Library of Congress.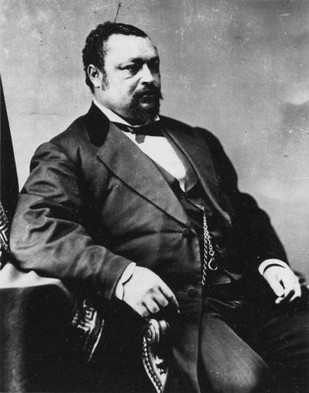 This image of a slightly darker B. K. Bruce comes from an 1890 book by an African American author.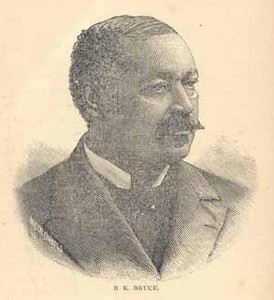 This book by attorney Lawrence Otis Graham looks at the lives of the Bruce family through three generations.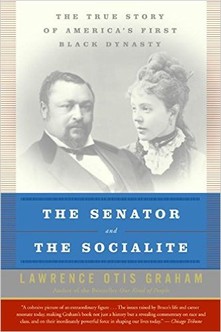 Josephine Beall Willson Bruce
Backstory and Context
Blanche K. Bruce was born into slavery in Farmville Virginia in 1841. Historians believe that Bruce was the son of Pettus Perkinson, a white man who owned and impregnated Bruce's mother Polly, whose last name came from her previous owner Lemuel Bruce. Although Perkinson does not acknowledge his paternity in any written documents, the fact that young Blanche Bruce was both sent away and provided with a private tutor demonstrates the likelihood that Perkinson covertly acknowledged that he was Bruce's father.

Despite a very different set of circumstances than most slaves endured in antebellum South, Blanche Bruce was not free. Pettus Perkinson sent Bruce away from his own house (a common way for slave masters to create distance between their enslaved children) and was forced to labor without pay for Pettus's half-brother William Perkinson.

Bruce was able to escape from slavery and chose the Free State stronghold of Lawrence Kansas as his home during the Civil War. He taught school in Lawrence in 1867-a publicly-funded but racially segregated school in a rented church. After teaching, he returned to the South and became active in the local Republican Party of Mississippi. At that time, the Republican Party in featured a fusion of progressive whites and former slaves who worked together to challenge the rule of planters and provide better schools and economic opportunities for white and Black residents.

Bruce rose quickly in the Mississippi Republican Party, being selected as the sergeant at arms in the State Senate before wining election as Sheriff and Tax Collector in Bolivar County. He also served as Superintendent in Bolivar County and soon acquired a farm that grew to 640 acres. In 1875, Bruce became the first African American to be elected and permitted to serve a full term in the United States Senate.

While in office Bruce could only occasionally speak out on behalf of civil rights for African Americans (as well as recent immigrants) for fear of facing the same fate of Black leaders who exposed the Republican Party's limited support for civil rights. Biographer Lawrence Otis Graham declared that Bruce had "an almost single-minded obsession for maintaining favor with powerful whites" while serving in the Senate.

While he rarely challenged white Republicans, Bruce did speak out often in support of the Freedman's Bureau and its attempts to ameliorate the economic exploitation of sharecroppers. Despite the end of Reconstruction, the 1880s and 1890s still saw some cooperation between white Republican leaders and African Americans. In the North and West, as well as pockets of the South where African Americans had not been completely disfranchised by the threat of white vigilantes and white supremacist state legislatures, African Americans turned out in each election and cast nearly all of their votes for the Republican Party.

In recognition of Black support, white politicians often reserved a few appointments for Black leaders like B. K. Bruce. In return, political appointees such as Bruce were expected to labor on behalf of the Republican Party, get Black voters to turn out to the polls, and accept political compromises rather than advocate fully for equal rights. For this reason, Bruce found himself isolated from both the Black community and white leaders of the Republican Party. At the same time, he was appointed by Presidents James Garfield and William McKinley as the Register of the Treasury. Bruce was serving as Register of the Treasury in 1898 when he passed away.

Sources
First Annual Report of the Lawrence Board of Education for the Year Ending July 31st, 1868. Spencer Research Library, Lawrence, Kansas.

"School History" Vertical File, Lawrence Public Library; Lawrence City Directory, 1868,

Howard N. Rabinowitz, "Three Reconstruction Leaders: Blanche K. Bruce, Robert Brown Eliott, and Holland Thompson" in Leon Litwack and August Meier, Black Leaders of the Nineteenth Century. Urbana: University of Illinois Press, 1988.
Lawrence Otis Graham, The Senator and the Socialite: The True Story of America's First Black Dynasty. New York: Harper Collins, 2006.

Additional Information