Old Ship Church
Introduction
This Puritan meetinghouse was constructed in 1681 and is claimed to be the oldest church in the nation still used for religious services. Its name derives from its construction, which resembles an inverted wooden ship hull.
Images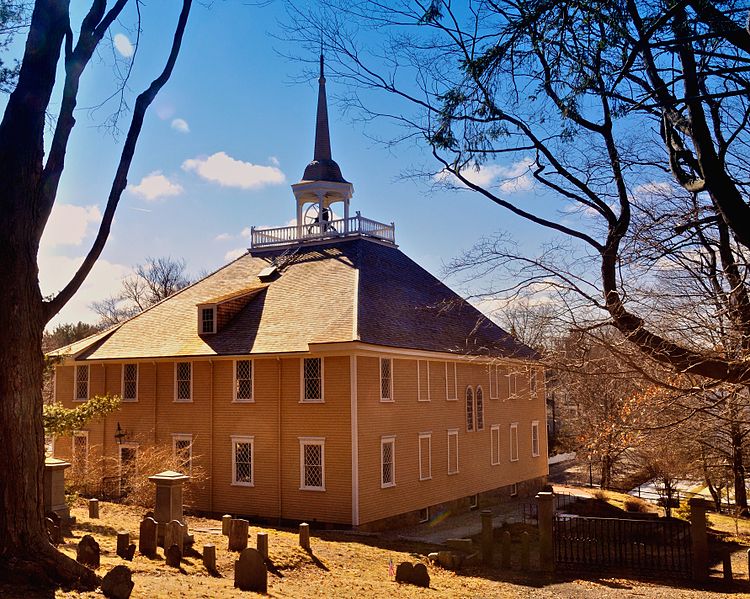 Backstory and Context
Originally, the Old Ship Church located in Hingham Massachuesttes was used as both for a meeting house and religious services, as a meeting house important topics were discussed including our countries democracy, revolutionary war, and other important topics going on within the town. The architecture resembles the churches in Hingham, England which was Elizabethan Gothic style. It is the only surviving 17th century puritan meeting area. The man who built it, reverend Peter Hobart was also the first minister of the church and he severed as minister for the church for 44 years until his death. The curved roof that resembles the hull of the ship was made from bowed oak, each beam being different from the other. The church went through many different renovations through the mid 1700s, some of these included replacing backless benches with pews and adding wallpaper and curtains. However around 1930 the church was restored to it's original state. behind the church is a cemetery that is 16 acres and where many original Hingham residents are buried. The cemetery was created in 1672 and it is still used as a burial ground today. It even has a Veterans burial ground, which was founded in 1994. There are many amazing monuments within the cemetery. There is also a small gothic style church in the cemetery for people to come and worship during funeral services. There is a monument honoring 6 British sea men who died in a shipwreck. There is also a civil war soldiers monument. A site where a fort once was during the French and Indian war is also marked in the cemetery. Some of the most well known people buried there include Thomas joy, who built the first state house in Boston and who also helped design the Old Ship Church, Rev. Peter Hobart who was the first pastor of the church, Mrs Sarah Langley Hersey Derby who founded Derby Academy school in Hingham, and also Mary Revere Lincoln, the daughter of Paul Revere. It is also noted that it is the largest cemetery in the town of Hingham. On November 16th 1996 it was officially determined a National Historic Landmark. The current minister now whose name is Kenneth Read-Brown and he is a long time descendant of the first ever minister Rev. Peter Hobart. Just in 2014 the Old Ship church did a few more renovations to it's parish. Although they did not change anything to drastically it does make sure that the church will be able to continue standing up and being able to hold services every Sunday. Also it has just recently updated all of it's safety features so that when you walk in you do not have to be worried about the church collapsing on you. People still today come to the Old Ship Church today so that for a short time they can feel as if they lived in the Revolutionary time period of America.
Sources
"Short History of the Old Ship Church." Free Family History and Genealogy Records. N.p., 28 Dec. 2014. Web. 10 Nov. 2016.
"History." Oldshipchurch. N.p., n.d. Web.
Meyer, Carol Britton. "Walking through Hingham Cemetery." Wicked Local. Carol Britton Meyer, 22 May 2009. Web. 10 Nov. 2016.