Hagerty & Lloyd Historic District
Introduction
Also known as the Aberdeen Historic District, the Hagerty & Lloyd district (also known as an "addition") is the city's most famous district. Constituting of Third Ave SE, 6th Ave SE and bordered by Jay and Arch streets, this rectangular district was created under the aspirations of two local bankers seeking to expand the city as it's role as an important railroad hub in the the territory gained prominence. The area was also favored because of its "dry" status. This meant that it did run off a slough, or, a swamp. Much of the city was in slough-like situation due to the Moccasin Creek that ran through it. The district is often visited and locals help out by holding walking tours.
Images
This early 1900s postcard shows the district's most famous residence: "Easton's Castle."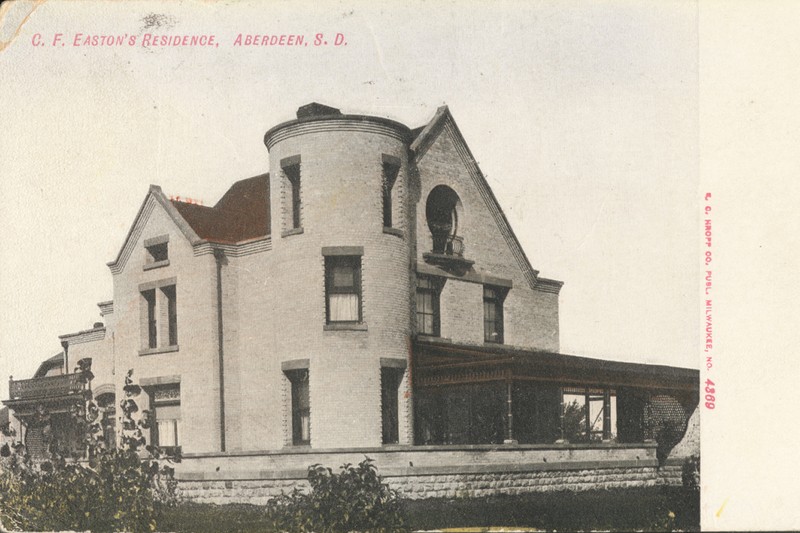 A volunteer leads a walking tour through the district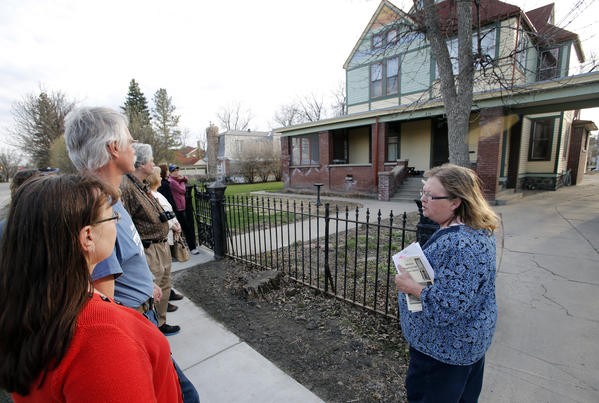 This 1883 map of Aberdeen shows what would become the Hagerty & Lloyd district on the right bottom corner. F.H. Hagerty's name can be seen below the map.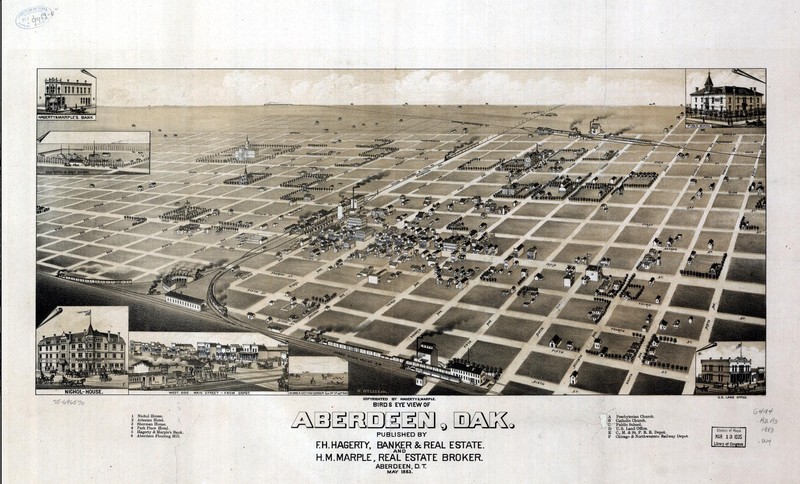 Backstory and Context
As the 20th century came closer, F.H. Hagerty and his associate William M. Lloyd, Jr., local bankers, realized that Aberdeen had big growth coming as plans were made to make the city a major railroad hub in the Dakota territory. The realization inspired them to make plans and set money aside for the creation of a new residential district near the popular commercial district that can be near the coming hub and yet far away enough from the slough, or swampy, areas. Plans began in 1882.

By 1889, land was purchased and the city council began to establish a standardization for the city's street, many still unpaved and never given permanent names at the time. Hagerty and Lloyd's "addition" was one of 6 such additions planned for the city. Soon houses began popping up at a rapid pace throughout the district.

Whatever land leftover that was not having a house constructed on it, the two men donated it for the purposes of churches and schools to be constructed. For many years after the early 20th century, this district was known for its prosperous residents, though not very wealthy, who lived in beautiful homes of various architectural styles. The district had and still is a very popular place to live in. Today, there walking tours held for the district or visitors can do a self-guided one. The district includes 62 contributing buildings, including works by E.W. Van Meter, George Fossum, and Ursa Louis Freed, and includes Colonial Revival, Italianate, and Queen Anne architecture
Additional Information