Roger Street Fishing Village and Museum
Introduction
estled on the shore of the East Twin River, this museum village and heritage park is devoted to the history of Great Lakes commercial and charter fishing. Celebrate 175+ years of fishing heritage since 1837 by exploring an 1886 lighthouse, shipwreck artifacts, and beautiful works of art. Or stop and ponder at the French Canadian exhibit, read about the Lifesaving Service, and picture yourself with the commercial fisherman. We've recently added, more artifacts from the famous Christmas Tree Ship (Rouse Simmons). Relive famous maritime disasters in the Coast Guard exhibit "Shipwrecks"
Images
Roger Street Fishing Village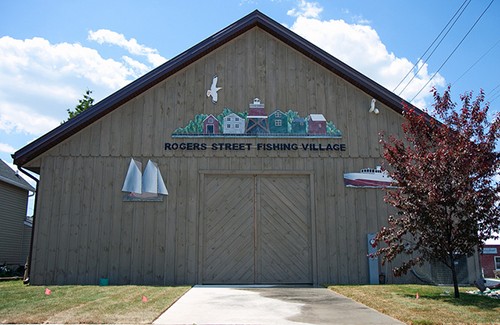 1886 Lighthouse at Roger Street Village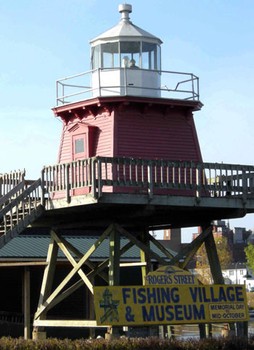 Backstory and Context
Our Life Saving Station, commissioned in 1877, (today known as the U.S.Coast Guard) has witnessed many dramatic rescues…and tragic outcomes. Our 1886 pierhead lighthouse, now located at the Museum, is silent witness to the wrecks and rescues off our dangerous shores. On the National Register of Historic Places, our museum complex is located on the banks of the East Twin River, the traditional headquarters of the Two Rivers Commercial Fishing Fleet.
We have six historic buildings that portray exciting stories. Step aboard the 1936 wooden fishing tug BUDDY O, explore the fishing sheds, see the antique Kahlenberg Marine Oil Engine started up, hear the whistles and horns, and then climb up to the 1886 Two Rivers' North Pier Lighthouse for a bird's eye view of the Fishing Village. See the restored fresnel lens that originally was housed in this lighthouse. Enter a fisherman's house fashioned as a historic French Canadian fisherman's home. Feel what life was like back then!
Finish your visit with a tour of our newest exhibit building and get a better understanding of our Great Lakes Coast Guard and view many shipwreck displays, featuring artifacts rescued from the depths of Lake Michigan's most famous shipwrecks such as the VERNON, sunk in 1887, or the ROUSE SIMMONS, the legendary Christmas tree ship lost with all hands during a furious storm November 23, 1912. When you step inside, ponder the beautiful Native American mural to learn about our earliest fisherman and feast your eyes on the display of Native American arrowheads and other items.
Open Memorial Day through mid-Oct.
Weekdays 10 AM to 4 PM
Weekends Noon to 4 PM
Adults $4, Children $2