Rocky Ford School
Introduction
Rocky Ford School House is a locally quarried limestone one-room schoolhouse built in 1903. After a fire destroyed everything except the stone walls in 1927 it was immediately rebuilt and served children in the first through the eighth grades until 1937. The school and grounds were donated by the school district to the Riley County Historical Museum in 1987. It has since been restored and placed on the National Register of Historic Places.
Images
Rocky Ford School, courtesy of the Riley County Historical Society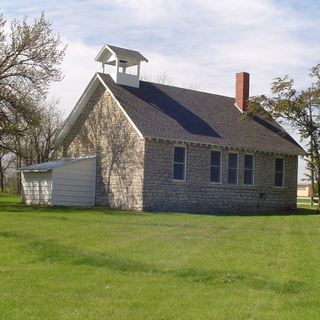 Rocky Ford School, Courtesy of the Riley County Historical Society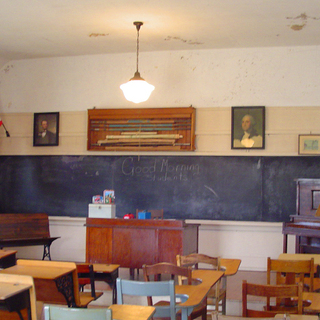 Backstory and Context
A public notice dated 15 October 1885, signed by J.H. Barnes, marks the formation of School District 70 along the Big Blue River in the northern portion of Manhattan Township. The district, originally named Juniata, served the settlement at Rocky Ford and the surrounding area. The school board met annually from 1885- 1901 to elect officials for positions such as director, clerk, and treasurer, with terms varying from 1 to 3 years. In addition to electing officials, the school board also levied mill taxes and voted on issues such as hiring teachers and maintaining the school. In a special meeting held 14 August 1902, called by School Board Director George Chandler, the board voted to erect Rocky Ford schoolhouse (to replace the previous District 70 schoolhouse at a presently unknown location) on the west corner of B.B. Bayle's farm. This site proved unsatisfactory for unknown reasons and another special meeting was held on 10 July 1903 to elect a new site for the school. In a vote of 14-10, the board decided to purchase one acre on the northwest corner of Director George Chandler's property, at a cost of $150.
According to monthly teacher reports to the school district, Rocky Ford School served students from first to eighth year. A typical school day began at 9:00 am and lasted until dismissal at 4:00 pm. The curriculum consisted of reading, spelling, arithmetic, geography, orthography, language, and grammar. One teacher was responsible for teaching all levels (1-8) of the curriculum. Students were allowed two fifteen minute recess breaks at 10:30 am and 2:35 pm. Lunch occurred over the noon hour and was followed by ten minutes of music. In addition to detailed reports to the school district, teachers also sent grade reports home to parents on a monthly basis. Anything under a B was considered "unsatisfactory" and parents were encouraged to "remedy such defects."
In the years following 1937, the students of District 70 continued to be transported to other schools. In 1951, Strong District 1 officially annexed District 70. Rocky Ford was used as a community center for some time until 1965. From 1969 to 1989, Manhattan artist Jim Hagan leased the school as a studio/gallery. Hagan not only worked as a local artist, but he later taught art at Kansas State University. On December 23, 1987 the USD 383 donated the Rocky Ford School and surrounding property to the Riley County Historical Society. In recent years, Riley County Historical Society has used the building as a museum allowing area students to gain an understanding of education in a one-room schoolhouse.
Sources
http://www.kshs.org/resource/national_register/nominationsNRDB/Riley_RockyFordSchoolNR.pdf
Additional Information