Allegheny Cemetery
Introduction
Allegheny Cemetery is among the oldest cemeteries beyond the Atlantic Cost. This nonsectarian cemetery was incorporated in 1844 and now encompasses 300 acres. The cemetery serves as the final resting place of over 124,000 people, some of whom were among the first settlers of the area. Some of the oldest graves are for soldiers who fought in the French and Indian War. Some of these soldiers had their remains moved here from their original burial site at Pittsburgh's Trinity Cathedral.
Images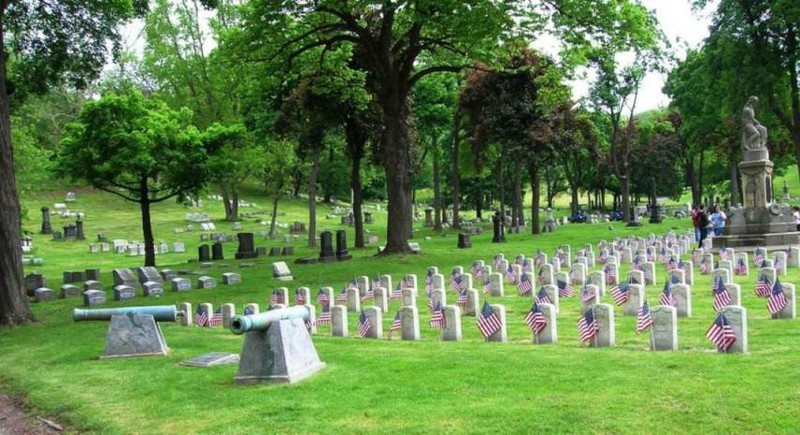 The Butler Street entrance to the cemetery.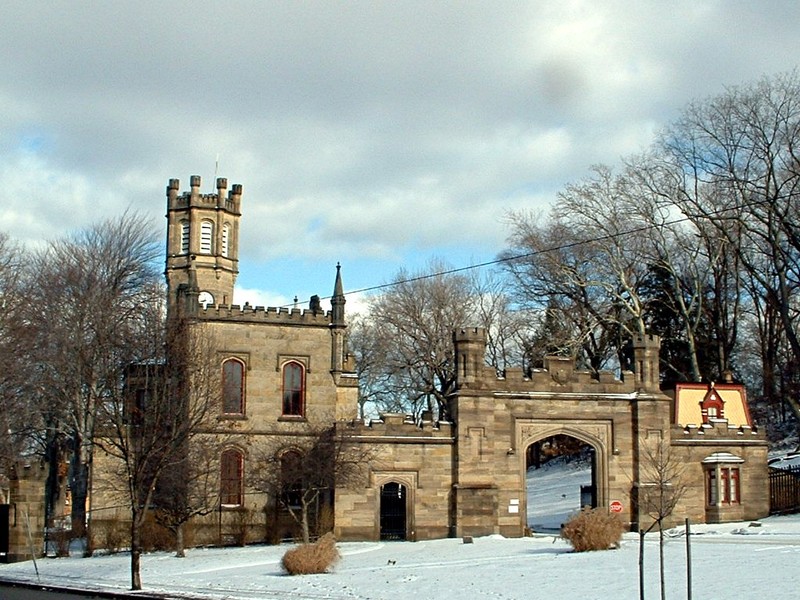 The stark landscape of the cemetery in winter.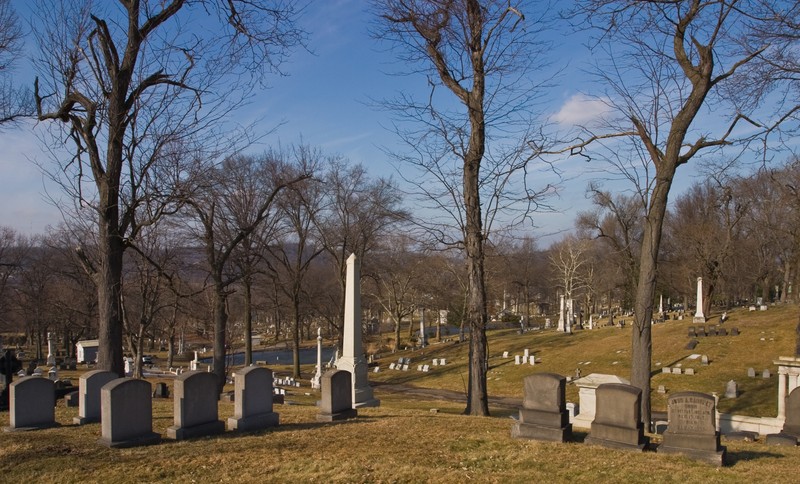 Backstory and Context
This cemetery is one of the leading historic sites in Pittsburgh. For example, there are 22 mayors of Pittsburgh buried here, along with leading composers, pioneers of aviation, sports greats, and veterans from colonial and modern wars. Guided tours can be scheduled to accompany your group of ten or more Tuesday through Friday between 9:00 am and 3:00 pm, March through October. Also available is a Self-Guided Walking Tour for those who would like to tour on their own. Brochures and maps are available in the Administration Office during business hours.
The soldiers' lot is located in Section 33, lot 66, and consists of 303 individual interments. While most of the burials are Union Civil War soldiers, the lot also includes 15 Confederates and a small number of Spanish-American War veterans. Soldiers were originally interred in two places within Allegheny Cemetery, until the plot was donated to the federal government by the cemetery association. The stranger's field, also known as the potter's field, an area for the poor was also included. It is noted that all the remains were consolidated into the soldiers' lot in the 1870s.
Following the Civil War, the Allegheny County Ladies Memorial Association commissioned a local artist Fred Mayer to sculpt a monument for the soldier's Lot. It was erected in 1876, the 16-foot-tall limestone monument was dedicated in memory of those who died during the Civil War. The figure of a woman holding a wreath with her head bowed sits atop the monument, with four sculpted cannons located on the monument base. Two small cannons mounted on concrete bases mark the front of the soldiers' lot. Allegheny Cemetery, including the National Cemetery Administration's soldiers' lot, was listed on the National Register of Historic Places in December 1980.
Sources
"Allegheny Cemetery History." Allegheny Cemetery. Accessed November 3, 2016. http://alleghenycemetery.com/content.php?cat=about&page=history
"Allegheny Cemetery Soldiers' Lot; Pittsburgh, Pennsylvania." National Park Service. Accessed November 3, 2016. https://www.nps.gov/nr/travel/national_cemeteries/Pennsylvania/Allegheny_Cemetery_Soldiers_Lots.html
Fulton, Bob. "Sanctuary Awaits Beyond Gates of Famed Cemetery." Indiana Gazette. August 21, 2016. Accessed November 3, 2016. https://www.indianagazette.com/news/indiana-news/sanctuary-awaits-beyond-gates-of-famed-cemetery,247...
Additional Information