Morris Brown College
Introduction
The Morris Brown Colored College was founded in 1881 by African Americans affiliated with the African Methodist Episcopal Church. The college is named in honor of Reverend Morris Brown of Charleston, South Carolina, the second Bishop of the AME Church. The school was chartered by the State of Georgia in 1885 and today is a private, liberal arts college. The school's historic central building, Fountain Hall, contains the inscription "Without Regard to Sex, Race, or Color." A book by the same name offers a history of the college-click the link below for more information about the book.
Images
Morris Brown College opened with 107 students and 9 teachers. Stone Hall (1882), designed by architect G. L. Norrman in the Queen Anne style, was originally part of the Atlanta University campus and is designated a National Historic Landmark.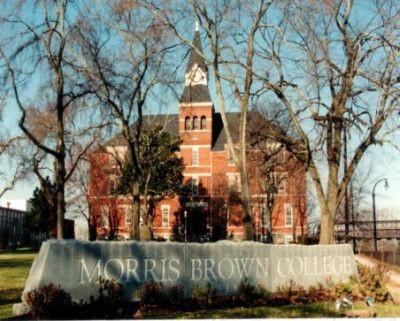 The faculty of Morris Brown College in Atlanta Circa 1900 Atlanta University Center, Robert W. Woodruff Library Archives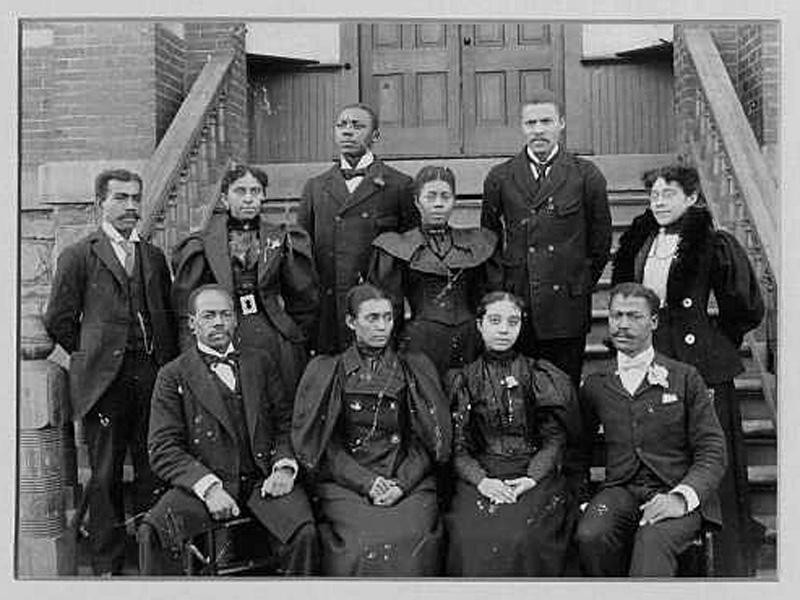 Morris Brown College and Boulevard School at the corner of Boulevard and Houston Street circa 1895 Kenan Research Center at the Atlanta History Center, Atlanta History Photograph Collection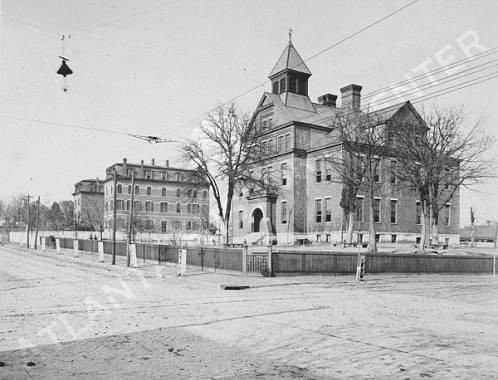 Backstory and Context
Morris Brown College was born out of the efforts of Reverend Wesley John Gaines. Rev. Gaines enlisted several delegates in attendances of the North Georgia Annual Conference of the AME Church in January 1881 to open an African American college. The Georgia Conference of the AME Church pledged support in February 1881. Land was purchased in the Old Fourth Ward district on the corner of Boulevard and Houston streets. May 23, 1885, Morris Brown received a charter from the state and broke ground for Gaines Hall named in honor of Rev. Gaines. Morris Brown College opened its doors on October 15, 1885.

In the twenith-century, Morris Brown became accredited and expanded with the satellite campuses of Payne College in Cuthbert and the Central Park Normal and Industrial Institute in Savannah. However, financial hardship arrived in 1928. Faced with bankruptcy, the seventh president Reverend W. A. Fountain Jr. closed the satellite campuses and relocated the college on the vacated Atlanta University grounds of Atlanta's West End. After financial recovery, Morris Brown College joined the Atlanta University Center (AUC) in 1941 and undertook more expansion.
In 2002, President Delores Cross and Parvesh Singh, director of financial aid, were involved in an embezzling scandal. Morris Brown College lost its accreditation. Delores Cross pleaded guilty embezzled millions of dollars in federal student aid and Pell grants, which she diverted to pay the school's expenses and debts.
Sources
Edward A. Hatfield. "Morris Brown College." New Georgia Encyclopedia. Last Modified August 5, 2013. Accessed November 2, 2016. http://www.georgiaencyclopedia.org/articles/education/morris-brown-college

Eligio Martinez, Jr. "Morris Brown College." Blackpast.org. Accessed November 2, 2016. http://www.Blackpast.org/aah/morris-brown-college-1885

Lois Romano. "College's Ex-President Pleads Guilty to Fraud." Washington Post. May 2, 2006. Accessed November 2, 2016. http://www.washingtonpost.com/wp-dyn/content/article/2006/05/01/AR2006050101382.html

Additional Information