Hamilton Manufacturing
Introduction
J. Edward Hamilton founded the original Hamilton factory, called J.E. Hamilton Holly Wood Type Company, in 1880, and within 20 years became the largest manufacturer of wood type in the United States.
Images
Aerial shot of Hamilton Manufacturing, Two Rivers, WI.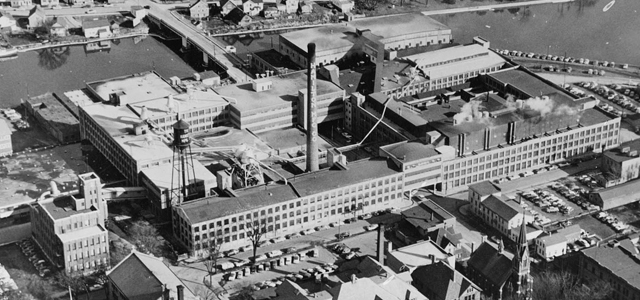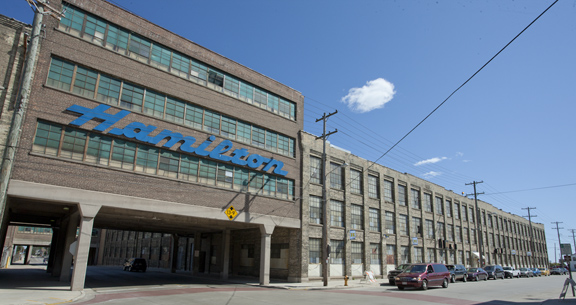 Backstory and Context
William Nash, Editor of the Two Rivers Chronicle, needed large decorative type to print posters for a Grand Ball at Turner Hall in Two Rivers. With no time to order new type from Chicago, he asked Edward Hamilton if he could make the type. Hamilton, who had run his own business making wall brackets and other ornamental furniture for a time, took a sketch of the type that Nash wished for, and cut the type on his foot-powered scroll saw on his mother's back porch, and mounted the letters on another block of wood. Then he sandpapered and polished the surface.
It printed so well that Hamilton made up a few samples and sent them to nearby printers. After receiving his second order he quit his job at the chair factory and he began the J. E. Hamilton Holly Wood Type Company. Initially, Hamilton produced a veneer wood type. Holly wood was used in preference to maple, because it was 50% less costly and it could be cut 1/16 thick and glued to cheap pine. Eventually, the Hamilton Company would switch over to end grain wood and use the rock maple that was abundant in the Wisconsin forests.
Newspapers and print shops were cropping up like corn, and purchasing their type from the east was too costly and time consuming. The almost-immediate availability of Hamilton wood type, available at half the price of its competitors, combined with Edward's initiative and business sense, allowed for the company to capitalize on the explosive growth of the Midwest in the late 19th century.
The company grew and expanded its product line to include type cabinets and other furniture useful in the press room, then to furniture for dental and medical offices and labs, drafting tables and furnishings, and the first gas-powered clothes dryer. Forging ahead with the technology of new materials, the company switched from using wood to using steel to manufacture furnishings in 1917. The company changed its name to Hamilton Wood Type Manufacturing, and was known as Hamilton Laboratory Solutions, manufacturer of laboratory furniture and fume hoods until it became Thermo Fischer Scientific. The plant closed in 2012 when production was moved to Texas.

On May 31, 2015 the iconic smokestack was demolished. A block party was held in celebration of this event.
Additional Information