Arsenal Park
Introduction
Arsenal Park is located in the neighborhood of Lawrenceville, Pittsburgh, Pennsylvania. Named for the Allegheny Arsenal established in 1814. This Arsenal was used as a military garrison in the manufacture and storing of supplies during the Civil War, Indian Wars, and Spanish American War. An explosion in 1862 killed 78 workers, mostly young women. It was considered the worst industrial accident associated with the Civil War.
Images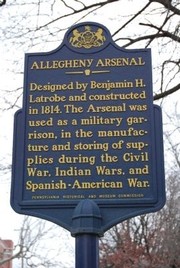 The Duquesne Greys in front of the Allegheny Arsenal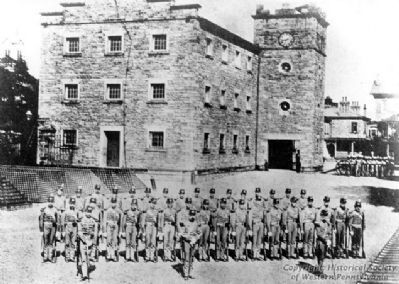 Small, outdoor amphitheater and what's left of the powder magazine.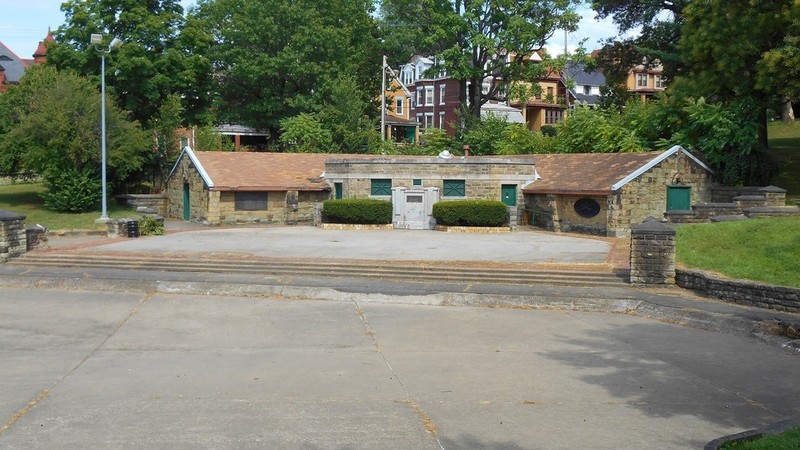 Same amphitheater with a small lake and seating during another time.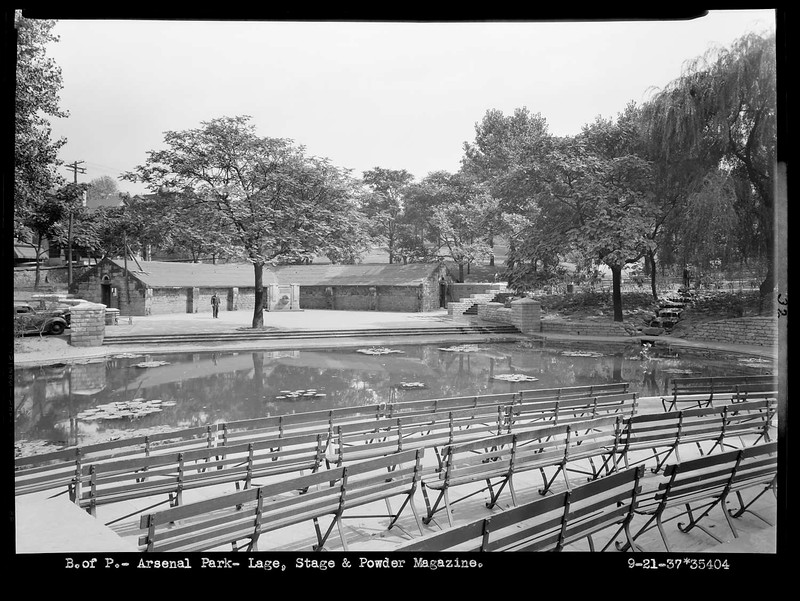 Backstory and Context
The Arsenal was established by the U.S. Army Ordnance Department near Pittsburgh 1814. It was originally situated on 30 acres, bordering the Allegheny River. Today the site sits on 9 acres and is being looked at by the Pittsburgh History & Landmarks Foundation over concerns of deteriorating arsenal structures.
Serving as a supply and manufacturing center for the troops, It's peak years were during the Civil War because of the high demand for the manufacture of cartridges. Civilian employment at the arsenal went from 308 to over 1100 workers. It was the main lab that employed 158 workers of which were mostly young women making the cartridges. September 17, 1862 around 2 pm was when the arsenal exploded. Windows were shattered in the surrounding community and the explosion was heard over two miles away.
An investigation was held and a coroner's jury held that the accident had been the result of negligent conduct from Col. John Symington and his subordinates for allowing loose powder to accumulate on the roadway and elsewhere. During a military inquiry of Col. Symington, many of the same witnesses had changed their testimony from the earlier inquiry. Too many discrepancies between the two hearings caused the Army to conclude the cause of the explosion could not be ascertained.
The Battle of Antietam occurred on the same day and overshadowed the explosion at the Arsenal. Work at the Arsenal continued and a new lab was constructed the following year. After the war the Arsenal only served as a storage facility for the Ordnance Department and Quartermaster Corps. In the 1900s most of the land was sold, today the site is a ball field in Arsenal Park. Located nearby is the powder magazine that is now a maintenance shed for the park.
Sources
Wudarczyk, James. "A Moment in History: The Civil War Years of the Allegheny Arsenal." Arsenal Cider House. Accessed November 2, 2016. http://www.hmdb.org/marker.asp?marker=40874 Wintermantel, Mike. "Allegheny Arsenal." HMdb.org: The Historical Marker Database. March 14, 2011. Accessed November 2, 2016. http://www.hmdb.org/marker.asp?marker=40874 Pitz, Marylynne. "Allegheny Arsenal Explosion: Pittsburgh's Worst Day During the Civil War." Pittsburgh Post-Gazette. September 16, 2012. Accessed November 2, 2016. http://www.post-gazette.com/life/lifestyle/2012/09/16/Allegheny-Arsenal-Explosion-Pittsburgh-s-worst-day-during-the-Civil-War/stories/201209160145
Additional Information