Harris Riverfront Park
Introduction
The Harris Riverfront Park Amphitheater is an Ohio Riverfront venue for local concerts and is available for rent for parties, weddings, shows and other functions. The amphitheater was built in 1983 as the second part of a three-phase project in constructing Harris Riverfront Park, named for David W. Harris, who had been director of Urban Renewal in Huntington. The amphitheater was a longtime outdoor home to Huntington Symphony Orchestra's Picnic With the Pops events and is the venue for several concerts and other gatherings in Huntington; it is available from 8 a.m. to 11 p.m. for a rental fee of $500 per day.
Images
Harris Riverfront Park Amphitheater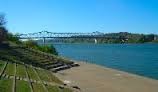 Backstory and Context
Harris Riverfront Park was constructed in three phases, much like the flood wall that surrounds it. In 1977, the first phase of the park was completed and open to the public with a boat launch ramp, a comfort station, a designated marina area, and a parking area. The city of Huntington conveyed the property to the U.S. Army Corps of Engineers as part of the cost share requirements of Federal Water Project Recreation Act. Along with the amphitheater, the second phase included an additional comfort station, green space, lower walkway and associated parking areas. The third and final phase of Harris Riverfront Park was completed in 1997, and added a large excursion vessel docking, and also made the park handicap accessible for fishing and infrastructure. The total cost of the park was over $6.6 million, half was paid for by the U.S. Army Corps of Engineers while the other half was paid by the city.
As of 2016, Harris Riverfront Park also features a playground that was built in 2014, a skate park that was installed in 2015, and a section of the Paul Ambrose Trail for Health (PATH), featuring artwork by renowned nature illustrator Chuck Ripper, with information about wildlife found in and around the Ohio River. Harris Riverfront Park is encompassed by the Huntington Flood Wall that protects downtown Huntington from environmental disasters such as flooding. Although it was not the first, the flooding of the Ohio River in January of 1937 is the worst recorded flooding of the river in history. This flood drove millions from their homes along the Ohio River Valley, and claimed nearly 400 lives. The flood was caused from the thawing of the Ohio River combined with 19 days of pouring rain. The total cost of damages in 1937 was estimated to be $500 million, and today that would be inflated to $7 billion. A flood wall was constructed by the Huntington District U.S. Army Corps of Engineers after this devastating flood. The flood wall has not had to have been fully closed since it's construction.
Sources
Greater Huntington Park and Recreational District official website, accessed June 2016 The Herald-Dispatch article, by Jean Tarbett Hardiman, published October 21, 2007
Additional Information