Edward Manning Bigelow Monument
Introduction
Growing up in the era of industrial growth for steel in Pittsburgh, Edward Manning Bigelow had a vision for the city to be great. Known as the "Father of the Parks", Bigelow partnered with steel magnate Andrew Carnegie to plan this urban trasformation. As Director of Public Works, he created beautiful parks, such as Schenley Park, and boulevards that would easily connect the city to the parks. As a dedication to his urbanization of Pittsburgh, he had a statue built in his honor outside of Schenley Park in 1895.
Images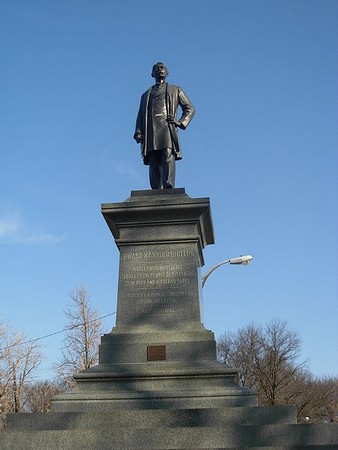 Portrait of Edward Bigelow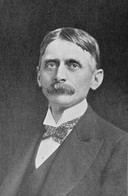 Dedication to Edward Manning Bigelow's contribution to the urbanization of Pittsburgh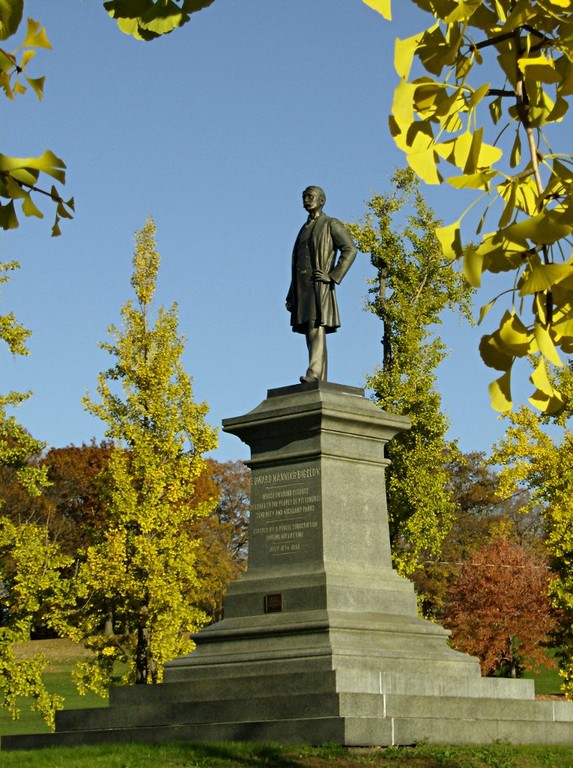 Backstory and Context
Edward Manning Bigelow was born in Pittsburgh, Pennsylvania on November 6, 1850. He came from a wealthy Presbyterian home, growing up with four successful brothers and sisters. Bigelow attended Western University of Pittsburgh, graduating with a degree in Civil Engineering. Because of his family's wealth and involvement in the city, they knew many of the well-known magnates, such as Andrew Carnegie. In 1880, Bigelow married his wife, Mary Peabody, and remained with her until his death on December 20, 1916.
As Pittsburgh steel industry was rising in demand, Bigelow became well-known in the region for providing the city with two beautiful parks. In 1880, he became city engineer, later renamed as Director of Public Works. Under this position, Bigelow oversaw the creation of Pittsburgh infrastructure. By partnering with steel industrialist Andrew Carnegie, he was able to begin this process of urban planning. After the construction of Schenley Park and Highland Park, Bigelow was labeled as "Father of the Parks" by the city. His final project was to create major routes to connect downtown with the parks.
The creation of Schenley Park was the peak of Bigelow's vision for the city of Pittsburgh. Bigelow rapidly expanded the city by pursuing land in industrial areas that could potentially be transformed into urban parks. In 1889, he traveled to England to persuade Pittsburgh native Mary Schenley into donating him her land in Oakland. Although the 300-acre piece of land was donated, Bigelow still had to purchase 120 extra acres to form what is now Schenley Park. The park models New York's Central Park, consisting of a golf course, trails, and ponds.
As head of city planning in 1900, Bigelow also worked to create a system of grand boulevards such as Beechwood, Washington, and Grant Boulevard. Grant Boulevard was his first project, beginning in 1897 to connect downtown Pittsburgh with Schenley Park in Oakland. The strip of road is 3.5 miles long and cuts into Bedford Hill. When Grant Boulevard was completed and open to the public on July 1, 1900, there was rapid development in the Schenley Farms area. After Bigelow's death in 1916, the road was renamed Bigelow Boulevard.
This full-size bronze statue of Edward Bigelow was designed and created by Italian sculptor Giuseppe Moretti. It sits on a base of granite at the entrance to Schenley Park near the Phipps Conservatory and Botanical Gardens. Moretti came to America in 1886, creating a variety of sculptures around the country. For example, he formed the largest cast iron statue in the world in Alabama of the Roman god Vulcan. However, Moretti spent most of his time in Pittsburgh after Bigelow requested him to beautify his parks. In the process, Bigelow had his own statue built for himself, which was dedicated on July 4, 1895. It underwent a major restoration in 1994.
Sources
Bigelow Boulevard. Brookline Connection. Accessed April 14, 2017. http://www.brooklineconnection.com/history/Facts/BigelowBlvd.html.

Edward Manning Bigelow. Pittsburgh Art Places. 2017. Accessed April 14, 2017. http://www.pittsburghartplaces.org/accounts/view/290.

Edward Manning Bigelow. Father Pitt. November 5, 2011. Accessed April 14, 2017. https://fatherpitt.wordpress.com/2011/11/05/edward-manning-bigelow/.

Bigelow, Rod. Edward Manning Bigelow. Bigelow Society. May 14, 2009. Accessed April 14, 2017. http://bigelowsociety.com/rod8/edw8c493.htm#Lawrence.

Mackin, Mike. "Edward Bigelow." Pittsburgh Post-Gazette(Pittsburgh), July 16, 2009, Sooner ed, Local sec.


Additional Information