Borough House Plantation
Introduction
This stately home, located across the road form the Church of the Holy Cross, was declared a National Historical Landmark in 1971. It was built in 1820 by physician William Wallace Anderson, who would later chair the committee that led the effort to build the church. The house is significant for several reasons, the most prominent of which is that it—and the six accompanying buildings—were constructed in the rammed earth method, which involves earth, mostly clay, being deposited in wooden molds and left to harden. Stateburg is home to the largest concentration of buildings constructed with this technique in the country, including the church. It appears that the house is a private home and not open to visitors but it can be seen from the road.
Images
The Borough House Plantation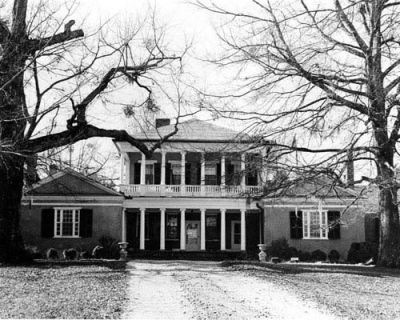 Backstory and Context
The Borough House Plantation is a National Historical Landmark (it is also on the National Register for Historic Places) for several reasons. In addition to its construction and Green Revival architecture, the house also has military significance. The current house is actually the second one, replacing the first one built in 1758. During the American Revolutionary War, British commander Lord Cornwallis headquartered here in 1780 while his army built forts in region. A year later, Continental Army commander Nathaniel Greene also used the house his headquarters. William Anderson's son, Richard A. Anderson, would become a general in the Confederate army during the Civil War; two other sons served in the army as well.

The house is also notable for its impressive library, which holds a collection of University of Edinburgh Medical rare books and textbooks dating to the 1700s. In terms of art, a strong collection of paintings by John Singleton Copley and other are also located in the house. Outside, there are terraced gardens modeled after English designs. One of the house's owners, Mary Saunders, established the first tree farm in the state to restore lands that had been logged to grow cotton. Finally, the house has scientific significance. William Anderson performed the first successful surgery in the country to remove cancer from a jawbone. Also, noted botanist and former minister to Mexico, Joel Roberts Poinsett, died here in 1851 (he is buried in the cemetery at the church). He was responsible for introducing the pointsettia plant (named after him), to America.
Sources
"Borough House Plantation." Wikipedia. Accessed November 1, 2016. https://en.wikipedia.org/wiki/Borough_House_Plantation. Ruhf, Nancy. "Borough House Plantation." National Park Service - National Register of Historic Places. March 23, 1972. http://focus.nps.gov/GetAsset?assetID=79ec62e6-a8ac-4e9f-ac19-4986ddbc7c42.
Additional Information