Bedon-Lucas House
Introduction
Located in South Carolina's historic Walterboro district, the Bedon-Lucas House gives visitors a glimpse of southern plantation life in the 1800s. Built in 1820, this home is one of only 5 remaining "high houses" in the Palmetto state. "The Bedon-Lucas house represents the people of Walterboro and the interior reflects life in Walterboro" ("The Bedon-Lucas House"). The home's interior has been preserved in order to most accurately reflect the 19th century; the home includes the original pine floors and several antique furnishings. A small city park and the Little Library, the 1st library in Colleton County, are both located in front of the home.
Images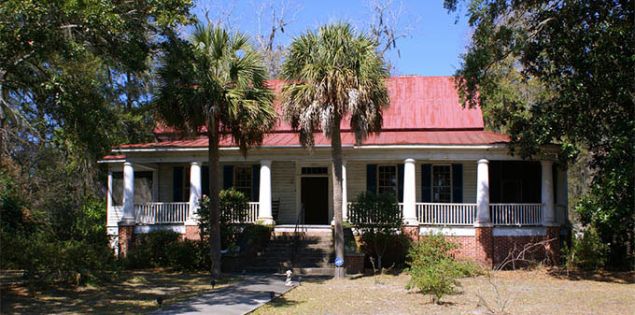 Backstory and Context
This plantation home was built for Richard Bedon in 1820 as a summer retreat. The Bedon-Lucas home was built as a high house, as many houses in this area were, because rice was the dominant crop and farmers had to flood the rice fields. Homes were built high to avoid dam grounds and damage. Bedon donated his front yard to the city to be developed into a small park before the property was sold to Clarence Lucas in 1840. Lucas and his descendant family lived here until Mrs. Ruth Lucas, the last owner and resident, had to leave town for medical reasons.
The home was then rented for some time, but fell into disrepair and suffered damage at the hands of Hurricane Gracie in 1959. The Colleton County Historical & Preservation Society tried to save the home and even listed it on the state's list of 11 Most Endangered Structures in South Carolina in 1995. The society was able to purchase the home in 1996 and renovated and repaired the home to its previous prestige. The home was renovated once again in 2014; "The front left room has been restored to the mid 1800s while the back bedroom shows a quilt made in 1910 and represents Victorian Culture" ("The Bedon-Lucas House").
Sources
"Bedon-Lucas House Museum." Discover South Carolina. Accessed October 31, 2016. http://discoversouthcarolina.com/products/26023. Horn, Karel A. "The Bedon-Lucas House." Colleton County Historical Society. Accessed October 31, 2016.http://cchaps.com/home12/?p=728.
Additional Information