Graniteville Historic District
Introduction
Founded in the mid-1840s, Graniteville was on of the South's earliest textile towns. It was established by businessman and ardent advocate of industrialization in the South, William Gregg. He believed that the South should industrialize to counter the economic power of the North. The 55 acre historic district consists of the original Graniteville Mill, a mile-long canal, worker's houses, schools, churches, and stores. These structures were built using blue granite, which is how the town got its name. Gregg's vision of a prosperous factory town was very successful and the mill began to operate at profit in 1852. As a result, Graniteville became a model for other mill towns in the South. The district was added to the National Register of Historic Places and declared a National Historic Landmark District in 1978. The town continues to be a leading textile manufacturing center today.
Images
The former mill headquarters.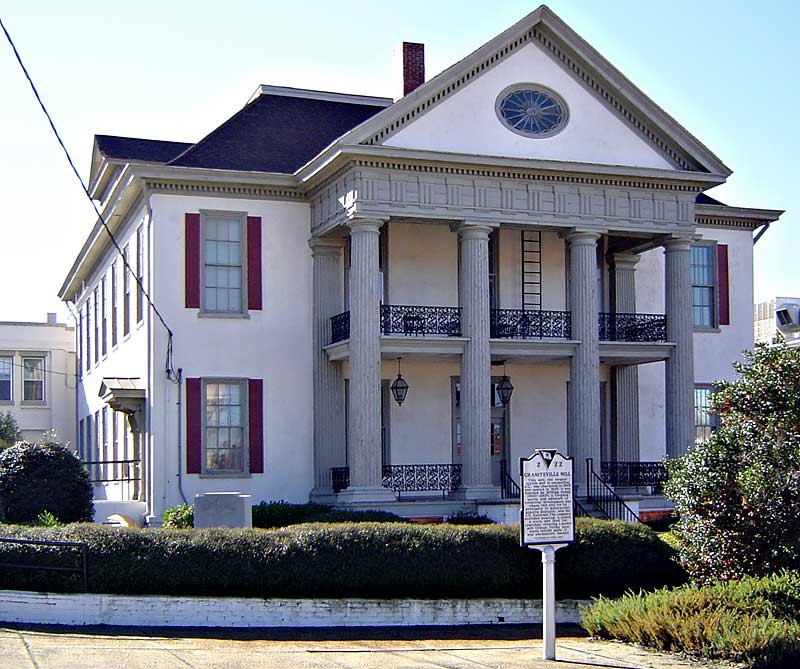 Backstory and Context
While Gregg's vision of an industrialized South equal to that of the North did not come fruition (this would hinder the Confederacy in the Civil War), textile manufacturing did become a big industry. In Graniteville, several mills sprung up and eventually they collectively became known as The Graniteville Company. In 1947, it started its specialty fabrics division. Several decades later in 1996, another large textile company, Avondale, bought the company. Tragically, on January 6, 2005 a train derailment released poisonous chlorine gas which resulted in fatalities. Avondale could not survive this tragedy. However, a new company, Woodhead LLC, established the current Graniteville Specialty Fabrics in August, 2006, maintaining the town's long tradition of textile manufacturing.
Sources
"Graniteville Specialty Fabrics History." Graniteville Specialty Fabrics. Accessed October 28, 2016. http://www.graniteville.net/pages/about_us/company. Ralph J. Christian & George R. Adams. "Graniteville Historic District." National Park Service - National Register of Historic Places. June 2, 1978. http://focus.nps.gov/GetAsset?assetID=29d9b5dc-fe6d-42d3-896d-73f2291ec465.
Additional Information