Hank Aaron's 715th Home Run Marker and Monument
Introduction
While Fulton County Stadium was demolished in 1997, its former location is commemorated by this small monument that commemorates Hank Aaron's historic 715th home run. Georgia State University plans to expand the current monument, which consists of an original section of the outfield wall from Atlanta Fulton County Stadium along with a marker designating the exact landing point of Hank Aaron's historic 715th home run. Henry "Hank" Aaron (nicknamed "Hammerin' Hank') hit his 715th career home run which cleared the left field wall, off Al Downing of the Los Angeles Dodgers, on the 8th of April, 1974, in front of a crowd of 53,775 people. The former Atlanta ballpark is now home to Georgia State University's baseball stadium.
Images
Snapshot of the 715th HR swing, April 8th, 1974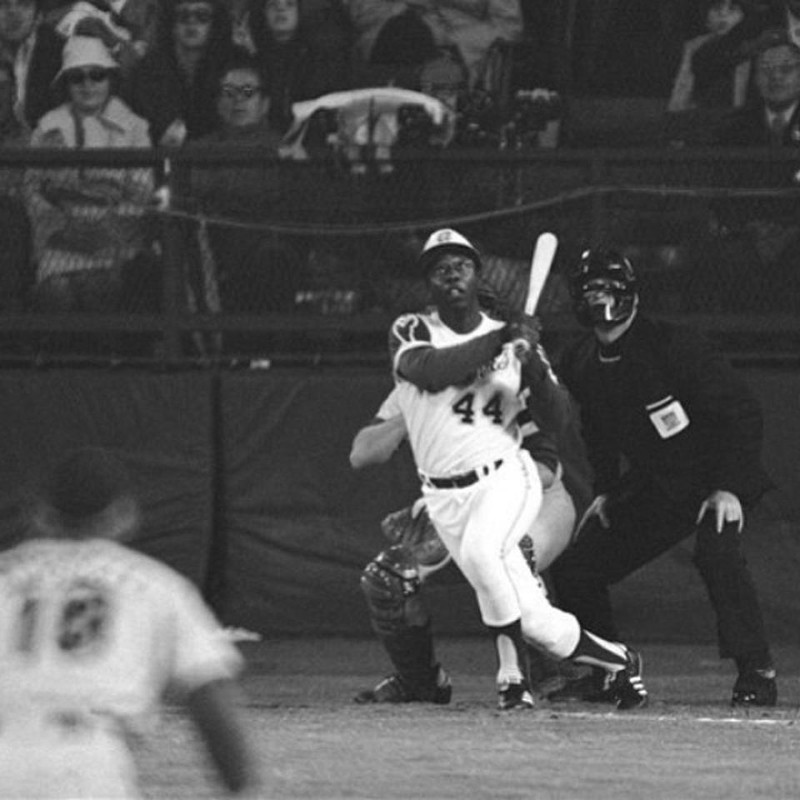 Close up of the Hank Aaron 715 Monument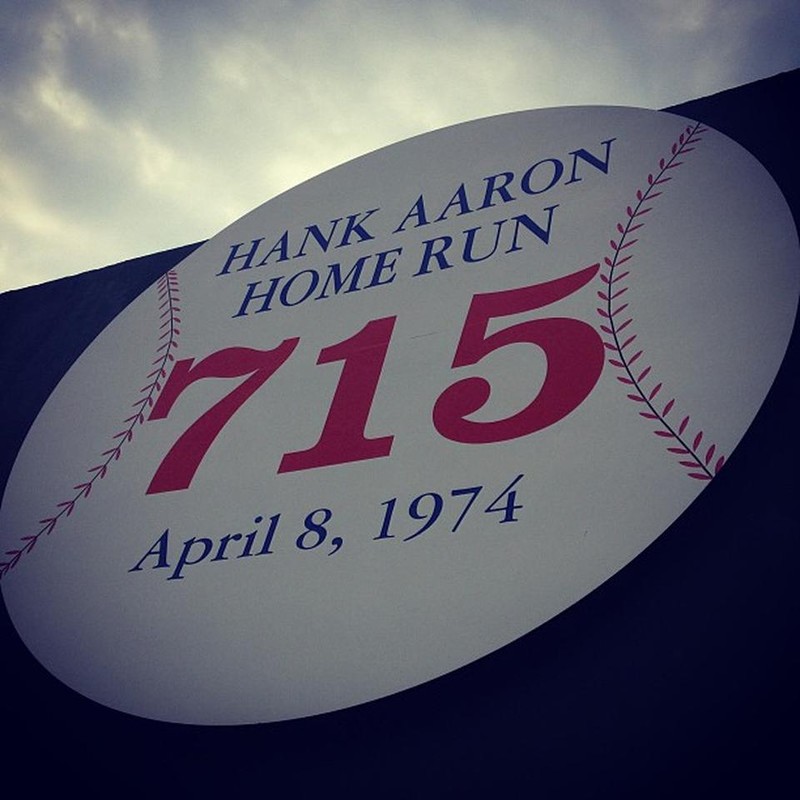 The 715 Home Run Monument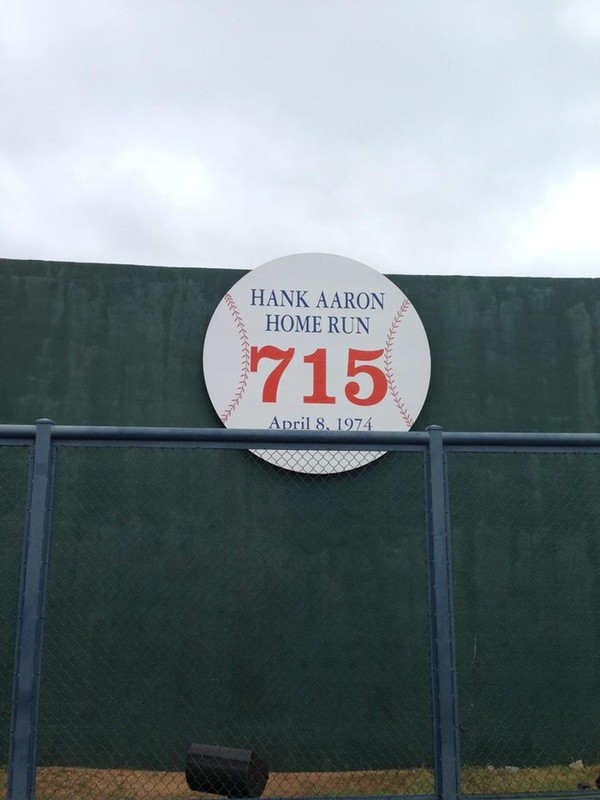 Statue of Hammerin' Hank at Turner Field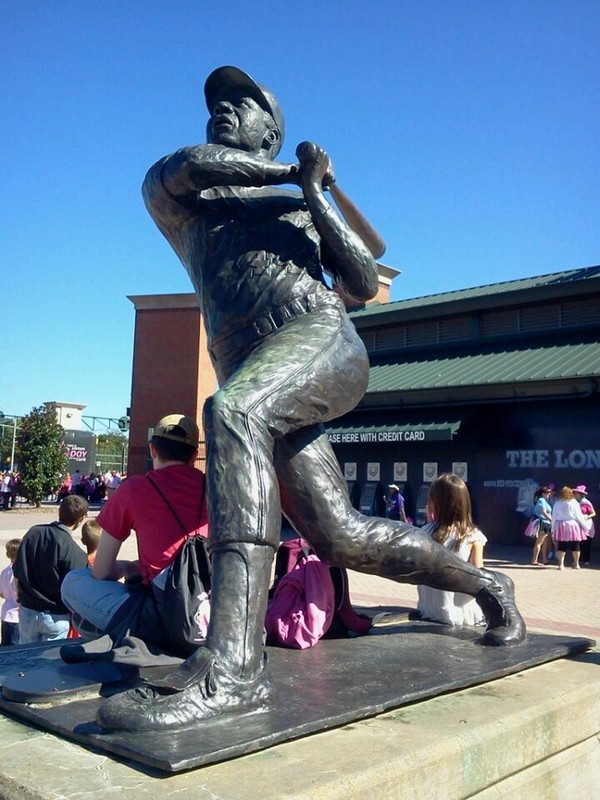 Backstory and Context
Jackie Robinson broke the color barrier in 1947. Larry Doby became the first African American to play in the American League that same year. Twenty-seven years later, Hank Aaron's feat can easily be seen as the next most significant accomplishment in baseball's role in the Civil Rights movement.
Aaron had entered the 1974 season just one home run behind Babe Ruth's career record of 714 home runs. Through the previous off-season "Hammerin' Hank" endured constant media scrutiny, and even worse, constant letters expressing anger that a Black man was going to break a white man's sacred record. Aaron received up to 3,000 letters a day and many of them were racist and threatening in nature. They came from all over, but most were postmarked in northern cities. They were filled with hate. More hate than Aaron had ever imagined. Some even came from much unexpected places; Atlanta; Milwaukee; his hometown of Mobile, Alabama. Nevertheless, Hank read them all.
It wasn't merely the thousands of hate letters and death threats that haunted Aaron; it was the isolation. Baseball is a team sport and he couldn't even stay in the same hotel as his teammates. Security measures had to be implemented to ensure his safety. His name would be listed in one room at the team's hotel, and he would be secretly checked into another under an alias. He constantly, had an armed security guard at his side. At times players avoided proximity to Aaron due to the nature of the threats. Through it all, Hank conducted himself with an immeasurable amount of class. He went about his business like any other ballplayer.
In the weeks leading up to the day he broke the record, Aaron was the subject of a political conundrum between then-commissioner Bowie Kuhn and Braves management. The Braves wanted Aaron to sit out of games after tying Ruth's record until they reached their next home-stand so he could break the record in front of the hometown fans. Kuhn, on the other hand, insisted that he play so as to ensure that the best Braves team was fielded in every game, ensuring the integrity of the game. Ultimately, it mattered not; Hank hit his 715th career home run which cleared the left field wall, off Al Downing of the Los Angeles Dodgers', on the 8th of April, 1974, in front of a home-town Atlanta crowd of 53,775 people.
Outside Turner Field in downtown Atlanta, the pavement in the parking lot is painted to represent the original field location and configuration of Atlanta Fulton County Stadium. Simply referred to as Fulton County Stadium and originally named Atlanta Stadium, it was built from 1964-1965 and served as the home to Major League Baseball's Atlanta Braves, who relocated from Milwaukee, starting in 1966. The Braves continued to play at Fulton County Stadium until the end of the 1996 season, when they moved into Turner Field, where they continue to play to this day. Atlanta Fulton County Stadium was imploded on August 2, 1997.
Hammerin' Hank finished the 1974 season with just 20 home runs and was later traded to the American League's Milwaukee Brewers. His playing days ended after the 1976 season. He left the game with his record setting total of 755 home runs and held the Major League lifetime marks for runs batted in (2,297), extra base hits (1,477), and total bases (6,856). During his career he hit .300 or better in 14 seasons (winning two National League batting titles), led the NL in hits twice, won three NL home run crowns (and tied for a fourth), slugged 40 HR's or more eight times, hit 20 or more homers 20 consecutive years, drove in 100 runs on 11 occasions (leading the NL four times), led the NL in slugging percentage four seasons, never struck out 100 times in a year, scored 100 runs in 13 seasons (topping the NL three times), and won three Gold Gloves. Hank Aaron ranks second all-time in at bats (12,364) and intentional walks (293). He ranks third all-time in runs (2,174 tied with Babe Ruth), games (3,298), and hits (3771), fourth in sacrifice flies (121), and ninth in doubles (624).
After his retirement in 1976, Aaron returned to the Atlanta Braves in the front office as the Vice President of Player Development. His oversight of young talent such as former National League Most Valuable Player Dale Murphy was instrumental in the Braves winning the National League Western Division in 1982. He was elected to the Hall of Fame in Cooperstown, New York in 1982 and was named to Major League Baseball's 'All-Century Team' in 1999.
In 1999, to celebrate the 25th anniversary of breaking Ruth's record, Major League Baseball announced the Hank Aaron Award, given annually to the best overall hitter in each league.
In recognition of his strides in Baseball and the Civil Rights struggle, particularly in regards to monumental achievements while playing in a recently desegregated league, Hank Aaron was honored with the Presidential Medal of Freedom in 2002.
Sources
Hank Aaron. Biography.com. Last Modified May 11, 2016. Accessed October 26, 2016. http://www.biography.com/people/hank-aaron-9173497. 
Newport, Kyle. "Hank Aaron Hit Home Run No. 715 on This Date 40 Years." Bleacher Report. Last Modified April 8, 2014. Accessed October 26, 2016 Ago. http://bleacherreport.com/articles/2021413-hank-aaron-hit-home-run-no-715-on-this-date-40-years-ago.
The Official Site of Atlanta Braves. Accessed October 26, 2016. http://atlanta.braves.mlb.com/atl/ballpark.
Additional Information