Kraut Creek (Boone Creek)
Introduction
Kraut Creek, known more formally as Boone Creek, is a designated trout stream that flows through Downtown Boone and Durham Park, the heart of Appalachian State's campus. It takes its name from Carolina Mountain Shredded Kraut, whose cannery was located near the creek's headwaters on the northwest end of town close to the present-day Cooperative Extension building. The creek, which flows into the New River, has been damaged and distorted as Boone has grown. The town continues to expand and put pressure on natural resources, but the local government, university, nonprofits, and citizens have renewed their commitment to promote Kraut Creek's health and opportunities for all to enjoy it.
Images
Two students stand on a snowy bridge over Kraut Creek in 1957. "Jean Rankin by Kraut Creek, 1957, photo 1," Appalachian State University Digital Collections, accessed December 6, 2016, http://omeka.library.appstate.edu/items/show/11212.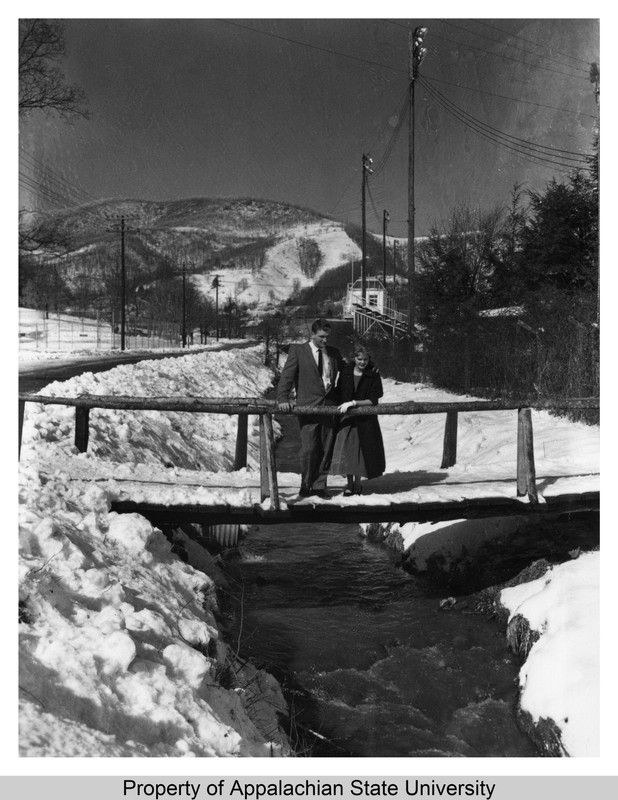 On May 28, 1973, the Kraut Creek on the southern end of campus flooded after 1.6 inches of rainfall and caused thousands of dollars of property damage "Kraut Creek Flood, 1973, photo 3," Appalachian State University Digital Collections, accessed D
Students watch baseball in 1965 at Red Lackey Field, where Kraut Creek was piped underground and is now exposed in Durham Park. "Baseball, circa 1965, photo 1," Appalachian State University Digital Collections, accessed December 6, 2016, http://om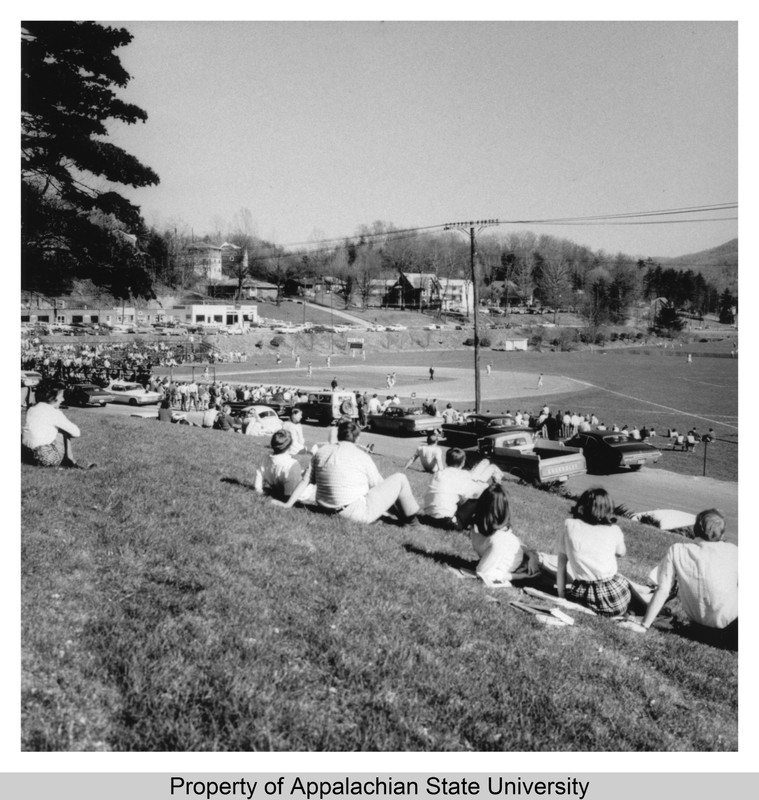 This image shows a stretch of Kraut Creek along Rivers Street in its restored state in 2013. http://www.news.appstate.edu/2013/12/16/stream-restorations/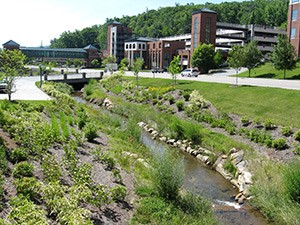 Backstory and Context
Kraut Creek is a picturesque trout stream in the center of Boone, cutting through Appalachian State University's campus and the downtown area, but the water's current pristine appearance disguises a more complicated reality.1 Before Durham park was created in 2004, the area was used as ASU's baseball field, and the river flowed through pipes beneath the field. In the same location today, which now looks drastically different, students hang hammocks in warm weather and hold snowball fights in winter.
Boone was North Carolina's leading producer of sauerkraut from the 1920s until the early 1980s, owing to the area's ideal climate, soil, and agricultural tradition for growing cabbage. Carolina Mountain Shredded Kraut's cannery was located about ½ mile upstream during this period. Local cabbage growers benefited greatly from contracting with the cannery, giving them a guaranteed buyer for their crops. Although the stream was originally known as Boone Creek, the name Kraut Creek stuck when the cannery began dumping its waste in the creek, giving the water a strong odor. That water flows into the nearby New River, North America's oldest river, which eventually reaches the Mississippi.
As the university and town grew, Kraut Creek became inhospitable to trout and other native wildlife, including birds, for several reasons. Lack of shady plants combined with warm water from paved areas led to increased water temperatures.2 Construction practices over time severely eroded the banks and made the creek cloudy with sediment. The National Committee for the New River initiated the process of restoring Kraut Creek and united with Appalachian State and other local groups to form the Kraut Creek Committee.3
ASU is now a leader in environmental sustainability, and the community takes great pride in and learns from Kraut Creek. The resulting iconic beauty of the creek and park draws thousands of visitors and potential students to campus every year. Nonetheless, many threats to the creek remain. The areas where Kraut Creek flows through underground pipes are not only inhabitable for wildlife, but also create faster current through the stream with higher pressure and do not allow the creek to connect to the groundwater.4 These factors limit the positive impact of already implemented downstream restorations.
Informative displays about water quality projects are located along Rivers Street. The presence of these displays amid Boone's urban development points to the tensions between human populations and conservation, tensions which exist even on an environmentally-conscious campus. The message of the displays encourages appreciation of the creek's ecological and cultural importance. These messages and broader local efforts to protect the natural environment have moved university administrators to develop plans to expose underground portions of Kraut Creek along Rivers Street and through Raley/Peacock parking lot.5
Water quality is still improving due to ongoing maintenance by the university and consistent monitoring by students and professors. If all sectors of the community prioritize water quality when making decisions about local development, good news will continue. So take a memorable picture in the Durham Park gazebo, have a picnic, and keep an eye out for birds and bugs along the banks!

Sources
1
Cahow, Kate. "A Creek Runs Through It." Appalachian Explorations

, Spring 2007, 9-15. Accessed October 25, 2016. http://appalachianmagazine.org/sites/default/files/appalachian- explorations-2007-spring.pdf. p. 9.
2 Ibid. 12-14.
3 Ibid. p. 11.
4 Hansell, Professor Tom. Linking Natural and Cultural Assets in the Upper New River Valley. November 17, 2016. Center for Appalachian Studies Presentation to New River Conservancy Stakeholders, Boondocks Brewery, Jefferson, NC. (Brochure Forthcoming in 2017)
5
Appalachian State University. Physical Plant. Campus Master Plan 2020. By Kenneth Peacock. Boone, NC, 2009. 23-25.