Smith-Wright Hall
Introduction
Smith-Wright Hall was completed in 1939, and from 1940 to 1963 it served as the science building for Appalachian Teachers College. It is named for two distinguished teachers, Chemist Dr. A.R.Smith and Mathematician Dr. J.T.C Wright. Today, the building houses the Department of Psychology at Appalachian State University.
Images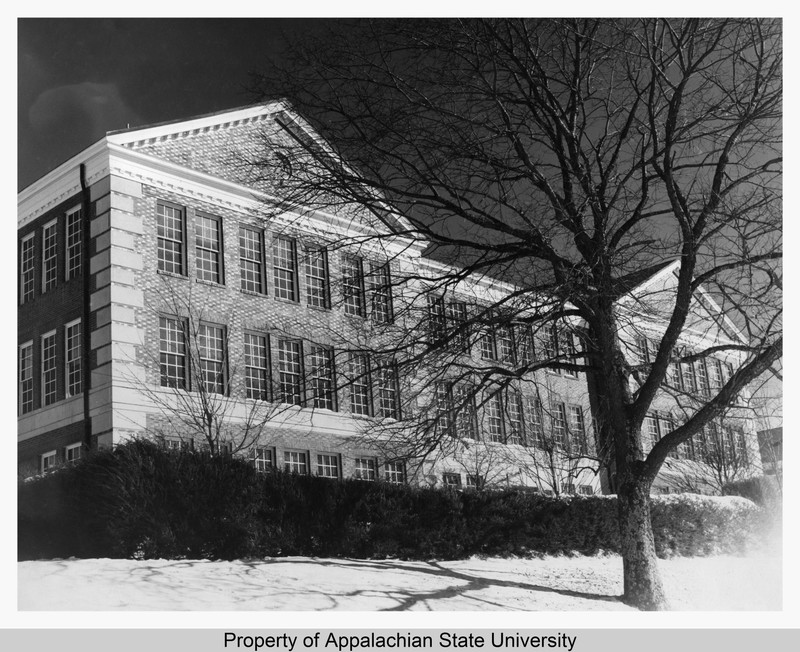 Backstory and Context
In the 1930s, several campus building were built with help from the Works Progress Administration (WPA) including the Smith-Wright Hall, which was completed in 1939 and served as the science building from 1940 until 1963. Other buildings built on campus during this time period include the D. D. Dougherty Library (1935) and the Appalachian High School Building (Chapell Wilson Hall, 1938).
Smith-Wright Hall was built in the Colonial-Revival style, which was the favored architectural style for buildings built on campus during the late 1930s. With it's pedimented gabled roof, flemish bond brickwork and stately windows, the building was a model for a classroom buildings of the era. The names of famous scientists and mathematicians are etched on the wall Inside the front entry of the building.
In 1966, Appalachian State University named the building after two distinguished science teachers, Dr. A.R Smith and Dr. J.T.C. Wright.
A.R. Smith began teaching at Appalachian Teachers College in 1921 and was the school's only chemistry teacher until 1956. He was from originally from Stanly County and had a degree from Wake Forest University. He retired from teaching in 1958, but remained part of the school and the community. In 1973, he helped establish a scholarship program for Chemistry students which continues to help students today. The Department of Chemistry at Appalachian State University is named in his honor.
James Thomas Carr Wright began teaching at Appalachian Teachers College in 1920. He was the first Chairman of the Mathematics Department where he taught for 41 years before retiring in 1961. In the early years of the college, teachers were expected to take on many roles. Wright often led students on hiking trips up Grandfather Mountain or excursions on Tweetsie railroad. He was also the baseball coach, basketball coach, and official timekeeper for basketball games. Wright was from nearby Wilkes County and held a Bachelor's Degree from University of North Carolina and a graduate Degree from Duke.
Sources
University Communications Records, 1920-2008 , Series I, Box 40, Folder 36 & Box 48, Folder 5, Appalachian State University Belk Library Special Collections, Boone, NC.
Appalachian State University, "The Appalachian [Boone, N.C.: May 18, 1961]," Appalachian State University Digital Collections, accessed October 26, 2016, http://omeka.library.appstate.edu/items/show/32325.

Additional Information