Rotary Park Bridge
Introduction
Listed on the National Register of Historic Places in 2002. Rotary Park Bridge is a historic arch bridge located in Rotary Park. It was built in 1930, and is constructed of native rock-faced, square-cut ashlar in a rustic style. Its measurements are approximately 175 feet long and 30 feet wide.
Images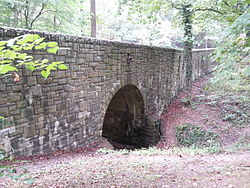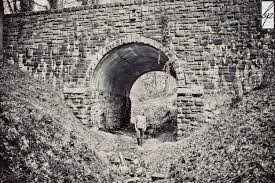 Backstory and Context
You can find this bridge tucked away in one of Rotary Park's two disc golf courses. Each of these courses is free and open to the public. While you're visiting the bridge to can also climb to the top of a lookout tower, which overlooks Rotary Park, 31st in Huntington, the Ohio River (and Proctorville, OH), and Huntington's East End including St. Mary's Hospital.
Rotary Park, containing 108 acres of land, was established in 1921, and named after the Rotary Club of Huntington, WV. During the first years of its existence, accessibility was mostly limited to hikers who climbed its hills to experience scenic views of Huntington and the surrounding area. In 1929-1930, efforts were made to establish a network of roads and walking/hiking trails within the park, and the stone bridge was built during this time. Improvements have been made to the park over time, including the addition of baseball fields, basketball courts, and picnic shelters, but the stone bridge remains one of the few original elements of the park.
In 1958 Inez Booth was murdered in Rotary Park shocking the community once again. The perpetrator, Larry Paul Fudge, was one of two men from Huntington who would be the last criminals sentenced to death in West Virginia.
Sources
en.wikipedia.org/wiki/Rotary_Park_Bridge "Crimes of the 20th Century," http://www.huntingtonquarterly.com/articles/issue33/crimes20thcentury.html. Jacoby, Karl. Crimes Against Nature: Squatters, Poachers, Thieves, and the Hidden History of American Conservation. Oakland: University of California Press, 2003.
http://www.wvculture.org/shpo/nr/pdf/cabell/02001525.pdf

Additional Information