Birthplace of Mary Cassatt Historical Marker
Introduction
This historical marker honors Mary Cassatt (1844-1926), an American Impressionist painter born near this location in Allegheny City (now Pittsburgh). She studied traditional painting in Philadelphia and adopted the unconventional Impressionist style after moving to Paris. She was the only American and woman artist to integrate with a group of contemporary Impressionists, including the likes of Monet, Renoir, and Degas, all based in Paris. Her airy, colorful paintings often depict women and children in relaxed, private spaces. The historical marker was installed in her honor in 2004 for her 160th birthday.
Images
This is one of only two known self-portraits of Mary Cassatt. The painting depicts Cassatt in a casual pose and uses contrasting complementary colors.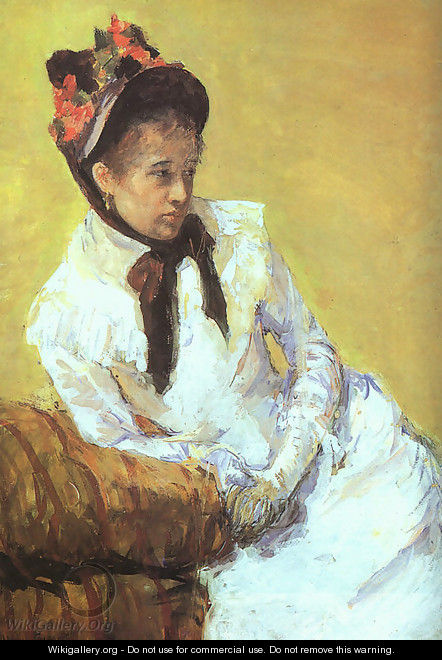 A pioneer of Impressionism, Cassatt depicted simple, everyday scenes in pastel colors and soft light.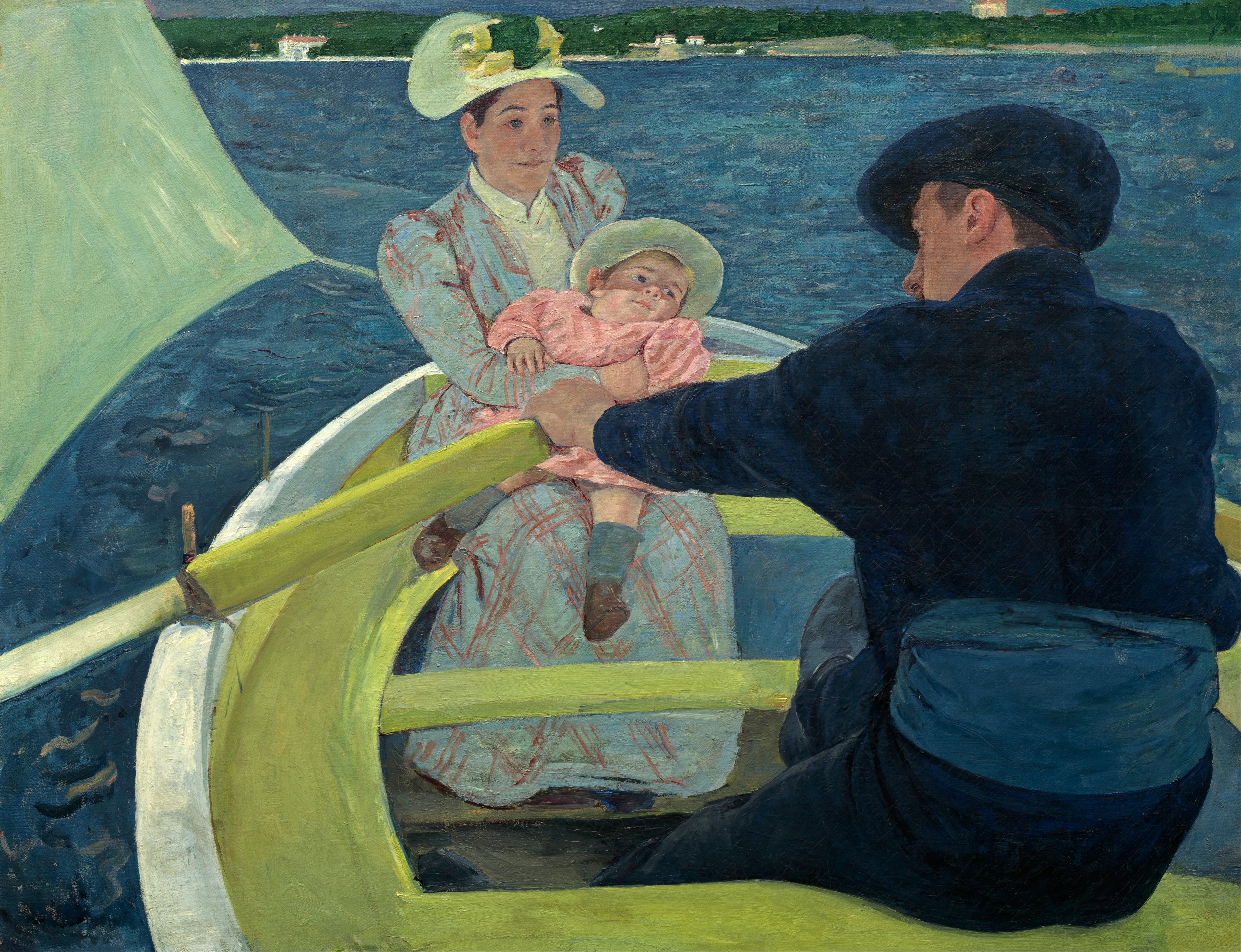 This historical marker is located near Cassatt's birthplace, where she lived until age 4.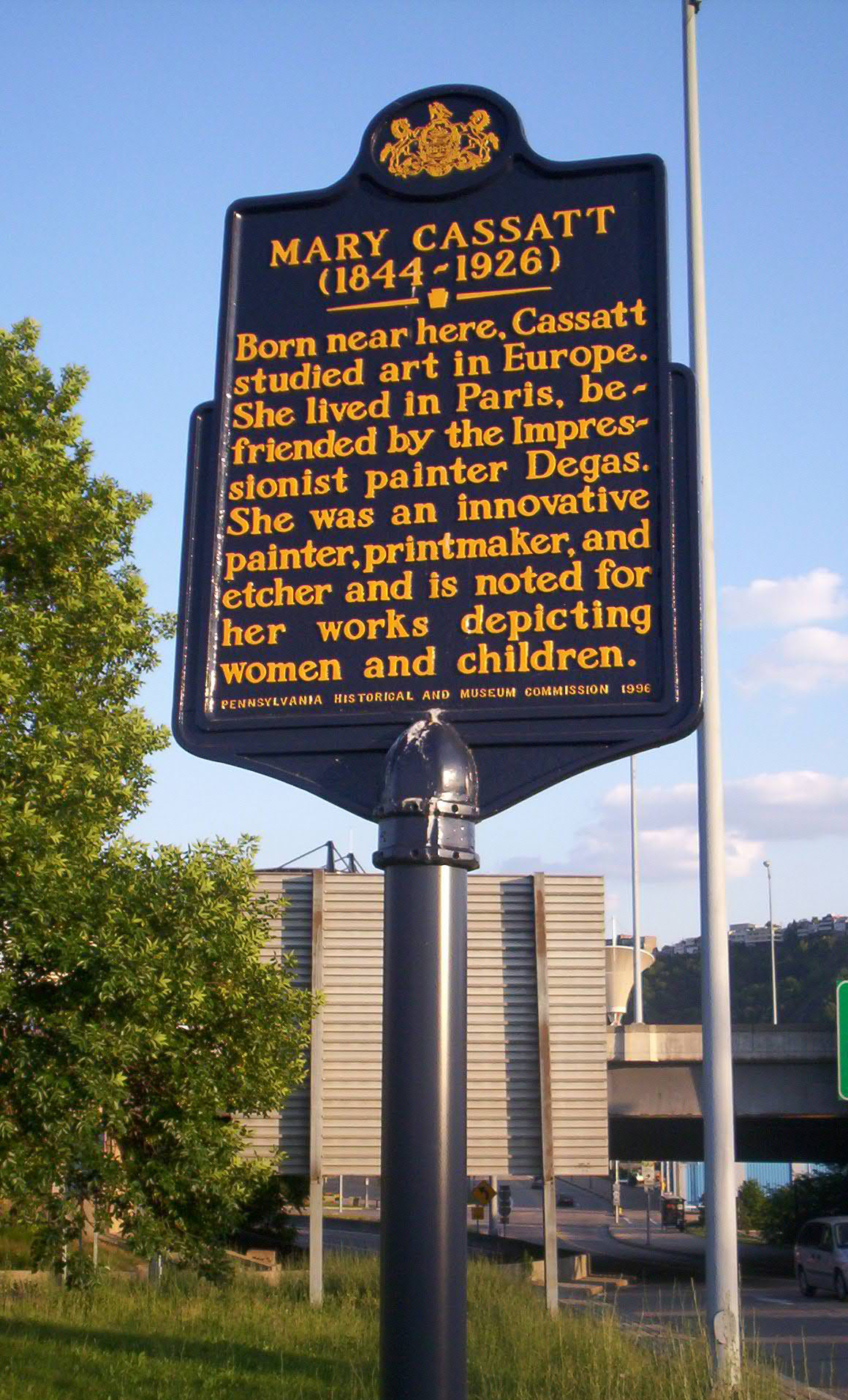 Backstory and Context
Mary Cassatt was born into an upper-middle class family from Allegheny City (now a part of Pittsburgh) in 1844. Though her parents objected, Cassatt studied painting at the Pennsylvania Academy of Fine Arts. She left school without a degree as a result of patronizing faculty and insufficient course offerings. After relocating to Paris, Cassatt took private lessons at the Louvre. Her work was well-received at the Paris Salon in 1868, considered the most lauded arts show in the Europe.
It was in Paris that Cassatt discovered Impressionism, an art movement of the late nineteenth century. Impressionism diverged from traditional painting styles that rendered people and places in a lifelike manner. Conversely, Impressionism gave only the "impression" of people and places, using swift brush strokes and unblended layers of color. The style was initially rejected by art critics and the public, though a tight-knit group of artists in Paris promoted the style. These artists, including (but not limited to) Claude Monet, Pierre-Auguste Renoir, Paul Cezanne, Édouard Manet, Camille Pissarro, and Edgar Degas, are synonymous with Impressionism today. Cassatt befriended Degas, a French Impressionist known for painting dancers, and he convinced her to join the movement in 1877. 
Cassatt became the only American and only woman to become part of this artistically rebellious group. Her transition to Impressionism, however, was more than a change in style. She wrote: 
"At last I could work absolutely independently, without worrying about the possible opinion of a jury! .... I hated conventional art. I accepted with joy....I was beginning to live."1
The outbreak of the Franco-Prussian War persuaded her to move home to Pittsburgh. She encountered problems selling her work back in the United States and her father refused to fund Mary's artistic endeavors. Once she was commissioned by the  archbishop of Pittsburgh to copy religious works, Cassatt was sent to Italy to paint and study.
She resumed her career after a stint in Italy, eventually moving back to Paris and working again with Impressionist artists. Eleven of her paintings were exhibited at an Impressionist show in 1879, at which time Cassatt catapulted to artistic fame.
Cassatt eventually began to favor more simplistic painting and faded away from the Impressionist movement. After her eyesight declined in 1910, she devoted time to ensuring artwork, including her own, ended up in exhibits and collections. Her works are dispersed throughout the United States and Europe. Mary Cassatt died in 1926 and was buried in France. She is remembered as a pioneer of Impressionism and for her lovely, intimate depictions of women and children.
On the 160th anniversary of her birth, May 22, 2004, a state historical marker was dedicated to Cassatt near the location of where she was born in Pittsburgh. A small garden was also planted in her honor near the marker. Cassatt's birthplace, where she lived until age 4, was originally located on Rebecca St., which was changed to Reedsdale St. after Allegheny City was absorbed by the city of Pittsburgh in 1907. The Cassatt family left the Pittsburgh area for Eastern Pennsylvania in 1849. 
Sources
1. ExplorePAHistory, "Mary Cassatt Historical Marker."  
ExplorePAHistory. "Mary Cassatt Historical Marker." ExplorePAHistory. Pennsylvania Historical and Museum Commission.  Accessed March 2018. http://explorepahistory.com/hmarker.php?markerId=1-A-19C
Kent, Bill. "Pennsylvania's Mary Cassatt: America's First Impressionist." The Hunt Magazine. October 26, 2010. Accessed October 24, 2016. http://www.thehuntmagazine.com/feature/2010/10/mary-cassatt/#axzz33DWQaQJu
Biography.com Editors. "Mary Cassatt Biography. Biography.com. Updated April 2, 2014. Accessed October 24, 2016. http://www.biography.com/people/mary-cassatt-9240820#later-years-and-death
 Lowry, Patricia. "Big Splash Planned for Cassatt's Birthday." Pittsburgh Post-Gazette. May 6, 2004. Accessed October 24, 2016. http://old.post-gazette.com/pg/04127/311671.stm
Image Sources
Self-portrait by Mary Cassatt, c. 1878. Metropolitan Museum of Art.

The Boating Party by Mary Cassatt, 1893–94. National Gallery of Art, Washington

Additional Information